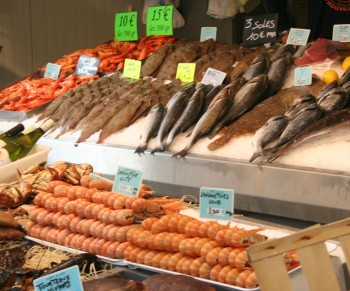 Hello Normandy: marmite à ma façon
One of my favorite Norman dishes to make, and one I teach in my Normandy class, is Marmite Dieppoise or simply "marmite." Marmite is a seafood casserole which to me represents some of Normandy's best culinary treasures: white fish, shrimp, mussels, apples, apple cider, cream, butter, and mushrooms. It is a perfect dish any time of the year and can be served family style or more elegantly. My marmite is a modified version that you can make at home (and I use far less cream than most recipes).
For those of you who believe you cannot cook fish, this is a very forgiving recipe because the fish is poached and therefore kept moist. This recipe is also very versatile. I like clams, shrimp, and mussels in mine, but you can choose the seafood (and the type of fish) to your liking. However, do not use salmon, swordfish, halibut, or tuna because the texture is either too dense or too oily for this cream-style sauce. Lastly, I omit the mushrooms in the spring and summer seasons, but leave them in when the weather is cold. In summer, I also garnish the marmite with fresh coriander to brighten it a little.
Je vous souhaite un bon appétit !
LM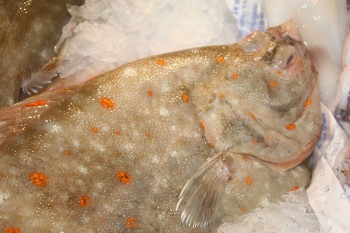 marmite à ma façon
stats: serves 6
what you need:
16 ounces of 3 types white fish fillets
(i.e., Sole, Turbot, Cod (Cabillaud), Plaice (Carrelet), Hake (Colin), Brill (Barbue)),
trimmed, skins removed
kosher salt (as needed)
freshly ground pepper (as needed)
unsalted butter (as needed)
2 large apples, peeled, cored, and sliced (about 1- 1 1/2 cups yield)
2 cups fish stock
1 cup apple cider
seafood and aromatics
3 tablespoons unsalted butter
2 garlic cloves, thinly sliced
2 shallots, thinly sliced
1 leek (white portions only), sliced
1 fennel bulb, thinly sliced
1 cup sliced mushrooms
½ cup reduced cuisson
½ cup white wine
½ pound clams
½ pound mussels
12 shrimp, cleaned and deveined (preferably La Hague)
¾ cup heavy cream (or 20 cl Elle & Vire Crème entiere de Normandie)
2 tablespoons unsalted butter
kosher salt (as needed)
fresh coriander (optional)
fresh minced Italian parsley (optional)
how to:
Season Fish.

Season both sides of fish fillets with salt and pepper. Set aside.
Clean Seafood.

Remove heads, legs, and shells from shrimp, leaving tails on. De-vein and rinse well. Rinse clams and mussels with cold water (do not soak). Remove beard from mussels and use back of a spoon or knife to clean the shells. Set aside (but do not clean clams and mussels more than one hour before cooking).
Shallow Poach Fish – STOVETOP.

Butter an oven-proof sauté pan. Place apple slices on top of the butter (as a bed for the fish). Place fillets on top of apples. Add stock and cider (fish should not be submerged). Bring to a simmer on the stove top.
Shallow Poach Fish- OVEN.

Once you have reached a simmer, remove the pan from the stove top and cover with a buttered cartouche. Place pan in an oven preheated to

400 degrees Fahrenheit (200 degrees Celcius).

Fish is done when it is is just beginning to flake (about 5-7 minutes).
Keep Fish And Apples Warm.

Use a slotted spoon to remove the fish and place it on a plate. Cover fish with aluminum foil to keep it warm. Use the slotted spoon to remove apples and reserve in a separate bowl. Cover the apples with foil.
Reduce Cuisson. Strain the cuisson (liquid in which you poached the fish) and put into a clean sauce pan. Reduce cuisson to ½ cup. Set aside.
Sauté Aromatics.

Place a large sauté pan over high heat. Add butter. Once butter is melted, add garlic. When garlic is fragrant, add shallots, leeks, mushrooms, and fennel. Cook until slices are tender. Add cooked apples.
Add Liquid.

Add white wine and cuisson.
Steam Seafood And Remove.

Add shrimp to pan. Add mussels and clams. Cover for about 3 minutes. Remove shrimp and shellfish once the shells have opened (do not over-cook). Cover with foil to keep warm.
Reduce Cooking Liquid.

Reduce the cooking liquid (the white wine/cuisson mixture) by half.
Temper In Cream.

Whisk about one cup of the cooking liquid into the cream to bring the cream up the temperature. Add all of the (now warm) cream to the remaining liquid. Reduce liquid to à la nappe stage (when it coats the back of a spoon).
Add Butter.

Remove liquid from heat and swirl in cold butter. Season to taste with salt and pepper.
Add Fish and Seafood.

Return fish and seafood into the liquid and gently toss to coat.
Garnish.

Garnish with parsley (and fresh coriander).
Serve.

Serve warm with crispy lean bread.