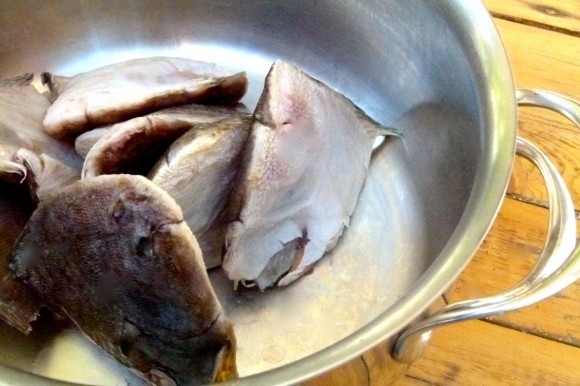 fish stock
makes 2 liters
what you need:
2 pounds of lean white fish trimmings /bones
1 tablespoon unsalted butter
¼ cup dry white wine
¼ yellow onion, chopped (1 ounce)
1 parsnip, chopped (1 ounce)
1 celery stalk, chopped (1 ounce)
1 lemon peel
1 tablespoon sea salt
5 black peppercorns
bouquet garni * (1 strip leek, 1 bay leaf, fresh thyme sprigs, Italian parsley)
cold bottled water (as needed)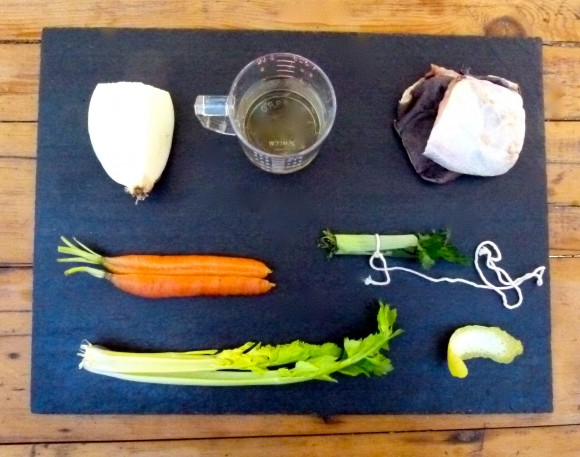 Vegetables/Bones In Stockpot

. Butter the bottom of a

stockpot

. Add the vegetables and fish bones to the pot. Add wine. Place on the stove over a medium flame. Simmer. Once bubbles start to rise (this will happen quickly), reduce flame to a low flame.
Add Cold Water & Simmer.

Add enough cold water to cover the fish bones and vegetables.

Simmer, uncovered, for 45 minutes to 1 hour.
Skim.

Use a large metal spoon to skim impurities off the the top of the stock. (Impurities have the appearance of foamy skum or greasy bubbles).
Strain.

Place a

china cap

inside a

chinois

to strain (If you have neither, just use a strainer with the smallest mesh you have). Place the stainer(s) inside a bowl or other container large enough to hold the strained stock. Gently pour the stock through the strainer(s). Discard fish bones, cooked vegetables, and bouquet garni.
Cool.

Place container with the strained stock in an ice bath to cool (to accelerate cooling process, can pour the strained stock into several containers). Once cool, place the stock in the refrigerator. The stock can be stored in the refrigerator for a week or the freezer for about 6 months.
Tags: fish stock