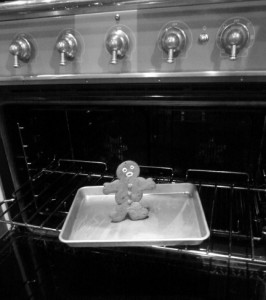 gingerbread dolls
The holidays are a time when parents take multi-tasking to all new levels.  I have children myself so I am no exception.  In fact, I became very aware of my parental multi-tasking when during a lunchtime run I simultaneously collected mulberry tree trimmings for garland and table decor,  planned dinner menus and organized their execution in my head while at the same time listened to Selena Gomez (just to stay current on the music my children are listening to).   A woman, walking her dog, stared at me and her gaze made me conscious of how absurd I looked running with my large collection of mulberry branches in each hand, singing Selena Gomez songs.   The explanation "I'm a mom" immediately spilled from my mouth and she laughed.  She understood.  It is the final push before winter break and parents are scrambling to get everything done for the holidays before the children are home needing projects to do.   I have an answer to both (at least for one afternoon): gingerbread dolls.    An edible version of paper dolls, this project gives you your gingerbread for the holidays and the kids a project too.
While you can buy gingerbread kits in the stores, I have yet to find one that actually tastes good.  These gingerbread cookies are chewy and moist, crisp around the edges, spicy, but not too much, and hold their shape for decorating.   The recipe is simple and written with children in mind.   Instead of creaming the eggs and the butter, this basically uses a one step method (you can use a stand alone mixer or a food processor) which makes it not only easy for children but "child-proofs" the tendency to over-cream the sugar and butter, which causes the cookies to spread.   I have included two recipes: one written for adults (below); and the second written (with pictures) that a beginning reader can follow.
Once the cookies are made, rolled fondant is used to make the clothes.  Fondant can be purchased online and at cake supply stores and well as craft stores.   You can purchase it in a variety of colors but white can be easily colored by adding food coloring.  Although there is a fondant rolling pin it is not necessary for this project.   If the fondant is sticking simply use a little powdered sugar on your hands and rolling pin.   A pie cutter, a dull knife, kitchen scissors (or even a plastic play-dough cutter) can be used to tailor the clothing.   Spices, sprinkles and candies make nice accessories but let your child's imagination be their guide.  Use royal icing (recipe posted) to adhere the clothing to the cookies or if the fondant dries the clothes will come off of the cookie (which can be good too if your cookie is a fashionista and wants to change her clothes).
A couple of notes on the ingredients.  This recipe uses both dark muscovado sugar and dark brown sugar.   Muscovado is unrefined sugar made from sugarcane juice which has a high molasses content.  It is a wonderfully spicy, moist and aromatic.   It adds a richness to the cookies that dark brown sugar alone cannot give you.  It also has small, dark bits of  molasses-sugar which adds character in appearance and taste (all gingerbread should have freckles as well as laugh-lines).  You can crush them for a more uniform look but the small bits do not affect the cookie adversely unless they are too big.   Do not use muscovado sugar exclusively for cookies or they will be too spicy.  You can eliminate it and use only dark brown sugar; however, do not use light brown sugar or the cookies will be plain and uninteresting (in taste and appearance).
Make sure your butter is room temperature (which means it is pliable but not too soft).  Cut it into chunks because you want to make sure it is incorporated with the other ingredients.
Molasses is the ingredient which gives gingerbread its character.  Molasses is the liquid byproduct of boiling sugarcane until the sucrose crystalizes to create granulated sugar.  There are three grades of molasses and the difference lies in which boiling (the first, the second, or the third) produced the molasses.  All grades can be sulphured or unsulphured.  Light molasses is produced from the first boiling, dark molasses from the second, and blackstrap from the third boiling.   The molasses I recommend using for these cookies is Grandma's original unsulphured molasses (yes, the very same one our parents used when we were kids).  I have tried several, the organic ones, the darker molasses, and blackstrap, and while I use these others for spice cakes, they are too spicy for cookies.
Lastly, under-bake the cookies to achieve a chewy consistency. When small cracks in the cookies begin to form, take the cookies out of the oven and let the carry-over heat from the baking pan continue to bake the cookies for about 2-3 minutes.  Then place the  cookies on a metal rack to cool.  If you want crisp cookies, bake them longer, roll them flatter, and/or reduce the oven temperature slightly.   Store the cookies in an air-tight container for freshness and they should last a few days (assuming they are not eaten before then).
Simple.  Delicious.  Project!
Je vous souhaite un bon appétit !
LM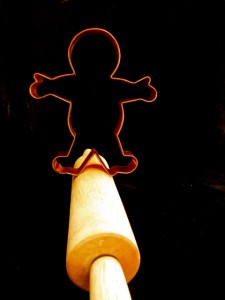 gingerbread dolls
stats:
Yield: 2 dozen 3" cookies
what you need:
gingerbread cookies
2  1/2 cups unbleached, all-purpose flour
1 teaspoon kosher salt
1 teaspoon Quatre épices*
1 teaspoon ground ginger
2 teaspoons ground cinnamon
1/4 teaspoon ground allspice
1/2 teaspoon baking soda
8 tablespoons unsalted butter, room temperature, cut into chunks
1 teaspoon orange zest
1/4 cup dark muscovado sugar
1/2 cup dark brown sugar, packed
2/3 cup light molasses (Grandma's original, unsulphured)
2 tablespoons butter, melted and cooled
2 tablespoon buttermilk, shaken
*Quatre épices is a combination of ground cloves, nutmeg, black pepper and cinnamon.  It can be found in spice stores, some grocery stores as well as online.  If you do not have time to get it, substitute an additional 1/2 teaspoon ground cinnamon, 1/4 teaspoon ground cloves, 1/4 teaspoon ground nutmeg, and 1 click of a pepper mill (set to fine grind).
gingerbread clothing
1 package rolled fondant icing
royal icing (see recipe)
liquid food coloring (as needed)
decorative items  (i.e., cinnamon bits, chopped candied ginger, chocolate chips, sugared flowers, dragées, colored caster sugar, crushed peppermint, candy belts and buttons,  crushed cookies, crushed nuts, licorice)
how to:
Combine Dry Ingredients

.  Place the dry ingredients (flour, salt, and spices, and sugars), orange zest, and room temperature butter in the bowl of a mixer or a food processor.
Combine Liquid

.  Place molasses, melted (and cooled) butter and buttermilk in a measuring cup with a spout.   Set aside.
Mix

.  Turn mixer on low speed and combine dry ingredients.  As soon as combined (it takes on a pea-like characteristic), begin to pour in the liquid with the mixer on low speed (or pour the liquid in through the top of the food processor as you pulse the food processor).  The dough is done mixing when all ingredients are combined and the dough comes together.
Chill.

Remove dough from the bowl and pat into a square shape.  Wrap dough in plastic wrap and chill for 2-3 hours in the refrigerator  (the dough should be firm, but not hard).
Roll And Shape

.   Remove dough from the refrigerator.  Lightly flour the rolling pin and the counter (or roll between two pieces of parchment paper).  Roll dough out to about 1/4 inch width (no thicker because of the high sugar content of the dough).  Cut into desired shape and place on a baking sheet .
Chill

.  Place tray in the refrigerator for at least 15 minutes.
Bake

.  Remove cookies from the refrigerator and place in an oven preheated to 350 degrees Fahrenheit (or 325 degrees Fahrenheit convection).  Bake until cookie are fragrant, have puffed up slightly, and cracks are forming.
Cool.

Let the gingerbread cookies cool on the baking sheet for 2-3 minutes.  Remove with a spatula and let cookies finish cooling on a wire rack.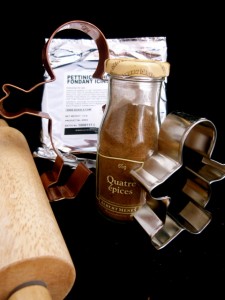 where to buy
Fondant, white, colored, and chocolate, can be purchased online.  Wilton makes fondant and many craft stores (i.e., Michael's and Joanne's) sell Wilton baking products. If you live in Los Angeles, fondant can be purchased at Surfas as well as Gloria's Cake and Supply (or through their online stores).
Surfas
8777 W Washington Boulevard
Culver City, CA 90232
310. 559.4770
www.culinarydistrict.com
Gloria's cake and supply
www.gloriascakecandysupplys.com
food for thought
The expression "slow as molasses" certainly
cannot be used to describe the gingerbread man,
who escaped from the oven,
ran away from the baker, and out-ran the entire town
taunting "run, run as fast as you can,
you cannot catch me I'm the gingerbread man" …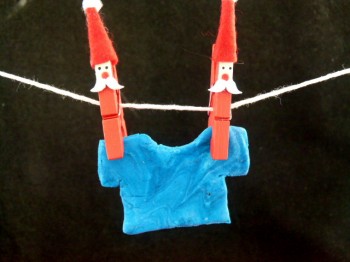 Tags: crafts for children, edible gingerbread dolls, fondant, gingerbread, gingerbread dolls, gingerbread people, holiday project, molasses, muscovado sugar, Quatre epices, simple pleasures