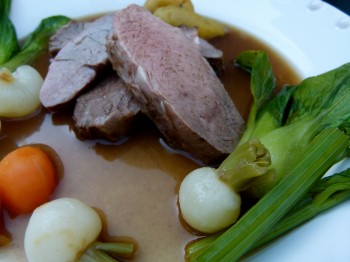 goodbyes, cherished moments and setting fire to the rain:
my family pot-au-feu
It rained on Mulholland as I ran to Adele's song "Set Fire to the Rain." Impeccable timing and the idea of setting fire to the chilly weather compelled me to run straight to the kitchen to make pot-au-feu (pot of fire). I had no idea then that it would take on the significance that it now has. In the holiday spirit of sharing, this week I share with you my family recipe for  pot-au-feu.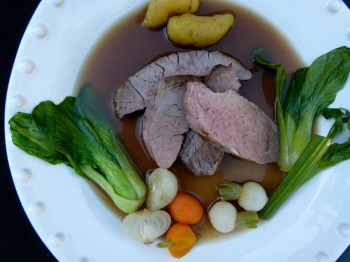 Pot-au-feu is a traditional one pot French wonder. The meat and vegetables cook in boiled water and a flavorful broth is created at the same time. It is usually made with less expensive cuts of beef (chuck roast or rump roast) but sometimes chicken is used instead of beef (or with it). Pot-au-feu possesses the comfort of a winter soup and the elegance of a roasted meat and vegetable dish with a consommé first course. Hearty yet refined, pot-au-feu can be served as two courses or as one.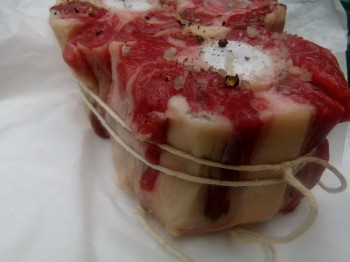 When you make pot-au-feu, the meaty aroma fills your home and if you were not hungry when you started, your sense of smell will convince you that you are now famished. On this rainy day, the aroma beckoned my Yorkshire Terrior, Coco, to the kitchen. She stood in front of the stove, staring up at me, and let out a few demanding barks which caught me so off guard that I laughed out loud. Coco had not barked like that for some time. Her brown eyes were clouded over with cataracts, her hearing was largely gone (as were most of her teeth), she had arthritis in her back legs making it difficult for her to move.
Coco celebrated her eighteenth birthday in October and is evidence of the power of healthy food habits as well as the adage "you are what you eat." With an insatiable appetite, in eighteen years Coco rarely ate "dog food." Rather, I cooked her meals or she ate cut up versions of what we ate (including fish, chicken, turkey, rice, eggs, pork, beef, and steamed vegetables). Her energy matched her appetite. She got into and survived everything: a few tangos with skunks (once she was sprayed in the mouth mid-bark); yard escapes which landed her on several busy streets; and, of course, encounters with larger dogs, cats, and some mice. The last time I heard Coco bark as she had when demanding pot-au-feu was the coyote dognapping last May. 
That morning, I let Coco out to the front yard to do her morning ritual. As I walked out to retrieve her, a coyote jumped the fence, grabbed Coco in its jowls, jumped back over the fence, and ran up the street with Coco in its mouth. I took off after the coyote but was not fast enough. I grabbed my keys, jumped in the car and took off after the beast. I found the coyote (Coco still in its mouth) in a neighbor's yard. Trapping the coyote between the house, a hedge, and my car, I got out of the car and charged the coyote screaming at it to let my dog go. It did. Coco laid in the grass, lifeless. I scooped her up, put her in my lap, and drove to the vet's office.
Barefoot and still in my nightgown, the vet's assistant nervously tried to avert his eyes from my appearance as he told me they wanted to keep Coco for a few hours for observation. After attending Mother's Career Day at my girls' school (why is it everything happens at once?), I returned to the vet's office to collect Coco. There she stood in the kennel cage, shaved, but unharmed and barking just like she recently did in front of the stove (demanding put-au-feu). She wanted to go home; she missed her breakfast and she wanted it.
Coco died on December 16, one week ago. She was part of our family and a companion to me for 18 years: I was walking her when I went into labor with my oldest daughter, both of whom she curiously greeted when we came home from the hospital; she comforted me in times of loss; she survived law school, culinary school, one husband, three homes and three apartments; she has seen friends and lovers come and go. Like all animals, she asked very little and gave us so much.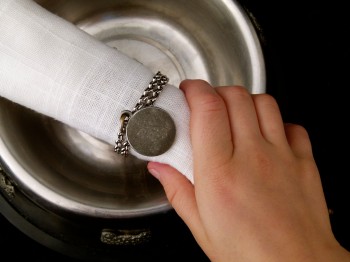 The holiday season brings with it reflection. I have been thinking a lot of our little Coco as well as what defines a holiday meal and what defines a family.  It seems to me that what constitutes a holiday meal is similar to what constitutes a family: both definitions are defined by you and anything goes.
While I intended to post something entirely different for the holidays, pot-au-feu seemed like a better idea because it is a meal with substance that is not limited to a particular religion, country, time of year, or financial means. A holiday meal, even one as simple as pot-au-feu, that is prepared with love, can nourish our bodies, raise our spirits, and even give an old dog a voice everyone thought she lost. 
Just a couple of production notes. First, for the most flavorful meat, generally the meat is added to boiling water; however, in doing so the broth flavor suffers. To remedy this, brown the meat and the vegetables first (giving the meat a boost in flavor) and then add cold water to the browned meat and vegetables (adding cold water to the meat makes the best broth). Second, I use oxtail (which you can buy from your butcher) to bolster the broth. However, if you do not have oxtail you can substitute some beef broth for some of the water. Knowing that some of you will do this, I wrote the recipe using minimal salt. Taste the warm broth once strained and degreased and add salt and pepper as needed. If you used beef broth, you will need far less salt than if you had used only water. Third, it is essential that you degrease the cooking liquid well. The easiest way to do this is to cool the cooking liquid, remove the solidified fat from the top, and then reheat the liquid. Pot-au-feu stores well in the refrigerator and the left-overs are just as good, if not better than the first time around.
When my daughters and I said our goodbyes to Coco, it began to rain again. Both the lyrics in Adele's rainy song of goodbye and  pot-au-feu had a different meaning.
I share our family pot-au-feu recipe with you along with the sincere wish that the making of this humble "one pot wonder" will bring you and your family the comfort and peace of the holiday season and will create beautiful memories for you (as it did for us) that you will carry with you throughout your years.
Wishing you Bonnes Fêtes (Happy Holidays), Joyeux Noël (Merry Christmas), Bonne Année (Happy New Year), et toujours, un bon appétit …
LM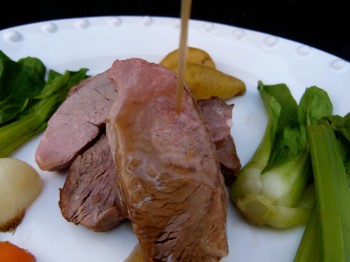 pot-au-feu
stats:
serves 6-8
2 hours cooking time
3 hours total
what you need:
meat and broth
3 pound chuck (or rump) roast, trimmed
1 pound oxtail
kosher salt (as needed)
freshly ground pepper (as needed)
1 tablespoon unsalted butter
1 cup diced carrots
1 cup sliced leeks
1 cup diced sweet onions
½ cup diced celery
1 tablespoon tomato paste
¼ cup dry red wine
8 cups cold water 
1 bouquet garni (fresh Italian parsley, thyme and 2 bay leaves)
2 teaspoons sel de Guérande (or sea salt)
1 teaspoon black peppercorns
new vegetables
16 baby fingerling potatoes
4 medium carrots, trimmed and cut bâtonnet (or 16 baby carrots, trimmed)
4 celery stalks, cut bâtonnet 
10 baby bok choy, trimmed
12 young Tokyo turnips (optional), trimmed
12 pearl onions (optional),  trimmed and peeled
kosher salt (to taste)
freshly ground black pepper (to taste)
how to:
Season & Tie Meat. 

Use kitchen twine to tie the oxtail pieces together in a bundle. Generously season with salt and pepper.  Trim excess, large fat pieces from the chuck roast (leave the marbling). Tie the chuck roast with kitchen twine (for even cooking and to hold the meat together). Season generously with salt and pepper. Set the meat on a plate and let it come to room temperature (about 1 hour before cooking).
Brown Meat. 

Place a cast iron skillet or a dutch oven over a medium-high flame. Once warm, add butter. When butter has melted, use tongs to add the meat to the pan. Brown the meat on all sides (do not rush this process). Remove meat from the skillet and set aside.
Brown Mirepoix.

Add the leeks and onions to the skillet. Add a pinch of salt. Cook until tender. Once tender, add the carrots and celery. Cook until tender. 

Add tomato paste to the vegetables and toss the vegetables with the  tomato paste. 
Deglaze.

Add red wine to the vegetables. Toss the vegetables in the wine, scraping any meat fond from the bottom of the skillet. Reduce au sec (until the liquid has been cooked out of the skillet).
Boil

. Return the meat to the dutch oven (or if using a skillet, place the meat and vegetables in a large pot.) Add water, salt, pepper, and bouquet garni. Bring to a boil. 
Skim & Simmer.

Once a boil has been reached, reduce heat to a low flame. Use a large metal spoon to skim foam and impurities that rise to the surface. Partially cover the pot with a lid and continue to skim grease and impurities from the surface. Simmer the meat and vegetables for 1 hour and 30 minutes. Skim often.
Strain.

Use tongs to remove the meat from the broth. Set the chuck roast on a plate and cover with aluminum foil to keep warm. Discard the ox tail (or give to a lucky doggie). Strain the broth by pouring it through a chinois (or a colander lined with two layers of cheesecloth). Discard the bouquet garni and cooked mirepoix. 
Degrease.

Pour the strained cooking liquid into a fat separator. When the fat has risen to the top, pour the cooking liquid into a clean pot (discard the fat and grease).  Alternatively, you can place the cooking liquid in a large Pyrex and cool the liquid (when cold, the fat will rise to the top and solidify making it easier to remove). Either way, it is important that you degrease the cooking liquid well or your broth will be greasy and unpleasant.
Simmer New Vegetables.

Placed the strained cooking liquid into a large, clean pot and place back on the stove over a medium flame. Once warm, season the liquid to taste. Add the new vegetables (carrots, celery, onions, and potatoes) and the meat. Simmer for about 5 minutes. Add the bok choy and baby turnips. Simmer for another 2-3 minutes. The vegetables are done when a fork can easily be inserted into the carrots and potatoes. 
Serve As Two Courses. 

Place the pot on the table (on a trivet). Ladle the broth into individuals bowls as a first course. For the second course, cut the  string from the meat and slice the meat into pieces about ½ -¾ of an inch thick. Serve each guest some vegetables and meat. 
Serve As One Course

. Cut the string from the meat and slice the meat. Serve each guest some vegetables and meat in a large rimmed plate. Ladle the broth over the meat and vegetables int he presence of the guests. Serve immediately while warm.
Store

. The pot-au-feu can be stored in the refrigerator for a few days in an air-tight container, or frozen.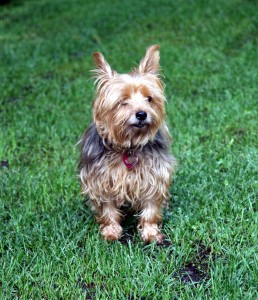 Tags: beef stew, bok choy, carrots, chuck, fingerling potatoes, oxtail, pearl onions, pot-au-feu, simple holiday meals, tokyo turnips