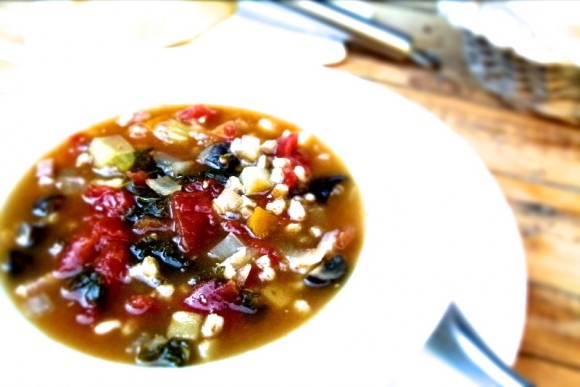 harvest minestrone with autumn vegetables and farro
serves 4
330 calories (per 4 ounce serving)
what you need:
soup
1 tablespoon olive oil
½ cup lardons (or diced pancetta)
3 garlic cloves, minced
2 celery stalks, diced
½ cup diced carrots (various colors)
½ cup diced parsnips
½ cup diced onions
½ teaspoon piment d'espelette
½ cup diced winter squash (butternut or kabocha)
12 Crimini mushrooms, quartered
1 can whole San Marzano tomatoes, chopped and drained
6 cups quality chicken stock (or bottled water)
1 bouquet garni (fresh Italian parsley, 1 bay leaf, fresh thyme sprigs)
½ cup Perlato (pearled) farro*
2 cups chopped Tuscan kale
kosher salt (to taste)
freshly black ground pepper (to taste)
garnish
minced fresh Italian parsley (as needed)
grated parmesan cheese (as needed)
how to:
Prepare Vegetables.

Cut, chop, and dice vegetables as indicated.
Render Lardons.

Place a large saucepan or a stockpot over a medium flame. Add lardons. Render fat, but do not let the lardons brown.
Sweat Aromatics.

Add garlic to lardons. Once garlic is fragrant, add onions. When onions are translucent, add piment, carrots, parsnips, and celery. Toss to combine with the lardons and onions.
Deglaze.

After a few minutes, add tomatoes. Toss to combine the tomatoes with the vegetables. Cook until demi sec (almost dry), the majority of the liquid has been cooked out of the tomatoes.
Add Stock & Simmer. Add chicken stock (or water), bouquet garni, farro, mushrooms, and squash. Bring to a boil and then reduce to a simmer. Simmer until flavors come together (about 30 minutes).
Add Kale.

Add kale and simmer for an additional 10 minutes until flavors combine. If you are adding any pre-cooked meats (sausage pieces or shredded chicken or turkey) add it with the kale.
Adjust Seasoning

.

Season the soup with salt and pepper to taste.
Garnish.

Add minced parsley and freshly grated aged parmesan.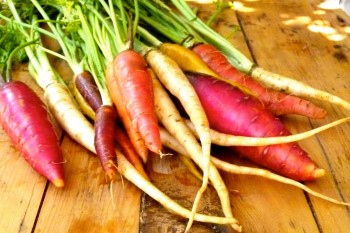 *Farro is an ancient wheat from Italy. People often confuse farro and spelt. Spelt is from North America and has a wheatier taste and more firm than farro.
"Perlato" farro means that the hull has been removed and it will cook quicker and is less firm than farro which has not had the hull removed.
Tags: autumn, crimini mushrooms, farro, kale, lardons, minestrone, tomatoes, vegetables