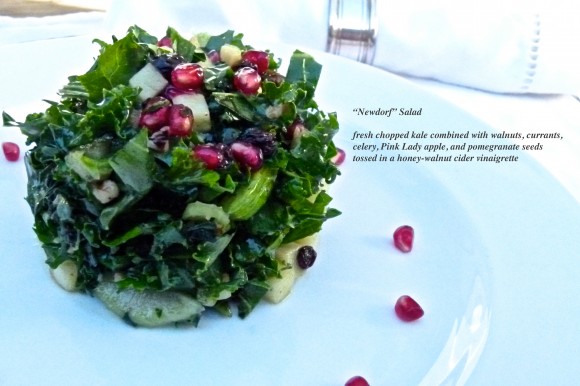 "Newdorf" Salad
(Waldorf salad revisited)
serves 4
what you need:
salad
6 handfuls of chopped kale (Tuscan preferably), ribs removed
¼ cup pomegranate seeds
¼ cup (dried) currants
¼ cup walnut pieces
2 celery stalks, sliced on bias
1 pink lady apple, cored and diced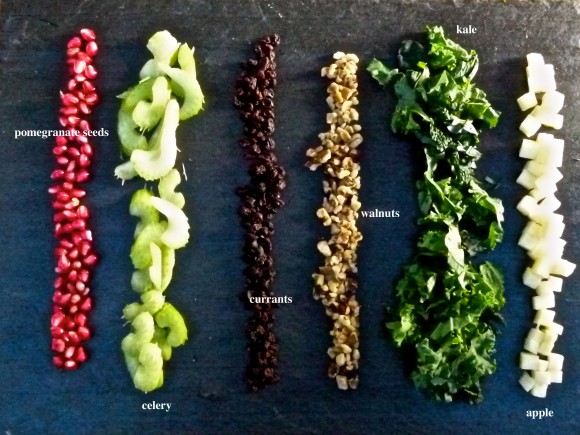 dressing
3 tablespoons walnut oil
4 tablespoons olive oil
3 tablespoons apple cider vinegar
2 teaspoons honey
1 tablespoon minced shallots
gros sel de Guérande or sea salt (as needed)
how to:
Prepare Dressing.

Place the vinegar in a bowl. Whisk in the oils. Whisk in the honey and shallots and whisk well until you achieve an emulsion. Add a pinch of salt.
Prepare Salad.

Place all of the salad ingredients in a large mixing bowl. Toss to combine.
Dress Salad.

Slowly add the dressing to the side of the bowl, and incorporate the salad into the dressing with your hand. You may not use all of the dressing (depending upon your handfuls of kale).
Adjust Seasoning.

Add salt to taste.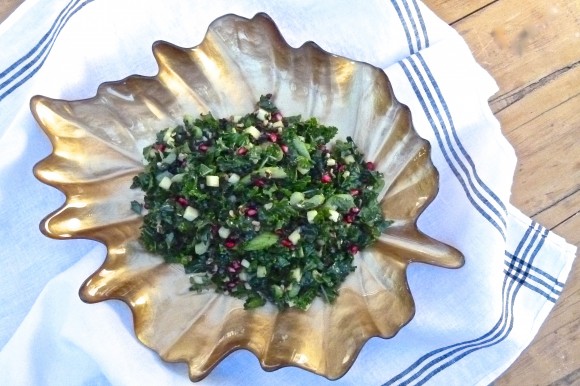 Tags: apples, celery, currants, kale, salad, simple pleasures, vegetarian, Waldorf, walnuts