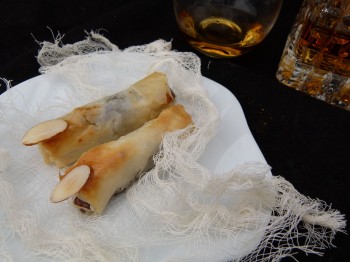 hee hee hee…straight from the witch's cauldron:
roasted date mummy fingers & harvest tajine with a haricots verts broomstick
The belated chill in the air makes us crave fall flavors and cold-weather cooking. This week we combine the comfort of oven-prepared food with Halloween fun. Tajine, a cooking vessel shaped like a witch's hat (as well as a popular Moroccan stew) was the inspiration for this week and it is the blending of a witch theme with Tajine-inspired flavors that give us this week's simple pleasure(s): roasted date mummy fingers and a harvest tajine with a haricots verts broomstick.
Although tajine is a North African speciality, it is enjoyed in many regions in France. A typical tajine includes garbanzo beans, zucchini, potatoes, eggplant, and often quince and tomatoes. It is made with lamb, chicken, and Marquez sausage, a spicy lamb sausage.
I have re-"vamped" (excuse the silly Halloween pun) tajine slightly, giving it more fall flavor and less animal fat. I kept the slight sweet and spicy flavor profile, but eliminated the garbanzo beans, zucchini and tomatoes. Instead, this recipe uses fall flavors: Kabocha squash, parsnips, carrots, and apples. The garlic cloves are un-peeled so your guests can squeeze the sweet roasted garlic from the skins. The sausage is eliminated to reduce the fat content of the dish and make it more child-friendly (of course, you can add it back in if you want). More chicken and leaner lamb is used. Also, by using Calvados and red wine (not typical for tajines) to deglaze the pan with the vegetables, the stew has depth so you will not miss the sausage and extra butter. Removing the skin from the leg joint on the chicken legs, gives the dish a Halloween-type appearance.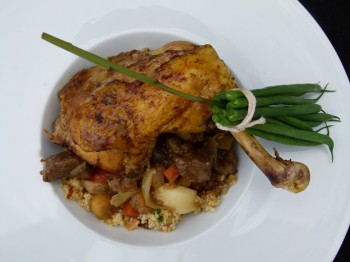 Preparation of the tajine can be broken down into 3 overall steps: (1) browning the meats and vegetables (this takes the longest and you do not want to rush it); (2) cooking the tajine in the oven for 45 minutes to 1 hour; and (3) making the sauce from the cooking liquid. The sauce with this dish pulls it together and it is delicious. However, make sure that you de-fat your cooking liquid or you will have a greasy sauce. The recipe is particular about how to do this.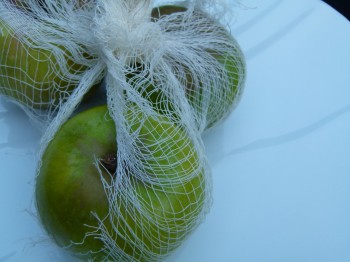 Tajine is customarily served with couscous, which is a semolina-based pasta. This couscous takes 2 minutes active time to make which is why I decided to leave it in the recipe. You simply pour boiling water on the couscous with some of the ingredients and let it stand covered for 10 minutes. Then you fluff the couscous with a fork, adding the almonds and fresh herbs, and season it with salt to your taste. It does not get any easier than that. If you want to make this recipe gluten-free, substitute the couscous for 1 cup red quinoa and 1 1/2 cups chicken stock or water (but you have to simmer the quinoa until the water is absorbed and that takes about 30 minutes).
Tajine is often served with a side of Harissa, a popular North African condiment made from chilies, oil, garlic and coriander. It is sold in a tube usually next to tomato paste in your supermarket.
You can serve tajine in individual bowls or family style in the tajine itself or on a platter by placing the meat and vegetables on top of the couscous and pouring the sauce on top of everything. If you would like to take advantage of the Halloween theme, you can also serve individual tajine portions wrapped in a sheet of phyllo dough resembling a trick-or-trick sack. It adds a fun surprise element to the meal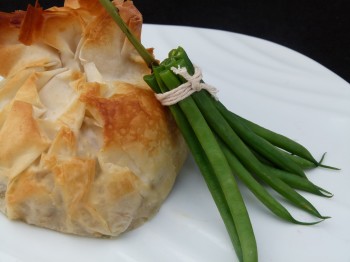 A broomstick made from haricots verts (french for fresh "green beans") go with our witch theme. Haricots verts are thinner than typical green beans (such as Blue Lake) and are known in the States as "French green beans." These beans also come in yellow and purple as well as green; however, the purple will turn green the longer they are cooked.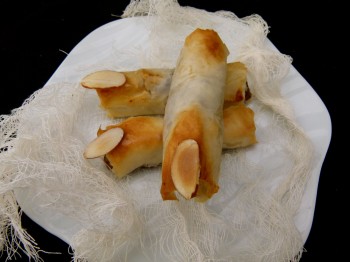 Lastly, we finish our meal with dates, also very popular in Moroccan food. The dates are rolled in phyllo dough to resemble fingers. They take 5 minutes active time to make. If you do not have (or do not care for dates), try mashed, ripe bananas instead. The date mummy finger recipe is below and the tajine recipe is in a companion post.
"bone appétit !"
LM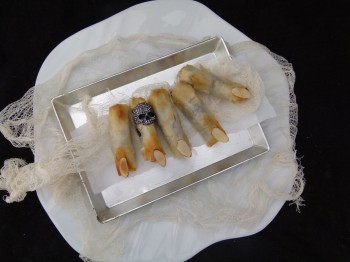 roasted date mummy fingers
stats:
yield: 12 fingers
what you need:
6 sheets phyllo dough (approximately 12" x 8")
9 ounces (or 12 tablespoons ) de-pitted honey, barhi or khadrawy dates (approximately 36 dates)
6 teaspoons almond paste (optional)
12 raw sliced almonds, toasted
honey (as needed)
how to:
Prepare Date Filling.

Remove pits from the dates. Take 3-4 dates (3/4 ounce or about 1 tablespoon) and roll them into the shape of a cigar. If you want to use almond paste as well, add 1 teaspoon of almond paste to the tablespoon of dates and incorporate the two.
Prepare Phyllo Dough.

Melt butter and set aside. Take one sheet of phyllo dough and lay it flat on a clean work space. Make sure to keep the unused phyllo dough covered or it will dry out. Use a pastry brush to lightly brush a little melted butter on the phyllo dough sheet. Fold the sheet in half into a smaller rectangle. Use a pastry cutter or knife to cut the folded piece of phyllo dough in half creating two rectangles measuring 5 1/2" x 7".
Roll.

Place one rectangle in front of you with the longer side (7" side) moving away from you. Place a "cigar" horizontally on the bottom third of the phyllo dough. Fold the right and left sides inward, covering the ends of the cigar (like you are folding a burrito). Bring the bottom of the phyllo dough over the top of the cigar and roll the cigar and the dough away from you. Brush a little melted butter on the rolled cigar to close the seam and to lightly coat the cigar so it will brown in the oven. Use your fingers to shape the cigar to resemble a finger. Continue the same process for the remaining 11 cigars.
Bake.

Place all 12 rolled and shaped fingers (seam side down) on a baking sheet lined with parchment paper. Bake in a oven preheated to

400 degrees Fahrenheit

until the phyllo dough is lightly golden brown and crisp. Remove from the oven.
Garnish.

Place almond slivers in a sauté pan over medium-high heat and toast until lightly golden brown. Add a dab of honey on one end of the fingers and place one almond silver "fingernail" on top of the honey.
Serve

. Serve warm or at room temperature.
Tags: easy dessert, Halloween, Harvest Tarjine, healthy Kids desserts, healthy snacks, mummy fingers, roasted dates