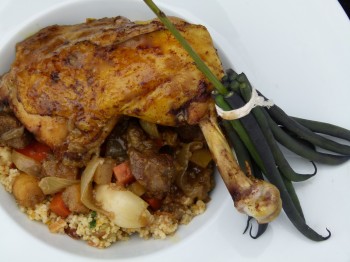 harvest tajine with a haricots verts broomstick
stats:
serves 4-6
what you need:
stew
3 chicken legs, trimmed
10 ounces lamb shoulder, trimmed and cut into 1 1/2" cubes
kosher salt (as needed)
freshly ground pepper (as needed)
1 teaspoon rendered duck fat (or unsalted butter)
1/2 teaspoon ground cinnamon
1/2 teaspoon ground nutmeg
1/4 teaspoon ground turmeric
1/2 teaspoon ground cumin
1/4 teaspoon piment d'espelette
1/8 teaspoon ground black pepper
1/8 teaspoon ground ginger
6 garlic cloves, unpeeled
2 small yellow onions, peeled and quartered
1 cup sliced carrots and parsnips
1 cup diced apples (i.e. MacIntosh, Jonathan, Braeburn)
1 tablespoon light brown sugar
1 tablespoon Calvados (or brandy)
1/4 cup red wine
1 bouquet garni (1 bay leaf and Italian parsley)
2 cups chicken stock
1 small kabocha squash, cut in half and seeds removed
6 sheets phyllo dough, room temperature (optional)
2 tablespoons unsalted butter, melted (optional)
couscous
1 cup whole wheat couscous
1/2 cup golden raisins
2 cups boiling water
2 large Halawi or Medjool dates, de-pitted and diced
1 tablespoon minced fresh coriander
1/2 cup sliced almonds, toasted
1 teaspoon kosher salt (and to taste)
broom garnish
2 large handfuls haricots verts (green or purple) (about 10-12 per broom)
6 bay branches with one bay leaf or 6 wooden skewers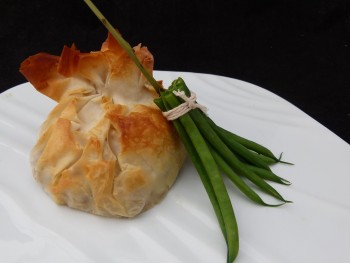 how to:
stew
Prepare Meats.

Trim fat from the lamb and cut into cubes 1 1/2". Trim fat and excess skin from the chicken legs. This is important because if you leave too much fat/skin on the meat, your cooking liquid and your sauce will be greasy. Season meats with salt and pepper.
Brown And Season Meats.

Place a large saucepan or dutch oven over a medium-high flame. Add 1 teaspoon of rendered duck fat (or unsalted butter) to pan. Once melted, add spices (cinnamon, nutmeg, cumin, piment, pepper, and ginger). Mix spices with fat. Add chicken legs and lamb, a few pieces at a time. Do not crowd the pan. Once the meat is browned on all sides, remove it with tongs and set it aside. Repeat this process until all the meat has a nice brown color. If there is fat in the pan (there should not be), pour off the fat except for 1 teaspoon.
Brown Vegetables.

Using the same pan, add 1/2-1 teaspoon duck fat (or butter) just to prevent the vegetables from sticking. Use a medium-high flame. Add the onions, carrots, garlic, and apples. Add the brown sugar. The sugar and apples will add moisture to the pan so you do not need to add additional fat. Cook for 4-5 minutes until browned.
Deglaze Pan

. Add the Calvados (or brandy) to the pan. Reduce au sec (there will be no more Calvados in the pan). Add the red wine and toss the vegetables in the wine. Reduce demi sec (there will be half of the wine left in the pan).
Simmer.

Turn the flame off. Return the chicken and lamb to the pan with the vegetables. Add the bouquet garni and chicken stock to the pan. Add squash by placing it upside down over the chicken. Cover pan with the lid. Cook in an oven preheated to

350 degrees Fahrenheit

until the chicken is tender and cooked through.
vegetable broom
Make Broom.

Gather 10-12 French green beans together in a bundle. Tie together with kitchen twine. Cut off one end of the beans. Pull a bay branch (with one remaining bay leaf) through the center of the beans. Alternatively, you can insert a skewer in the middle.
Steam.

Place the brooms in a perforated pan or mesh colander set over a pan of boiling water. Cover with a lid. Steam only for 2-3 minutes (if you steam them too long they will lost the purple color). Remove brooms from the pan and place the brooms in an ice bath to cease the cooking. Drain and set aside. You can rewarm the beans in a sauté pan over high heat when you are ready for service.
sauce and couscous
Separate.

When the meat is tender and cooked, use tongs to remove the squash. Use a slotted spoon to remove the meats and vegetables. Cover the meat, vegetables, and squash with aluminum foil and set aside. Discard bouquet garni.
Degrease And Strain.

Pour the cooking liquid through a chinois or close-net strainer into a fat separator or pan. If you are using a fat separator, carefully pour the liquid from the separator into a saucepan and place the pan over high heat. Discard the fat from the separator which rose to the top. If you do not have a fat separator, the easiest way to separate the fat from your cooking liquid is to cool the liquid so the fat will rise to the top and solidify. Once it does, it will be easy for you to remove the fat from the top with a spoon. If you do not remove the fat from the cooking liquid, your sauce will be greasy.
Reduce.

Reduce the cooking liquid to about 1/4 cup, skimming off impurities as it reduces.
Cook Couscous.

Place couscous, raisins, dates, and salt in a bowl or a saucepan. Bring water to a boil. Pour the boiling water over couscous. Cover with a lid and let it stand for 10-15 minutes.
Fluff Couscous.

Dice the squash into 1/2" cubes. Add almonds, fresh herbs, and diced squash to the couscous. Fluff couscous with a fork, incorporating the additional ingredients. Cover with a lid to keep warm.
Mount With Butter.

Remove reduced cooking liquid from the heat. Add a tablespoon of unsalted butter to pan and using a swirling motion with your arm, swirl the pan so the butter moves in a circle in the pan and slowly melts, thickening your sauce. Adjust seasoning with salt and pepper. If the sauce is too sweet or greasy, you can add a little lemon juice or water to cut it.
Serve In Entrée Bowls.

Spoon some couscous in an entrée bowl. Add a large scoop of vegetables and meat on top and/or a chicken leg. Garnish with a broomstick (reheated if cold).
(or) Serve In Treat bags

. Lay out one sheet of phyllo dough over a baking sheet lined with parchment paper. Add a scoop of couscous, vegetables, and meat on top of the phllyo dough. Fold the dough over the stew and close with kitchen twine. Use a pastry brush to lightly brush melted butter on the exterior of the phyllo dough sack and mend any creases or breaks in the dough. Place the baking sheet with the phyllo dough sacks in an oven preheated to

400 degrees Fahrenheit.

Bake until bag(s) is golden brown. Carefully remove sack(s) from baking sheet with a spatula.
Serve.

Serve immediately while warm.
Tags: chicken, couscous, dates, Halloween, haricot vert, haricots verts, harissa, kabocha, lamb, raisins, tajine, witch theme