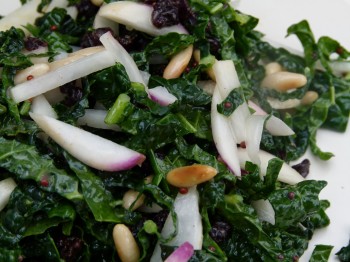 kale and turnip slaw with mustard seed dressing
serves 4
what you need:
from the farm
1 bunch baby Tuscan kale leaves, trimmed and en chiffonnade
1 cup grated (or julienned) purple globe turnips
¼ cup currants
¼ cup pine nuts, toasted
dressing
1 tablespoon fresh lemon juice
1 tablespoon apple cider vinegar
1 teaspoon prepared dijon mustard
1 teaspoon brown mustard seeds, toasted
1 teaspoon sea salt
2 tablespoons sunflower oil (or olive oil)
how to:
Prepare Dressing.

Place the mustard seeds in a sauté pan over medium heat. Toast the seeds (only a few minutes). Remove from stove and set aside. Place the juice, oil, vinegar, salt, mustard, and mustard seeds in a small dish and whisk together well. Set aside.
Toast Pine Nuts.

Place the pine nuts in the same sauté pan you used for the mustard seeds over medium heat. Toast the nuts until they turn a golden color and begin to release their oil. Remove from the heat and set aside.
Prepare Kale.

Trim stems from kale. If the leaves are large, strip them from their stems and the ribs. Wash and dry leaves well in a salad spinner. Take several kale leaves, stack them and roll them up (as indicated) like a cylinder. Use a chef's knife to thinly slice the leaves crosswise into thin strips. Repeat until all leaves have been sliced. Place in a bowl.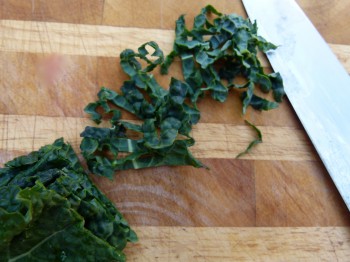 Prepare Turnips.

Use a large grater to grate the turnips (Alternatively, you can julianne the turnips by cutting them in half and placing the flat side down on a cutting board. Slice vertically in strips ⅛ inch in length. Turn on the side and slice until the width is ⅛ of an inch as well). Add turnips to the bowl with the kale.
Dress Salad.

Add the currants and pine nuts to the kale and turnips. Add dressing and toss to coat.
Rest.

Let the slaw rest in the refrigerator in an air-tight container for a few hours before serving. The salad can be stored in the refrigerator for a few days.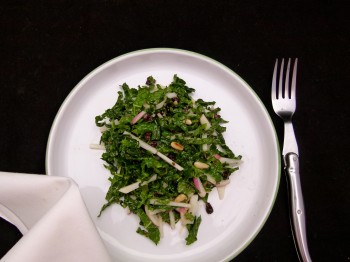 Tags: kale, kale salad, Mcgrath family Farm, mustard seeds, organic, organic salads, pine nuts, turnips, tuscan kale