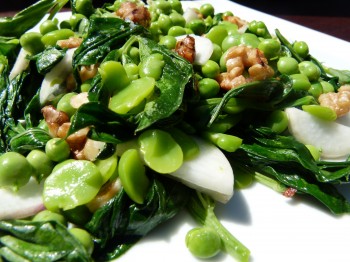 spring pea and fava bean salad with fava leaves
serves 4
what you need:
from the farm
1 cup freshly shucked English spring peas
1 cup young fava beans, pods removed (skins removed as needed)
2 generous handfuls of fava leaves, trimmed
fava flowers (as needed)
3-4 purple globe turnips, trimmed and thinly sliced
½ cup walnut pieces, toasted
dressing
1 tablespoon fresh lemon juice
1 tablespoon apple cider vinegar
1 teaspoon sea salt (and to taste)
2 tablespoons quality olive oil
how to:
Toast Walnuts.

Place a sauté pan over a medium-high flame. Toast walnuts in pan until golden brown and the nuts begin to release their oil. Remove from flame. Set aside to cool.
Make Dressing.

Place juice, vinegar, oil, and salt in a bowl. Whisk together well. Set aside until ready for use.
Shuck Peas.

Remove the peas from their pods. Set aside.
Shuck/Boil Fava Beans.

Remove the fava beans from their pods. If the fava beans are large (twice the size of the peas), boil them in pan of salted water for 1-2 minutes. Drain the beans with a colander or sieve. Place in an ice bath (to cease the cooking). Once cool, remove the beans from their skins. Add beans to the peas. Discard skins.
Greens.

Wash the leaves and flowers and place in a salad spinner. Dry well. Trim the leaves. Set the flowers aside for garnishing.
Sauté

. Add about 2 teaspoons of dressing to a large sauté pan over a medium flame. Add the peas and the fava beans. Add the leaves to the pan. Use tongs to gently toss the ingredients together and slightly wilt the greens and warm the beans and peas. This only takes 1-2 minutes. Remove from the heat.
Dress.

In a large bowl, add greens, beans, peas, walnuts, and sliced turnips. Slowly incorporate dressing (salad should be coasted but not swimming in dressing (be aware that this recipe makes extra dressing should you choose to add more greens).
Garnish.

Add fava flowers in a decorative way. The salad can be stored in the refrigerator for a few days in an airtight container.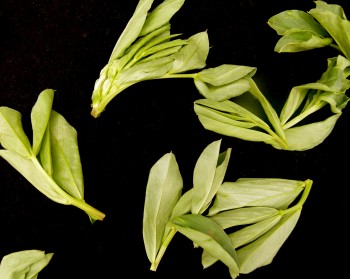 note on fava beans
Young fava beans can be eaten out of the pod in their skins. However, fava beans which are larger as well as the fava leaves, tend to be a little bitter. Taste one. If it is not sweet, then blanche the beans and remove the skins
(as the recipe calls for ).
Tags: apple cider vinegar, fava beans, fava leaves, Mcgrath family Farm, organic, organic salad, spring peas, turnips