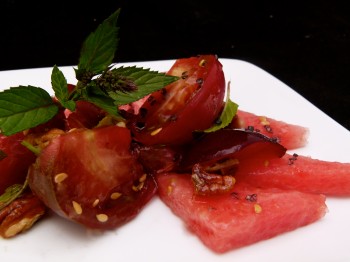 lazy days of summer: watermelon and heirloom tomato salad
Nothing says summer more than juicy ripe watermelon and vine-ripened tomatoes. We enjoy them separately and find ways to include them in various meals. Together these two fruits are devine (as well as good for you and keep you looking young) and for these reasons a watermelon and heirloom tomato salad is this week's simple pleasure. Both watermelon and tomatoes are significant sources of the antioxident lycopene. Lycopene helps strengthen the membranes of your cells and in doing so is credited with preventing wrinkles, heart disease, osteoporosis, diabetes, macular degeneration, and many forms of cancer. In addition, both watermelon and tomatoes are excellent sources of potassium as well as vitamins A, C, and B6.
The brown flax seeds also pack a nutrious punch. Flax seeds are high in fiber, Omega-3 fatty acids and low in carbohydrates. Not only good for you but the flax seeds, combined with the black Hawaiian sea salt, provide a slight crunch as well as visual interest (they look like watermelon seeds). If you have neither you can use black sesame seeds although the health benefits from the flax seeds will be lost.
The sugared pecans are a delightful addition, but I have to admit, a little gratuitous and the salad remains tasty without them. If you add them, do it right before service or they will loose their crunch.
Lastly, watermelons and tomatoes are full of water and the addition of salt will draw out some of this moisture. If you make the salad ahead of time, make sure to drain the excess water before service so your salad is not soggy.
This salad takes only 10 minutes active time to prepare and is a wonderful way to use the last of those summer fruits.
Je vous souhaite un bon appétit !
LM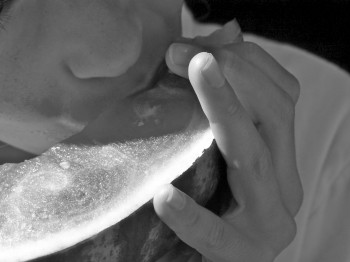 watermelon and heirloom tomato salad
stats:
serves 4-6
what you need:
2 beautiful heirloom tomatoes, sliced into wedges
2 slices seedless watermelon, 1/4" thick
2 plums, pits removed and quartered
1 tablespoon flax seeds
1 teaspoon black Hawaiian sea salt (and as needed)
1/4 cup pecan pieces
1 teaspoon light brown sugar
quality olive oil, as needed
fresh spearmint leaves, as needed
how to:
Cut Fruit

. Cut watermelon slices into triangles.Slice the tomatoes and the plums into wedges.
Toast nuts.

Place pecans in a pan over medium-high heat. Once the nuts are becoming golden and begin to release their oil, add brown sugar, remove from heat, and toss the nuts in the sugar. Set aside to cool
Assemble.

Place cut fruit, flax seeds, salt, and spearmint leaves in a bowl and toss.
Chill.

Let the salad sit for at least thirty minutes. Drain off excess liquid.
Serve.

Garish the salad with the sugared nuts, a sprinkle of black sea salt and drizzle with quality olive oil. Serve cold.
Tags: candied pecans, easy summer salads, flax seeds, fruit salad, healthy starters, heirloom tomatoes, plums, salad, simple pleasures, watermelon