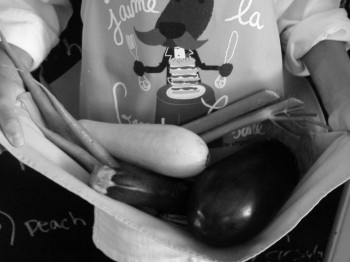 summer provençal tian: more than a dish
In Provence there is a regional speciality simply known as "tian." The name actually refers to the dish the food is cooked in rather than the food itself (a "tian" is a shallow baking dish). This week we are modifying the classic tian but staying true to the flavors of provence and a provençal tian is this week's simple pleasure.
Tian usually consists of vegetables, stacked horizontally in a baking dish, and bound with a mixture of rice, cheese and eggs. In the heat of summer it seems too hot for all of that starch and dairy, so we are making a simple tian with market fresh ingredients.
This recipe has four steps, half of which is non-active time. The active time, cutting and placing the vegetables and tomatoes in the dish, could not be more simple (and the assembly is a perfect project for those "I am so bored" kiddies looking for something to do). The ingredients (eggplant, summer squash, tomatoes, onions, basil and olive oil) are typical flavors of Provence. Tian can be served hot or cold. It can be a sidedish or used in a sandwich or a salad for a light summer meal.
Je vous souhaite un bon appétit !
LM
summer Provençal tian
stats:
yield: makes one dish 8" by 8"
what you need:
1 eggplant (7 ounces), sliced lengthwise
3 large heirloom tomatoes, sliced
2 zucchini (13 ounces), sliced lengthwise
1 yellow or red onion (8 ounces), sliced rondelle
fresh basil leaves (as needed)
2 tablespoons olive oil (and as needed)
1 tablespoon kosher salt (and as needed)
freshly ground black pepper (to taste)
how to:
Macerate Eggplant And Squash

. Using a mandolin, carefully slice eggplant and summer squash about 1/8 inch thick. Place the slices in a bowl and add salt and olive oil. Toss to coat. Set aside for one hour. Drain.
Tomatoes and Onions.

Using a mandolin again, slice the onions to the same thickness as the eggplant. Slice the tomatoes to the same thickness but use a serrated knife.
Pan

. In a shallow baking dish, lay vegetables slices, side by side, alternating colors and types (arrange in a visually interesting manner). Fill the entire dish and pack the vegetables together so that they are tightly arranged in the dish. Drizzle with olive oil, a little salt and pepper.
Bake.

Bake in an oven preheated to 400 degrees Fahrenheit until the vegetables are cooked through and slightly browned on the top. Remove from the oven and let cool slightly.
Garnish.

Add fresh basil leaves in between the vegetable slices. Sprinkle with fleur de sel and freshly ground black pepper.
Serve

. Serve warm or at room temperature.
Tags: basil, french cooking recipes, heirloom tomatoes, onion, provençal tian, provence, simple pleasures, summer squash, summer vegetables, tian, zucchini