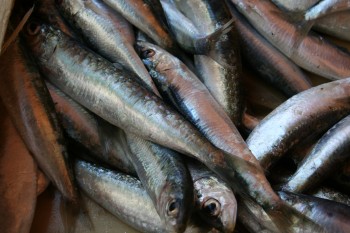 les marchés de poissons
When you visit a market in France, deciphering vegetables is generally obvious. The appearance, despite the French sign, gives it away.  "Un chou-fleur" which looks a cauliflower, is a cauliflower.
Fish is trickier.  Moreover, there are many fish in France that are not available in the States.  Here are some pointers should you want to purchase fresh fish in a French fish market (or order fish on a menu). Remember that fish (as well as vegetables) is purchased by the kilogram, not the pound.  Approximately 2.2 pounds equal to 1 kilogram. The following describe how the fish is cut or caught:
"pêche locale" means that the fish was fished locally.
"

de côte" means "of the coast."  For example

barbue de côte

means that the fish,

barbue

(brill), was caught right there on the coast.
"de ligne" means the fish was line-caught.
"

griller"

, for example, "

saumon à griller

", means that that salmon is good for grilling.
"sur arêtes" means that the fish has not been filleted and still has its backbone (

une arête

i

s a fish bone).
"

joue

"  is a cheek.   "

Joue de lotte

"

is a monkfish cheek.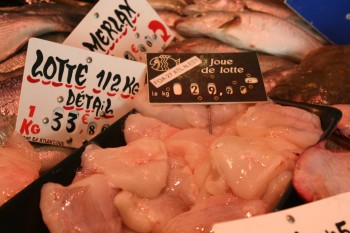 "les filets" is fillets (i.e.,

les filets de Maquereau

" are mackerel fillets)
"

goujonnette

" is a long piece of fish (or it can be meat) cut sideways and fried.
"

la darne

"

is a steak of fish as opposed to a fillet (i.e.,

la darne de saumon

is a salmon steak).
The following is list of the most common fish you will find in France in the markets with a short description.
Bonnes courses !
LM
anchois
Anchovies.  Small fish of the herring family which are usually marinated and packed in olive oil.  Popular in the South of France and used in dressings, salads, on tarts, and deep-fried.
anguille
Fresh water eel.
barbue
Brill.  Lean, flat fish with delicate flesh.  Methods for preparing brill are generally the same as other lean fish turbot and sole.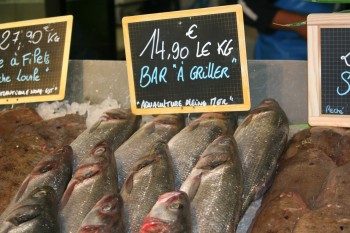 Bar
(Loup de Mer or Loubine)
Sea Bass.  "Loup de Mer" is French sea bass available in the South of France.  This is an expensive and firm fleshed fish with good flavor.
barbeau
(also known as barbillon)
Barbel.  Fresh water fish.
brème
Bream.  Fresh water fish lighter than trout.
brochet
Pike.  Fresh water fish.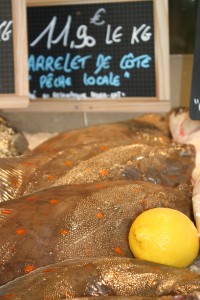 carrelet
Plaice. Flat fish with grey skin with orange spots. White and flaky flesh similar to turbot but flatter and the flesh is tender but not as refined as turbot, sole or brill.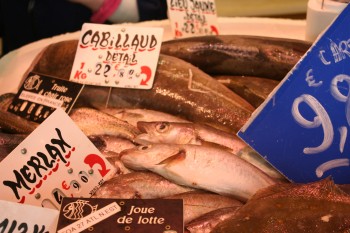 cabillaud
Cod. Fish in the Cod family have firm white flesh with a mild flavor and large flakes. When salted it is called "morue."
carpe
Carp.  fresh water fish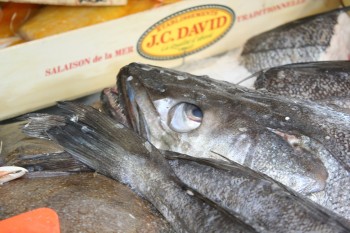 colin
Hake.  Similar to whiting. Colin blanc is white hake.
congre
(or fielas)
Conger eel.  Almost black with lots of bones.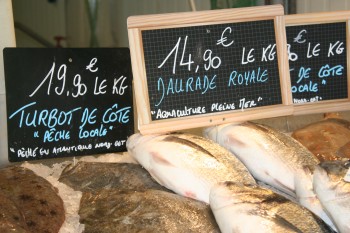 daurade
(also called daurade royale)
Sea Bream (gilt head bream)  White fish with solid texture.  Delicious fish which is  popular in Provence.
éperlan
Smelt.  Small round fish usually deep fried or à la meunière
Encornet
Sea snails.
esturgeon
Sturgeon.  Fresh water.
grondin
Gurnard. Red fish with a big head. Usually put in soups.
hareng
Herring.  Oily fish.  Usually salted, canned or smoked.
John Dory
(or Saint Pierre)
Flat fish.  Lean fish with aromatic flesh.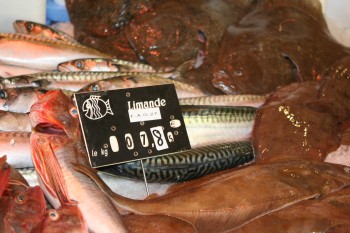 limande
Sand dabs.   Small lean fish that looks like sole but not as tasty nor as firm.  Generally pan fried.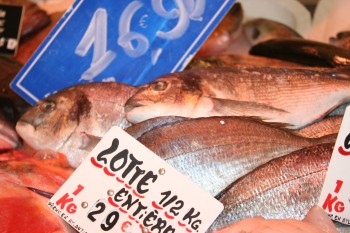 lotte
(also called baudroie)
Monkfish.  Lean fish and the ugliest fish I have ever seen.  Often referred to as the poor man's lobster due to is  meaty flesh.  Usually cooked without the head.
maquereau
Mackerel.  Usually pan fried.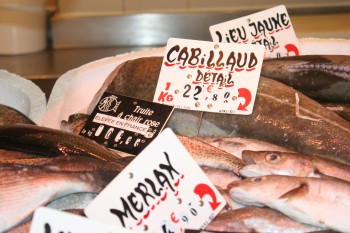 merlan
Whiting.  A member of the cod family.  Dark grey exterior with delicate texture.  Popular with home cooks in France.  In restaurants use for dumplings.  Round and thin fish (good for steaks). Poissonniers always put the fish's tongue in its mouth and it is referred to as "le merlan en colère" (the angry fish).
morue
Salted cod.
mulet
(also called muge)
Mullet.  Theyre are grey mullet and red mullet.  Red mullet are smaller.  Mullet is prepared the same way as sea bass usually.
perche
Perch.  delicate fish fresh water fish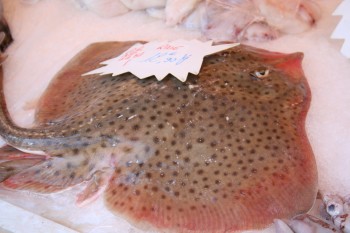 raie
Skate (or called ray).  Flat seawater fish with pinkish, white flesh.  Each half is called a wing.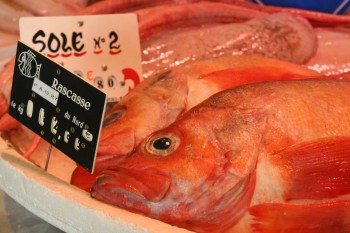 rascasse
Considered to be absolutely necessary in bouillabaisse.  A spiny red fish with bulging eyes and white flesh.
rouget
Small red snapper.  Very boney.  Slight pink flesh. From the South of France
sardines
Sardines.
saumon
Salmon.
sole
Usually Dover sole.   Popular in France and used in a wide variety of recipes. Dover sole is a lean, flat fish which is very mild. Caught in the Atlantic, the fish is difficult and cost prohibitive for consumers in California (instead Pacific sole or lemon sole is what is sold).
turbot
Turbot is a flat fish.  It is more popular in Europe than in the States.  Meatier flesh than sole.
truites de rivière
River trout.  Fresh water small round fish.