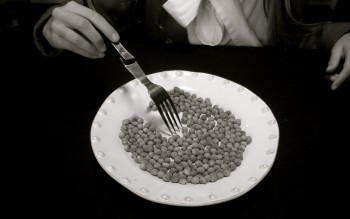 pea pusher no more:
spring peas à la française
The phrase "pea pusher" describes someone who pushes their food around on their plate rather than eating it.  If you are a parent chances are that you know someone who has "pushed peas" on their plate creating a road (or a series of roadways) to create the illusion that the peas or other green food product has been eaten. This week's simple pleasure, peas braised with soft butter head lettuce and pearl onions, will cease the veggie construction and turn your pea pusher into an eater of peas.
Petit pois à la française (peas cooked in the French style) is a classic french side dish.   It is a reliable standby for adults and children. Simple to prepare the dish can be enjoyed throughout the year but it is particularly tasty in the Spring when peas are their sweetest.
When buying fresh peas, buy them in the shell and use them within a couple of days.  Peas loose their sweetness and freshness rapidly. You can also use frozen peas because  they are typically frozen immediately after harvest when they are naturally sweet (however make sure that sugar is not listed as an ingredient). Do use canned peas because they have a "canned taste."  You can try to minimize this taste by blanching, draining, and then sautéing the peas to eliminate the excess moisture.  However, if you have the choice, it is easier to go the fresh or frozen route.
Use butter head lettuce for this recipe.  Do not use mesclun or mâche because they are too delicate; large romaine and iceberg are too watery.  Similarly, do not use any greens that are bitter (i.e., arugula).  If you do not have  pearl onions, you can use small cipollini onions or slice larger sweet onions (i.e., Maui or Vidalia).  Do not use red onions or yellow onions because they are too harsh.
I cut back on the butter and sugar that is traditionally used. A nominal amount of sugar remains to allow the braising liquid to thicken (you do not need the sugar as a sweetener if your peas are young). If you do not want to add the sugar, you can use a beurre manié (cold butter with flour mixed in it and added at the end) but you will be left with the flour taste in your peas. To me, the sugar is preferable.
Lastly, do not overcook the peas and lettuce or they will turn an unattractive brownish grey. They should braise no longer than 20 minutes. The condensation which gathers on the lid and drips down combined with the general moist heat in the pan will cook the lettuce even though the peas and lettuce are largely above the water line. Do not stir the peas too much or too forcefully while cooking or you will have an unattractive pea mash.
These peas are an excellent companion to poultry, pork, meats or fish. They are particularly good with lamb. However, whether enjoyed alone or as a side, they will be eaten.
Je vous souhaite un bon appétit !
LM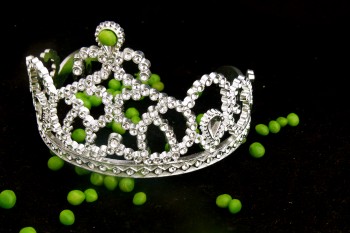 dinner music
(to the tune of the chorus in Train's song "Soul Sister")
"hey pea pusher
aren't those veggies veggies
on your plate you know…your tummy grows
the way you eat so fast right now


hey pea pusher
you don't wanna miss
a single pea … it's there …
[indicating] your right

hey… hey… hey ..."
spring peas à la française
stats:
serves 8-10
what you need:
2 tablespoons unsalted butter
12 pearl onions, peeled and trimmed
1 small butterhead lettuce, core and stems removed, cut into 1 inch strips
2 cups fresh peas (or frozen)
bouquet garni (with 1 fresh bay leaf and Italian parsley)
3/4 cup water (or chicken stock)
1 1/2 teaspoon superfine granulated sugar (or agave syrup)
kosher salt (to taste)
freshly ground black pepper
how to:
Prepare Lettuce

.  Leaf the lettuce and remove the core and thick portions of the stem.  Cut leaves into strips one inch thick.
Sauté Onions

.   Place a saucepan over medium heat.  Add butter and melt.  Add onions and toss to coat in butter. Cook for about 5 minutes.
Add Greens.

Reduce heat to a low flame.  Add lettuce, bouquet garni, and peas.  Gently toss with onions and butter.
Braise.

Add water and sugar. Cover pan with a lid.  Cook just until peas are tender about 20 minutes (do not overcook).  Remove from heat
Adjust Seasoning

.  Season to taste with salt and pepper.  Keep warm by covering with lid.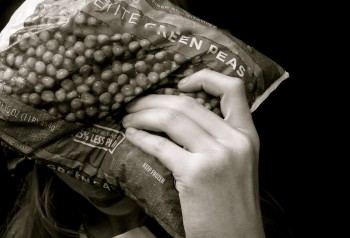 food for first aid
all chefs know that a bag of frozen peas
makes an excellent ice pack
Tags: lettuce, pearl onions, petit pois a la francaise, spring peas