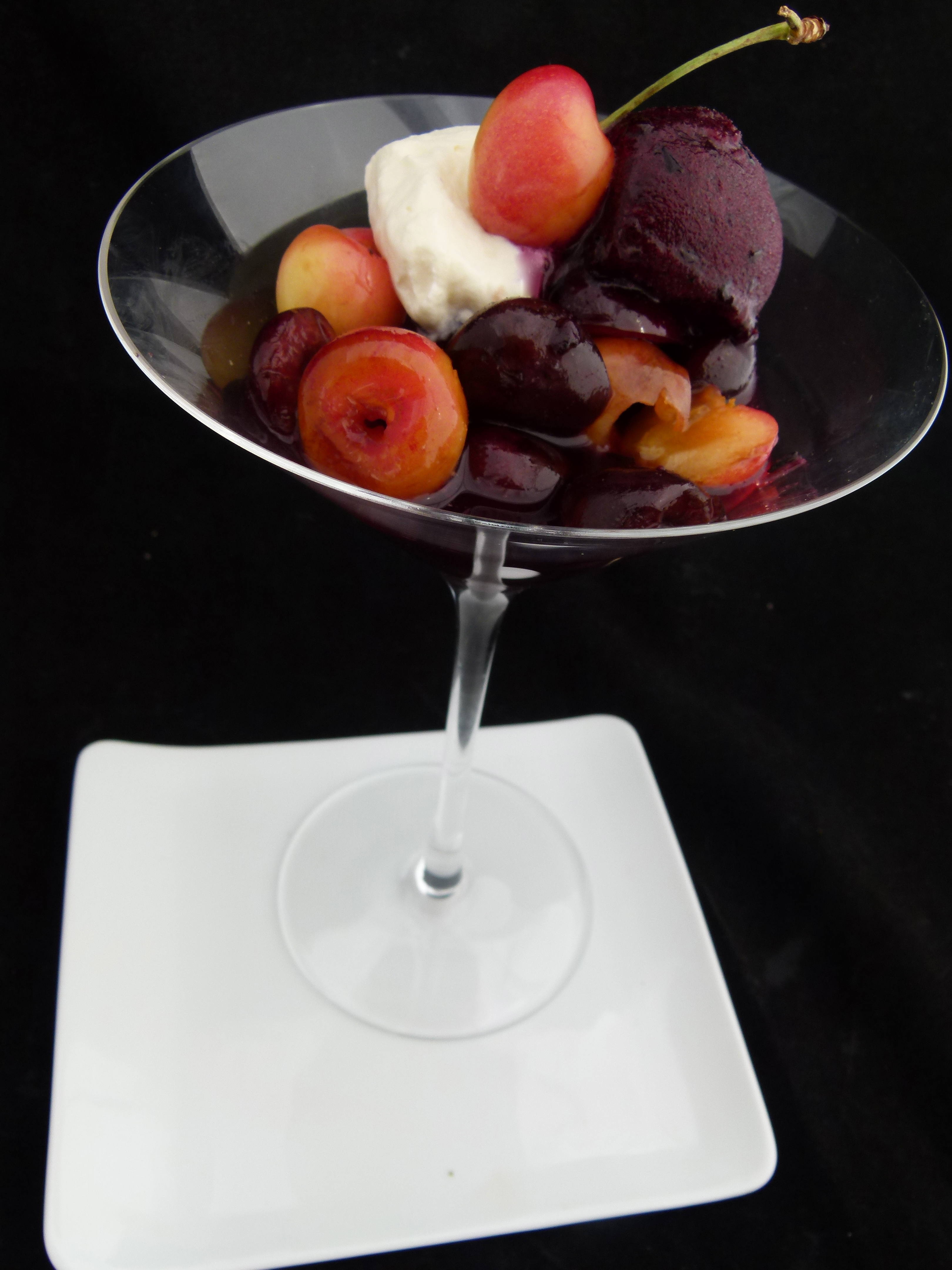 bonne Fête Nationale:
celebrating La Fête Nationale with the colors of summer fruit
(and a little eau-de-vie)
In France, July 14 is La Fête Nationale or commonly known as Bastille Day. It is a national celebration, much like our July 4th, with military demonstrations, concerts, fireworks, and food. Using the colors of the French flag as our inspiration, this week our simple pleasureis the celebration of Bastille Day with a summer dessert: eau de-vie marinated cherries with blueberry sorbet and cherry brandy whipped cream. Bonne Fête Nationale !
Summer fruit is delicious by itself but like a wardrobe of beautiful clothes sometimes you need a different accessory or new way of belting that little black dress to breathe newness into your something wonderful.
This week bing cherries, rainier cherries and blueberries get that breath of newness from eau-de-vie and blue agave nectar. This dessert is composed of three parts: the marinated cherries; the blueberry sorbet; and whipped cream. All are easy to make and can be prepared in advance. Although inspired by Bastille day, the dessert can be enjoyed all summer long.
Eau-de-vie, French for "water of life", is a liqueur distilled from plants, herbs, or fruit. It is an alcool blanc (white alcohol) commonly referred as "fruit brandy" and is made from fruits such as pears, apples, raspberries, and cherries to name a few. Fruit brandy is enjoyed after dinner (with the exception of le trou normand) and the high alcohol content (27-45 percent) makes it something served in the smallest of cordial glasses or dessert wine glasses, often over ice. Fruit brandy is useful in cooking and can be used for deglazing, included in sauces or to bump-up the flavor in soups, stews or braises. Desserts are one of the most obvious places for the inclusion of fruit brandy and used to add flavor to pastry cremes, chocolate, soft cheeses, sorbets and/or ice cream. In France, it is common to have fruit sorbet topped with eau-de-vie for dessert.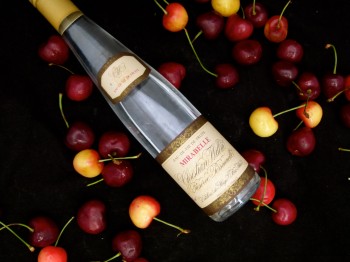 France is not alone when it comes to enjoying the collaboration between dessert and brandy. In fact my first introduction to the combination was here in the States as a child. I was sitting down to enjoy some ice cream with my father (from whom I inherited my sweet-tooth). We made ice cream with our new ice cream maker — the old school variety replete with dry ice and a crank — and it was quite a production. My father thought the manual labor called for a special celebration and added a topping of fresh blueberries to our ice cream and to his he also added a little brandy. At the first moment of distraction, I snuck my spoon into his ice cream bowl and when he was not looking and took a taste. I coughed and sputtered and my face turned as blue as the blueberries laying in the shallow brandy pool clouded by the melting ice cream. I was caught. "Not really what you expected?" my father said, as he chuckled. It wasn't.
Because of the high alcohol content, a little eau-de-vie can go a long way. Sometimes the brandy is purposely the predominent taste as is the case withles fruits du vieux garçon(old bachelor's fruit) where the fruit is soaked in brandy and sugar for about three months until the preserved fruit is "ready"to eat (with the then fruit-infused brandy). This is not the case here.
In our recipe, the cherries are macerated overnight in a very small amount of cherry brandy and sugar. The liquid is then strained and cooked to a syrup consistency. It takes only about 5 minutes but the result is a nice, slightly sweet syrup in which to toss the cherries. The brandy is used more to withdraw the moisture from the cherries than to alter their character and the alcohol is largely cooked out when you are reducing the liquid. If you do not want to use cherry brandy, you can use cherry juice as a substitute. The whipped cream, too, is infused with a nominal amount of eau-de-vie and a little sugar but cherry or vanilla extract can be used as a substitute.
The blueberry sorbet also has minimal embellishment and takes about 30 minutes to prepare, most of which is churning time in the sorbet maker. The sorbet is primarily sweetened with blue agave nectar.
The combination of the syrupy cherries with the icy sorbet and smooth creme is a refreshing, light twist on ingredients we already know and love. I hope you enjoy your "new" little black dress (or trousers, as the case may be).
Je vous souhaite un bon appétit et très bonne Fête Nationale to my friends in France !
LM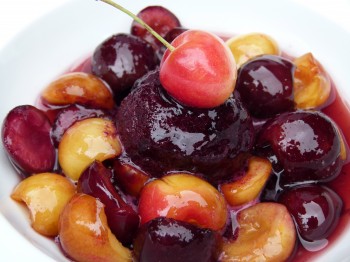 marinated cherries with blueberry sorbet
and cherry brandy whipped cream
stats:
serves 4-6
what you need:
sorbet
6 ounces blueberries
3 ounces blue agave nectar
4 ounces water
1 tablespoon superfine sugar
1/2 tablespoon fresh lemon juice
cherries
10 ounces bing cherries (or other sweet, red cherries), stems and pits removed
6 ounces rainier cherries, stems and pits removed
1/4 cup superfine sugar
3 tablespoons eau-de-vie de fruits (cherry brandy, kirsch or Mirabelle plum brandy)
whipped cream
1 cup heavy cream
2 teaspoons powdered sugar
1/2 teaspoon eau-de-vie de fruits (cherry brandy, kirsch or Mirabelle plum brandy)
how to:
sorbet
Make Syrup.

Place blueberries, agave nectar, water, sugar, and lemon juice in a saucepan over low heat. Cook until sugar has dissolved and blueberries are soft. Remove from heat.
Purée

. Using an immersion blender or a food processor, purée the blueberry mixture until smooth.
Cool.

Place the bowl containing the blueberry purée in an ice bath and cool.
Churn

. Once cool, pour purée in an ice cream/sorbet maker and turn it on. Following the manufacturer's instructions, churn the purée until thick and creamy.
Freeze.

Place sorbet in air tight container. Freeze for at least 4 hours before serving.
whipped cream
Whip Cream.

Place the cream in a mixer bowl. Using the whisk attachment, turn the mixer on high speed. Rain in the sugar. Whisk until you reach peaks. Turn the mixer off and fold in the

eau-de-vie

.

Store in refrigerator until ready for service.
cherries
Prepare Cherries.

Remove stems and pits from the cherries. Cut three-fourths of the cherries in half. Leave the rest whole. Place cherries in a bowl and add sugar and

eau-de-vie

.

Toss to coat. Leave in the refrigerator overnight.
Make Syrup

. Remove cherries from the refrigerator and drain the liquid from the cherries. Place the liquid in a saucepan. Over medium heat, cook the liquid until you achieve a syrup consistency (this will only take about 5 minutes). Remove from heat.
Coat Cherries.

Add cherries in the syrup and toss to coat. You can store the cherries in the refrigerator until ready for service.
Serve.

Place a scoop of the cherries in a glass or bowl. Pour some of the syrup over the cherries. Add a scoop of blueberry sorbet and a scoop of whipped cream on top (or serve on the side). Serve immediately.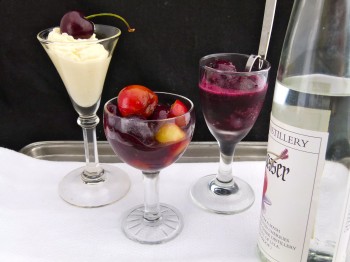 Tags: bing cherries, blueberry sorbet, cherry brandy, eau-de-vie, rainier cherries, simple fruit desserts, summer fruit