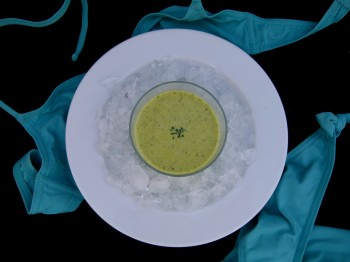 bathing suit ready: a vichyssoise to dive into
"Soup is good food." Hot soup warms you in the winter and chilled soup refreshes you in the summer. I often devote entire classes to soup-making and the classes are always full. Vichyssoise is cold potato and leek soup thickened with heavy whipping cream and garnished with fresh chives. It is a classic. However, when the temperature is in the 90's (Fahrenheit), starchy potatoes ladened with cream sounds neither light nor refreshing. So I updated this classic: I kept it cold but made it vegetarian and turned it green and this green vegetable vichyssoise, light in texture and calories, is this week's simple pleasure.
Despite popular belief, vichyssoise was not created in France but in the United States (albeit by a French chef named Louis Diat). Chef Diat grew up near the town of Vichy in France (the reason for the soup's name) and potato and leek soup was what Diat ate for breakfast as a child (although it is not clear to me if he actually ate it cold in the morning). It can be made throughout the year because potatoes and leeks are always available.
Green vegetable vichyssoise takes advantage of seasonal vegetables, fruits, and herbs. There is no dairy. The zucchini and asparagus are largely "cooked" without heat and then only quickly blanched with the soften celery and fennel. This minimal heat preserves their bright green color and is a healthy way to prepare them. The puréed avocado finish gives the soup its creamy texture without an overwhelming guacamole taste. The soup is filling and can be a meal with some fresh, hearty bread. An 8 ounce serving is about 200 calories (primarily due to the avocado) and you are getting your day's five vegetable and fruit requirement in one bowl.
Green vegetable vichyssoise is everything you could want in a summer soup: creamy and delicious, nourishing, filling, and good for your bathing suit figure. Feel free to dive in.
Je vous souhaite un bon appétit !
LM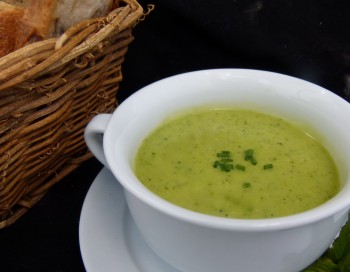 green vegetable vichyssoise
stats:
yield: 32 ounces
(8 ounce serving is 200 calories)
what you need:
1 tablespoon olive oil
1 tablespoon minced shallots
1 cup small diced celery
1 cup small diced fennel heart
1/4 teaspoon ground cumin
2 tablespoons dry white wine
3 cups small rondelle sliced  asparagus
2 cups small diced zucchini
1 teaspoon kosher salt
2 tablespoon olive oil
2 tablespoons fresh lime juice
1 bay leaf
2 cups bottled water
1/4 teaspoon freshly ground pepper
1/4 teaspoon kosher salt
2 tablespoon fresh chervil leaves
2 tablespoon fresh tarragon leaves
1/2 cup Italian parsley leaves
1/2 cup fresh coriander leaves
1/2 cup puréed very ripe avocado
kosher salt (to taste)
freshly ground black  pepper (to taste)
minced chives, as needed
how to:
Prepare Vegetables.

Wash the vegetables well and dry them. Remove the ends and discard. Leave the skins on the zucchini but lightly peel the asparagus. Dice.
Macerate

. Place asparagus and zucchini in a bowl.  Add lime juice, olive oil and salt. Toss to coat. Set aside for 2 hours.
Sweat Aromatics

.  Heat a saucepan over a medium-high flame.  Once the pan is warm, add olive oil. When oil is hot, add shallots. Once shallots are translucent, add celery and  fennel with the cumin. Cook until very tender (this takes about 15 minutes).
Deglaze With White Wine

. When celery and fennel are soft and begin to stick to the bottom of the pan, add the white wine.  Cook until the wine has been "cooked out" (reduced au sec) and is no longer visible in the pan.
Boil.

Add water, salt, pepper, and bay leaf.  Bring to a boil.  Use a spatula to add the asparagus and zucchini (with any juice and oil in the bowl) to the saucepan. Return soup to a boil (this will take 4-5 minutes because the asparagus and zucchini reduced the water temperature). When the water begins to boil, turn the heat off and remove the saucepan from the stove.
Purée.

Remove bay leaf and discard.  Add fresh herbs (chervil, parsley, coriander, and tarragon) to soup. With an immersion blender or a food processor (in batches) carefully purée the soup until smooth.
Strain.

Use a vegetable mill (fit with a fine disc) or a mesh colander (use a spatula to push the soup through the mesh) and strain the purée into a clean bowl.  A thin coating of fibrous parts of the celery and zucchini skins will remain in the colander or mill, discard the fibrous remains.
Chill.

Place the bowl with the strained soup in an ice bath.
Refrigerate.

Once cool, cover the soup with plastic wrap (or place in an airtight container with a lid) and refrigerate overnight (or at least for an hour). The soup will last in the refrigerator for a few days.
Adjust Seasoning

.  Before service, add puréed avocado and season to taste with salt and pepper (even if you seasoned it before you chilled it … it tastes different cold and with the avocado).  Garnish with minced chives.
Serve.

Serve in a chilled bowl or cup.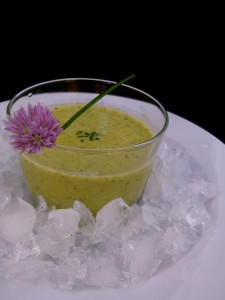 Tags: asparagus, avocado, fennel, vegetable vichyssoise, vegetarian, vichyssoise, zucchini