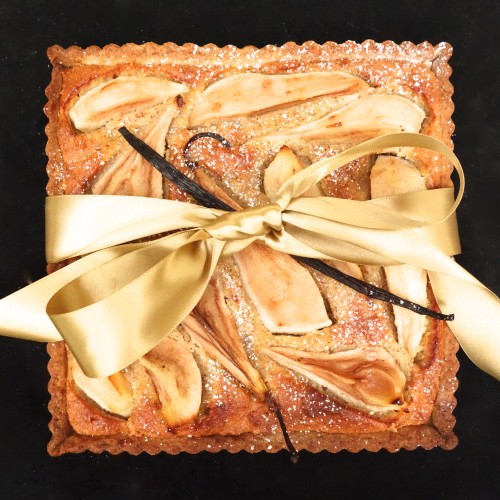 pear frangipane tart with vanilla bean and orange
makes one tart
what you need:
shell
½ pound (8 ounces) unsalted butter, plastic state
4 ounces granulated sugar
2 egg yolks, room temperature
1 egg, room temperature
1 teaspoon orange blossom water (or almond extract)
pinch of kosher salt
¾ pound all purpose flour, sifted
frangipane filling
7 ½ ounces blanched silvered raw almonds, finely ground
3 ounces granulated sugar
½ teaspoon kosher salt
2 tablespoons powdered sugar, sifted
2 ounces (4 tablespoons) unsalted butter
1 egg, room temperature
1 egg white, room temperature
1 teaspoon vanilla extract
1 teaspoon almond extract
1 teaspoon orange zest
2-3 beautiful ripe pears, peeled, quartered, seeds and core removed
garnish
confectioner's sugar (as needed)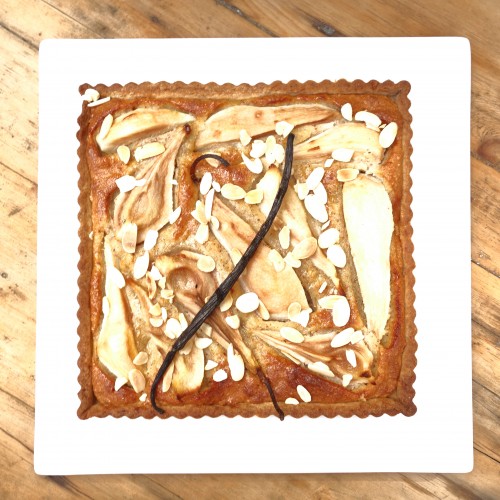 how to:
frangipane filling
Create Frangipane.

Place almonds, salt, and sugars in a food processor until finely ground. Add butter to food processor and continue to pulse. Add egg, egg white, extracts, and zest. Pulse until well combined. Frangipane can be made in advance and stored in the refrigerator.
shell
Make Pâte Sucrée.

Using a stand alone mixer fit with a paddle attachment, mix together sugar and butter. Add egg, egg yolks, and orange blossom water (or extract) to creamed butter until incorporated. Add flour and salt. mix until incorporated.
Chill.

Remove dough from the mixer bowl. Form dough into a large disc (or square, if using a square tart pan). Wrap dough in plastic wrap and place in the refrigerator for at least 30 minutes to chill.
Shape.

Remove from the refrigerator. Remove plastic wrap. Use a rolling pin to roll dough out in a lightly floured surface (or in between two sheets of parchment paper) until ⅛ inch thick. Gently place dough in the tart pan and press against the sides. Roll the rolling pin over the top to cut the dough with the edge of the tart pan.
Dock

. Pierce crust with a fork to release air.
Partially Bake Shell.

Place aluminum foil over the dough and place beans or pie weights on top of the aluminum foil. Place tart on a baking sheet lined with parchment paper. Bake in an oven preheated to

350 degrees Fahrenheit.

Once crust edge has set (edges do not appear wet), remove the foil and beans. Continue to bake for a few minutes longer until the shell no longer looks wet (but not yet golden).
Cool.

Remove tart shell from the oven and let it cool slightly.
Add Frangipane. Pour frangipane into partially baked tart shell (should come about half way up the side).
Add Pears

. Add pear wedges to frangipane in a decorative way.
Bake.

Bake the tart in the oven preheated at

350 degrees Fahrenheit

until golden brown. Do not over bake or it will be dry.
Cool.

Remove from oven and let it cool.