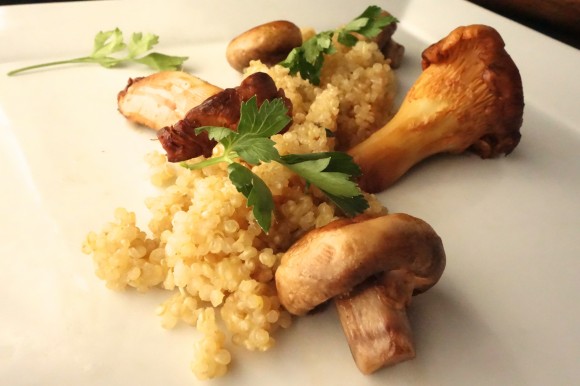 close to nature: a two-starred Michelin restaurant; a Parisien canary; and a "super food"
quinoa risotto with mushrooms
At summer's end, when we return from France, there seems to be some sort of an animal dilemma in our Los Angeles de facto farm. Last year it was the mean chicken scenario in the coup and the surprise male rabbit situation which necessitated an immediate trip to the veterinarian for Mister Snowy. 
This summer it was the finch.
By way of background, for at least six years we have had two-three finches. They sing, they terrorize my friend Celine, they toss birdseed everywhere. We love them. 
When the movie Les Miserables was released it was time to buy a new pair of finches. We found a new bird retailer and two finches that looked healthy and behaved in an equally healthy manner. With an obvious romance between them, we named the pair Merius and Cozette (after the young lovers in Les Mis).
Before we left for France, we found Cozette at the bottom of the cage. There was no obvious explanation for her early demise (but I had my suspicions that companionless Merius was somehow involved). Without his love interest to busy him, Merius became a chatterbox. 
Julia, my youngest, asked if Merius could stay with her best friend while we were gone. The situation was a bit tricky because her best friend's family had several cats, one of which they referred to as the "bad cat." However, we thought Merius would be safe if the cage was kept high. The girls were thrilled. Merius was chatty.
From France I emailed the mother of Julia's best friend (who is also a close friend of mine). "How is Merius? Is he still merry?" I asked.
When I did not hear from her for two days, I feared the worst. Her belated reply confirmed my fear: Merius was merry no more. The bad cat was really bad. He scaled the bookshelf, knocked over the cage and the cage crashed to the ground below. Merius did not survive the fall. As much as you can be attached to a bird, I was to this one. The situation was awkward.
I avoided telling the girls about Merius until we returned to Los Angeles. When we returned, the girls and I went to buy a new bird.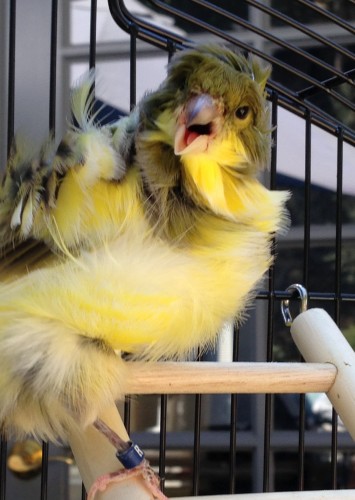 Instead of a pair of finches, Julia picked out a Parisien Frill Canary with yellow, white, and grey feathers growing in every which direction. In keeping with the Les Mis theme, we named the haûte couture bird Jean-Val-Jean and attached a chalkboard to his cage bearing Jean-Val-Jean's prisoner number "24601." 
It has been over a month and Jean-Val-Jean is going strong. I set his cage on my desk when I write. He is a chatterbox who believes he can communicate with humans. He is partial to classical music (Vivaldi in particular). When he is not singing, he pecks at the shiny utensils hanging in his cage, nibbles on millet, and then dips into the dish with boiled egg yolk. Jean-Val-Jean is a foodie. 
Writing, with this little bit of nature right in front of me, I begin thinking of a place in the south of France that focuses on nature: Mirazur. 
Mirazur, a two-starred Michelin restaurant in Menton, is meters away from the Italian border. Mauro Colagreco is the chef. Colagreco's holistic approach to cuisine is extraordinarily artistic and unique.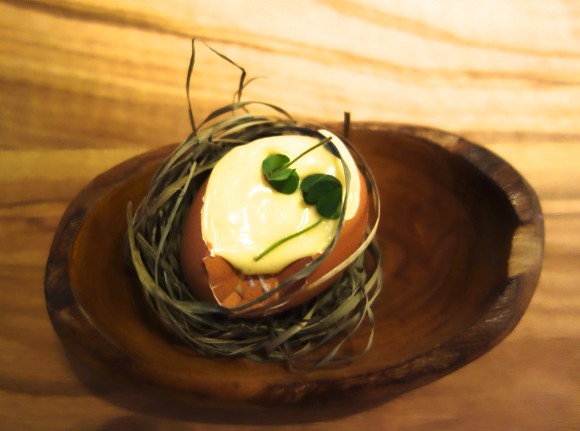 Colagreco serves his labor-intensive cuisine on/with natural elements: smooth stones he hand-selected; slate; granite; wood, dried moss; twigs; straw nests. Displayed amidst this natural setting is a purity of ingredients. His ingenuity is surprising, yet familiar.
We had the pleasure of dining at Mirazur this summer. It was a nearly five hour experience. One of the many things we enjoyed was a quinoa risotto made with truffles and mushrooms.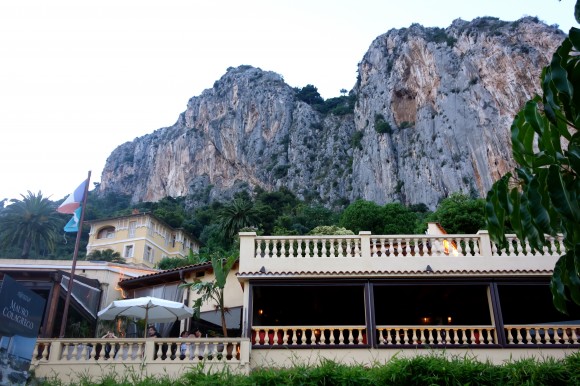 The recipe the week was inspired by the quinoa risotto at Mirazur.
Quinoa is an ancient grain often referred to as a "super food" because it is credited with everything from easing migraines to aiding in the prevention of cancer and boosting the immune system. It contains more protein, fiber, iron, and magnesium than brown rice. It is ideal for vegetarians as well as those with gluten sensitivities (quinoa flour is gluten-free) 
Making risotto with grains is not new. Farro, barley, and quinoa can all be used. I particularly like the risotto method for quinoa because quinoa does not have much of a taste by itself. I will never forget a student in one of my classes proclaimed that she avoided quinoa because it looked like birdseed. In appearance, maybe; however, quinoa can be delicious depending upon what you do with it.
Quinoa benefits from the pearling method used in making risotto because when you toast the grains in a pan it takes on a nutty flavor and absorbs the butter, garlic, thyme, and wine with which you are toasting the grain. The addition of a modest amount of parmesan cheese is a bonus. This risotto is not the creamy indulgence that will make you feel guilty and send you to the gym. This risotto is lighter. It keeps both its grain form and the integrity of its health benefits (I do not use cream, excess cheese, and only 1 tablespoon of butter in the entire recipe).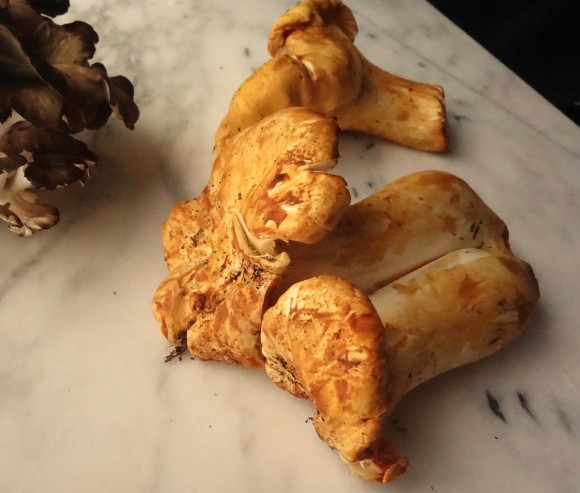 The mushrooms are left whole (or halved if too large) because this week the emphasis is on nature and appreciating things for what they are with only a modest enhancement. I chose Chanterelles and white mushrooms for their color and taste. You can find the recipe is below.
à table !
LM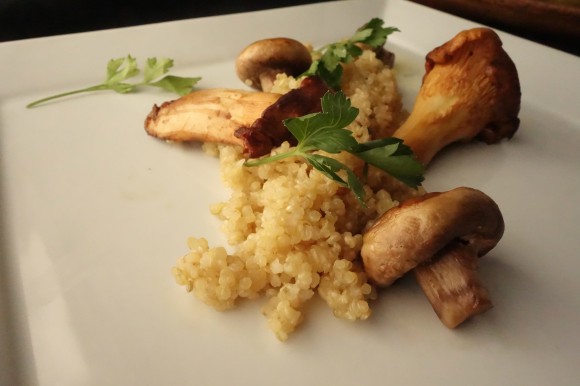 guinoa risotto with mushrooms
serves 4-6
you need:
1 tablespoon unsalted butter (my preference: DELITIA's Butter of Parma)
½ teaspoon minced thyme leaves
2 finely minced garlic cloves
1 cup quinoa (my preference: Bob's Red Mill)
sea salt (as needed)
¼ cup dry white wine (room temperature)
~1½  cups bottled water (warm)
⅓ cup finely grated aged parmesan cheese
1-2 tablespoons olive oil or unsalted butter
fresh beautiful Chanterelle or white mushrooms, trimmed (as needed)
fresh Italian parsley (as needed)
1 Ashmead Kernal or Golden Delicious apple, thinly sliced (optional)
how to:
Rinse Quinoa.

Rinse quinoa until the water runs clear. Dry. 
Sauté.

Place a saucepan over a medium heat. Once the pan is hot, add the butter. When the butter has melted, add the garlic and thyme. When the garlic is fragrant (this will happen quickly), add the quinoa. Add a few pinches of salt.
Pearl.

Toss the quinoa in the butter, thyme, and garlic.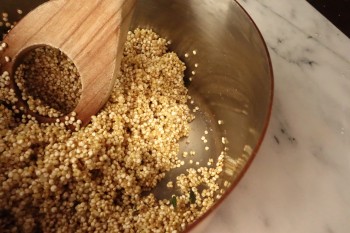 Deglaze.

When the quinoa begins to leave a little starch on the bottom of the pan, add the wine. Toss the quinoa in the wine.
Simmer.

When the wine has been completely absorbed by the quinoa, begin to add water, a cup full at a time. When the water has been absorbed, add more water until the quinoa is cooked (about 16-18 minutes and it will look like this).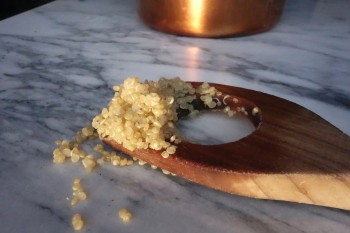 Mushrooms.

 Before the quinoa is done (and after it  has been simmering for about 10 minutes), place a sauté pan over medium heat. Add about a tablespoon of olive oil or butter. Add mushrooms and sauté until they are tender and slightly browned. Remove from stove and cover to keep warm.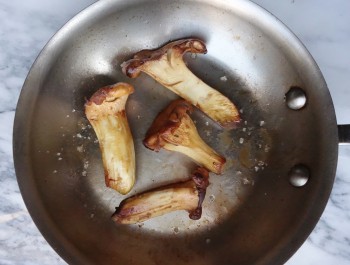 Add Cheese

. When the quinoa is fully cooked, turn the flame off. Add the parmesan cheese to the quinoa, folding it in with a fork. Season to taste. Cover with a lid to keep it warm until service.
Serve.

Add mushrooms to quinoa in a decorative way. Garnish with fresh Italian parsley and apple slices as desired.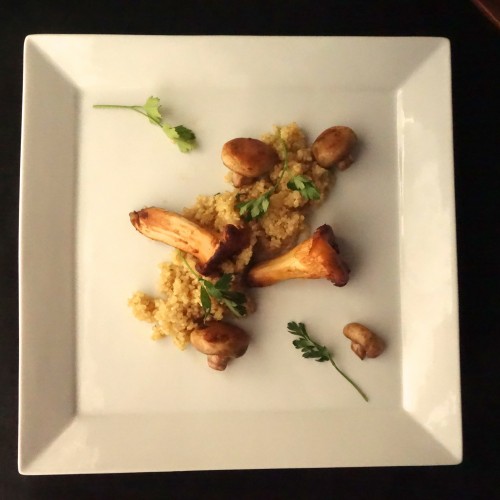 Tags: apples, chanterelles, gluten free, healthy risotto, Mirazur, quinoa risotto