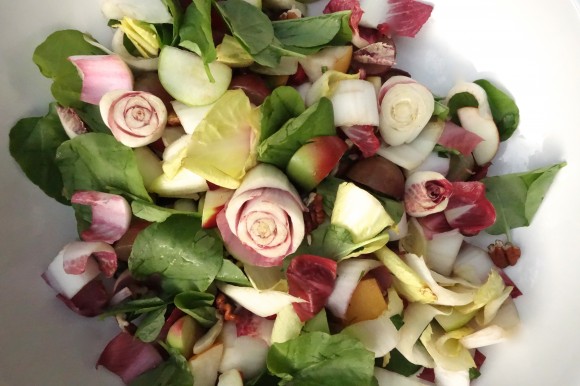 "white gold" with autumn accessories  
Belgium endive chopped salad with blue cheese honey dressing
Quoi de Neuf  (What's happening) this week other than Halloween?
Well, the word on the streets of Paris and Los Angeles are entertaining as they are different. In Paris, the taxi cab drivers are allegedly trying to run Uber out of the City of Light. In turn, there is a petition being circulated to keep Uber in the city. It is all so very French. 
In Los Angeles, I cannot attend an exercise class without hearing about a certain engagement ring (the merits versus the vulgarity). Bling and discussing bling; it is all so L.A.
For me, I am super pleased when I  find jewelry in the market. It may not be Cartier or a several "carrot" ring (pardon the pun), but finding a quality ingredient can be as good as gold for any cook. This week I found Belgium endive. 
In 1872, when the Belgium endive was introduced to Paris, the Parisiens, referred to the slender, long creamy leaves as "white gold" because they found them delicious as well as versatile.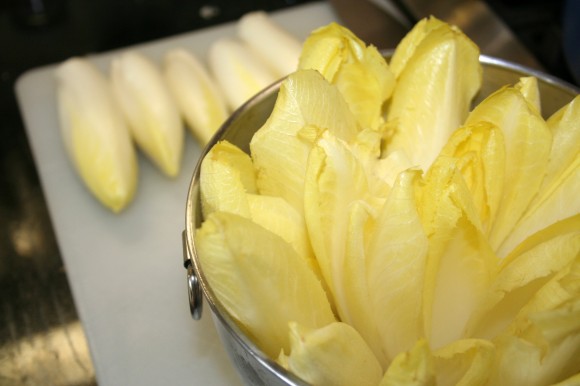 Over the next fews weeks I will be posting a variety of recipes for holiday side dishes to help you round out your Thanksgiving meal (recipes for the perfect turkey, mashed potatoes and stuffing we have covered and you can find on the site). This week's post is a salad is built around Belgium endive. We accessorize this white gold with autumn flavors and colors. It is beautiful as well as delicious. You can serve it as a plated entrée or a passed salad.
Belgium endive has a slight bitter, yet pleasant taste. It is crisp with feathery ends. When you select endive, chose tight, solid heads. The leaves should be creamy white with yellow highlights and the tips should have a slight blush or pink. Endive that are too green tend to be bitter.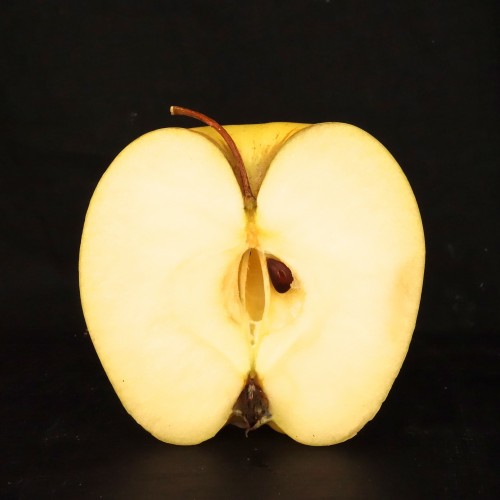 This salad is an example that when you eat food that is in season you enjoy a product in its prime. The fact that a product is available all year long is not relevant when it comes to taste. 
In autumn, apples and Asian pears are sweet and very crisp (they soften and even turn mealy as they are stored). Similarly, grapes and pomegranate seeds are at their juiciest (they dehydrate with storage). Belgium endive is just coming on the market and not too bitter (it becomes more bitter the longer it is stored). This salad takes advantage of all of that crunch and balances the spice of watercress and slightly bitter endive with the sweetness of  apples, grapes, and Asian pear. It is a beautiful combination of color on your plate. It is an autumn party in your mouth (and the blue cheese and honey dressing which contains no added cream or mayonnaise is a bonus).
At the table you can debate the pros and cons of Uber in Paris or the gifting of a large ring. Regardless of your perspective, at least you know you have delicious (non-controversial) salad to enjoy.
à table (come to the table/the meal is ready)
LM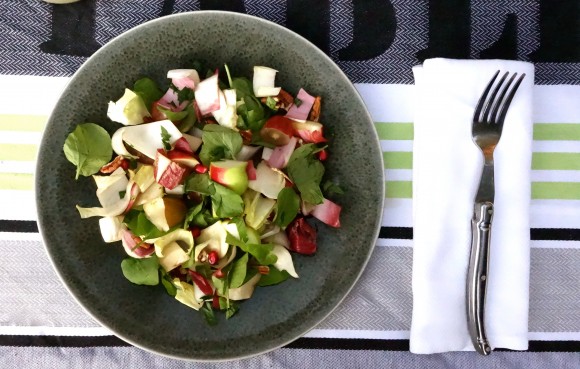 Belgium endive chopped salad with blue cheese honey dressing 
This salad is best consumed the day you make it.
The dressing can be made in advance.
serves 6
what you need:
salad
2-3 chopped Belgium/red Belgium endive (7 ½ ounces)
4 ounces diced apple, core and seeds removed (my choice: Pink Lady or Gala)
3 ounces diced Asian pear
lemon juice from 1 lemon
⅓ cup pomegranate seeds
1 handful watercress (or wild arugula) leaves
4 ½ ounces seedless grapes, halved (my choice: Globe)
1-2 tablespoons minced Italian parsley
2 ounces chopped pecans, toasted
dressing*
1½ ounces creamy blue cheese (my choice: St Agur)
1 tablespoon quality apple cider vinegar
3 tablespoons quality olive oil
1 teaspoon honey
½ teaspoon sea salt (and to taste)
*This salad is purposely lightly dressed. However, if you or your guests prefer salads with more dressing, double the batch.
how to:
Dressing

. Place the blue cheese in a small food processor. Process until smooth. Add the oils, vinegar, honey, and salt. Process until smooth. Set aside. The dressing can be made in advance.
Toast Nuts.

Place the pecans in a pan over a medium flame on the stove. Toast until the oils in the pecans begin to release and pecans are golden brown. Be careful not to burn them. The nuts can be toasted in advance.
Prepare Fresh Ingredients.

Cut off the bases of the endive and discard bases. Cut the endive vertically by chopping the heads into pieces about ½ inch in width. Dice the Asian pear and the apple as indicated. Toss all three in lemon juice to prevent browning. Wash and dry the watercress leaves. Slice the grapes in half. Remove seeds from the pomegranate. Mince the parsley leaves.
Combine.

Place the ingredients in a bowl. Add the nuts and dressing just before service.  Toss well.
bon appétit !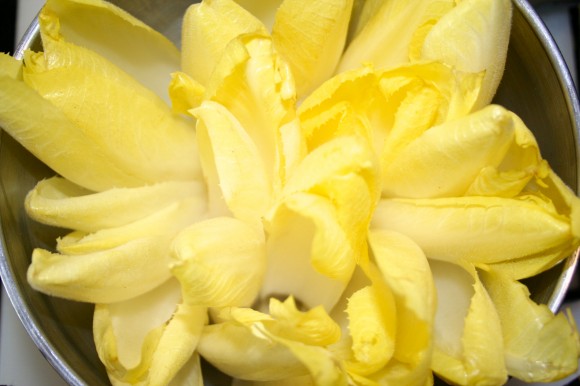 Tags: autumn, Belgium endive, blue cheese, French Inspired Thanksgiving sidedishes, gluten free, grapes, honey, pommegrante, salad, side dishes, thanksgiving side, vegetarian