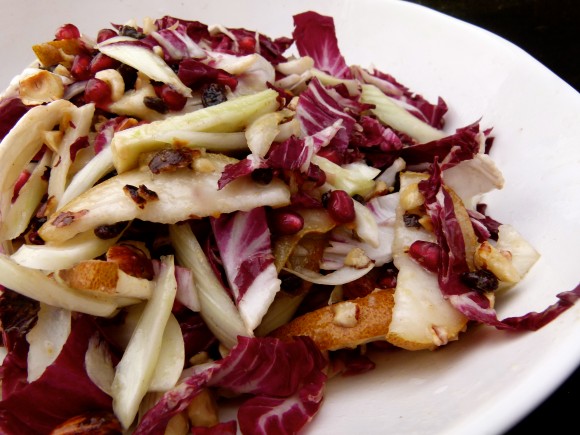 radicchio and fennel salad with pears and hazelnuts

THANKSGIVING TIP:
Serve a balanaced (in color, texture, the food and its components itself).
This seasonal and crunchy, light salad is perfect to balance to a starchy Thanksgiving meal!
serves 8
what you need:
salad
1 small head radicchio, core removed
2 small fennel bulbs, core removed
1 ripe Taylor's Gold or Bosc pear, sliced (core and seeds removed)
¼ cup hazelnut pieces, toasted
¼ cup dried currants
⅓ cup fresh pomegranate seeds
dressing
1 tablespoon red wine vinegar (or apple cider vinegar)
4 tablespoons walnut oil
1 tablespoon fresh orange juice
1 teaspoon heavy cream
¼ teaspoon ground cumin
1 teaspoon gros sel de Guérande (or sea salt)
how to:
salad
Toast Nuts.

Place hazelnuts in a pan over a medium-high flame. Toast until golden brown and the oil in the nuts begins to release. Remove from stove and set aside to cool.
Slice Radicchio And Fennel.

Cut Radicchio head in half. Remove core. Place the flat side of radicchio half on a cutting surface. Slice radicchio into strips about ½ inch wide. Repeat the same cutting process for the fennel, but make the strips thinner.
Slice Pears.

Cut pears in half. Remove core and seeds. Slice pear halves as you did for the radicchio and fennel.
Combine

. Place the pear slices, radicchio, fennel, hazelnuts, currants and pomegranate seeds in a bowl. Toss to combine.
dressing
Make Dressing.

Combine ingredients in a the bowl of a food processor or bowl if using an immersion blender. Blend until combined.
Dress Salad.

Add the dressing to the salad. Toss to coat all ingredients. Prepare 45 minutes -1 hour before service to allow salad to absorb the dressing.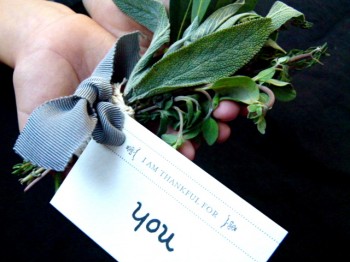 Tags: fennel, hazelnuts, pears, radicchio, salad, Thanksgiving