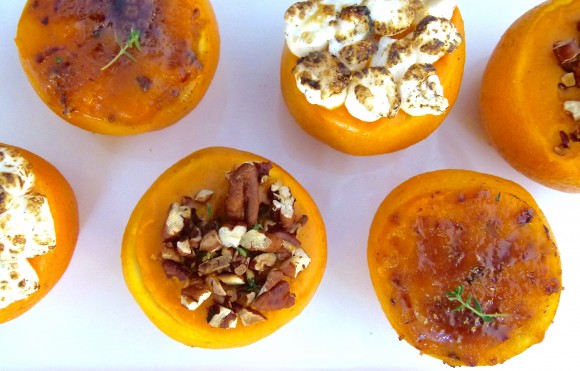 roasted sweet potato and citrus farce
THANKSGIVING TIP:
This side is a crowd pleaser. It is great for the host too because it can be prepared in advance
and the purée can be re-warmed just before service (or served at room temperature).
It also can be garnished in various ways. I prefer garnishing the purée with nothing more
than toasted pecans. However, you can use the traditional
toasted marshmallows or brulée brown sugar on top…let your Thanksgiving spirit be your guide…
makes 4-6 oranges
what you need:
4-5 sweet potatoes
½ cup light sour cream
¼ cup brown sugar
1 tablespoon orange zest
1 tablespoon fresh orange juice
1 teaspoon kosher salt
1 teaspoon freshly ground nutmeg
4-6 medium, beautiful valencia oranges, cut in half with flesh scooped out (use it for your juice)
garnish
⅓ cup chopped pecans, toasted
miniature white marshmallows or marshmallow creme (optional)
light brown sugar (optional)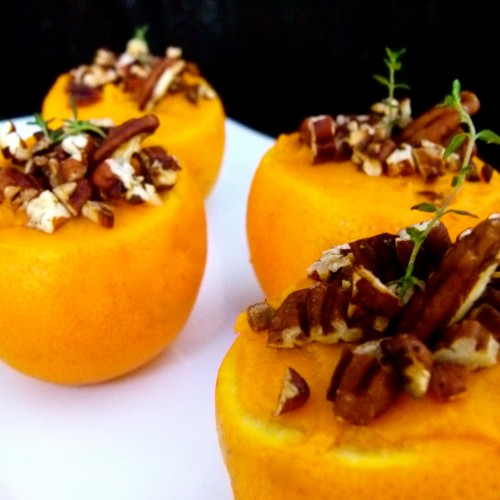 how to:
Roast Sweet Potatoes.

Cut sweet potatoes in half, lengthwise. Place sweet potatoes face side down on a baking sheet pan lined with parchment paper. Place in an oven preheated to

400 degrees Fahrenheit

and until potatoes are tender, skins are wrinkled, and potatoes are fragrant. Remove from the oven and let cool.
Peel.

Once cool, peel the skins from the potatoes and discard.
Purée.

Use an immersion blender or food processor to purée the potato flesh. Add sour cream, sugar, zest, orange juice, salt, and nutmeg and blend to incorporate until mixture is purée consistency (It should look like light orange pudding).
Prepare Oranges.

Cut the top ⅓ off of the oranges (or in half if the oranges are larger). Use an apple corer or spoon to scoop out the flesh. You can cut a little off of the bottom of the hallowed out oranges to create a flat surface.
Pipe in mixture.

If cold, warm the purée or at least warm to room temperature. Scoop the purée into a disposable piping bag. Fill the hallowed out oranges to the top.
Garnish

. If topping the oranges with marshmallows or brown sugar to brulee, place under broiler to toast marshmallows or brulee sugar. Alternatively, top with toasted pecan pieces.
Tags: farce, oranges, sweet potatoes, Thanksgiving