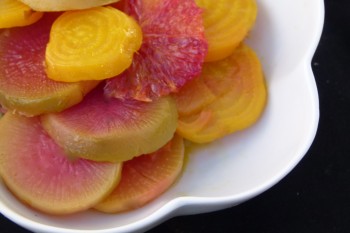 roasted golden beets and watermelon radishes with blood orange segments
stats:
serves 4-6
(approx 69- 106 calories per serving)
what you need:
3 medium watermelon radishes, trimmed
3 medium yellow beets, trimmed
2 blood oranges, cut into supremes
1 tablespoon olive oil
1 teaspoon red wine (fig) vinegar
½ teaspoon sel de Guérande (or sea salt)
how to:
Roast

. Clean beets and radishes well with a vegetable brush. Remove beet and radish tops (reserve for something else). Wrap beet bulbs and radish bulbs with aluminum foil. Place on a baking sheet lined with parchment paper. Roast in an oven preheated to

350 degrees Fahrenhe

it

until a fork can easily be inserted into the bulbs.
Peel.

Once beets and radishes are cool enough to touch, remove the foil and peel the skins (they should easily come off). Cut the beets and radishes into wedges (or you can slice them if you prefer).
Cut Supremes.

Peel the oranges. Cut the pith off of the oranges with a paring knife, exposing the flesh. Cut the oranges into segments (by cutting on either side of the membrane and removing the orange segments). Discard the orange pith and membrane. Remove any seeds.
Make Dressing

. Combine oil, vinegar, and salt in a bowl.
Combine

. Combine radishes, beets, orange segments, and parsley in a bowl. Add dressing and toss to coat.
Serve

. Can be served warm or cool.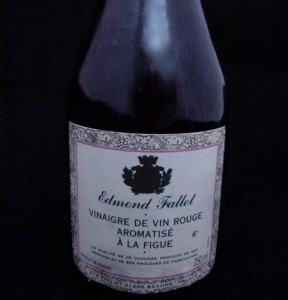 Tags: appetizer, beets, blood oranges, golden beets, healthy snacks, roasted watermelon radishes, sel de Guerande, simple pleasures, vegetarian