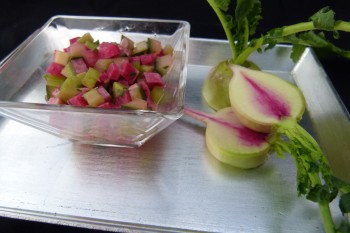 cucumber, watermelon radish and celery cru
stats:
serves 4
55 calories per serving
what you need:
1 cup small dice watermelon radish, tops removed
½ cup diced small dice cucumber, seeds removed
¼ cup small diced celery
1 ½ teaspoon minced fresh Italian parsley
4 teaspoons lemon (or lime) juice
1 tablespoon + 1 teaspoon olive oil
1 teaspoon flaxseed oil
½ teaspoon kosher salt
how to:
Prepare Ingredients.

Wash the skins on the celery, radishes, and cucumbers well. Trim the tops from the radishes. Remove the seeds from the cucumber. Dice the radishes, celery, and cucumber all the same size and combine in a bowl. Add parsley. Combine.
Macerate.

Add the lemon juice, oils, and salt to the mixture. Place in the refrigerator for 1-2 hours.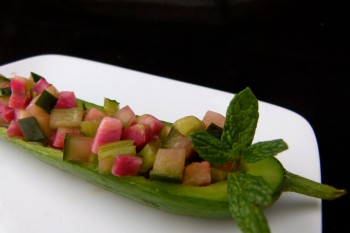 Tags: celery, cuccumber, flaxseed oil, healthy sides, salad, watermelon radish