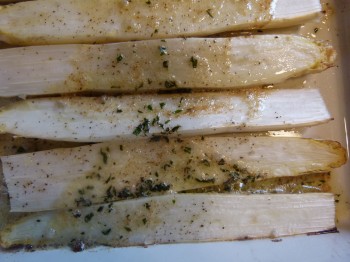 roasted white asparagus with browned butter
(asperges blanches rôti au beurre noisette)
serves 4-6
what you need:
4-6 large white asparagus (or 12 smaller asparagus)
olive oil (as needed)
kosher salt (as needed)
freshly ground white (or black) pepper
3 tablespoons unsalted butter
1-2 teaspoons fresh orange juice
1-2 tablespoons minced fresh Italian parsley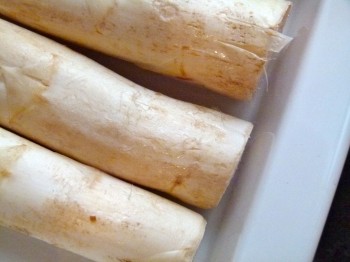 how to:
Prepare Asparagus.

Trim and peel the asparagus stalks. If using large asparagus, cut them in half lengthwise. Brush the asparagus lightly with olive oil. Season with salt and pepper. Place in a roasting dish or rimmed baking sheet.
Roast.

Place the asparagus in an oven preheated to

400 degrees Fahrenheit

(200 degrees Celsius or mark 6). Roast until the asparagus is slightly browned (asparagus should be tender but still holding its shape). Remove from the oven and set aside.
Brown Butter

.

Place a sauté pan over a medium-high heat. Add butter to the pan. Cook butter until the milk fat in the butter is foamy and it begins to smell like hazelnuts. Turn off the heat. Add orange juice and parsley and whisk into the butter.
Coat Asparagus.

Add the asparagus to the sauté pan. Use tongs to coast the asparagus in the butter and parsley.
Plate.

Use the tongs to place the asparagus on individual plates. Alternatively, if you would like to serve the asparagus from the roasting dish, pour the half the butter over the asparagus and use a spoon to coat the asparagus. Add the remaining butter if necessary (you do not want the vegetables swimming in butter, only coated).
Tags: appetizer, asparagus, beurre noisette, easy recipes, french cooking recipes, paris markets, roasted, simple pleasures, vegetarian, white asparagus, white asparagus recipe