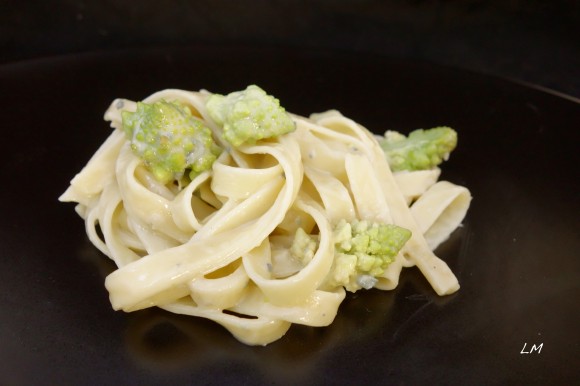 Romanesco cauliflower Fettechini with Gorgonzola
serves 6-8
preparation time: 10 minutes
cooking time: 15 minutes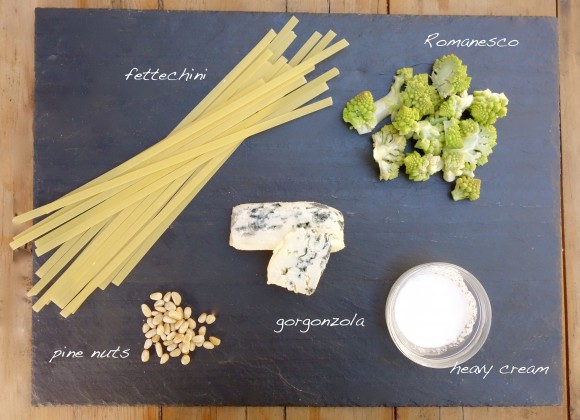 what you need:
1 head Romanesco cauliflower (or any cauliflower), cut into small florets (~ 10 ounces)

½ pound dry fettechini

8 ounces Gorgonzola (or quality semi-soft blue cheese such as St Agur), crumbled

1-2 tablespoons cup heavy cream

⅓ cup pine nuts, toasted

~ 1 teaspoon gros sel de Guérande (and to taste)

freshly ground black ground pepper (to taste)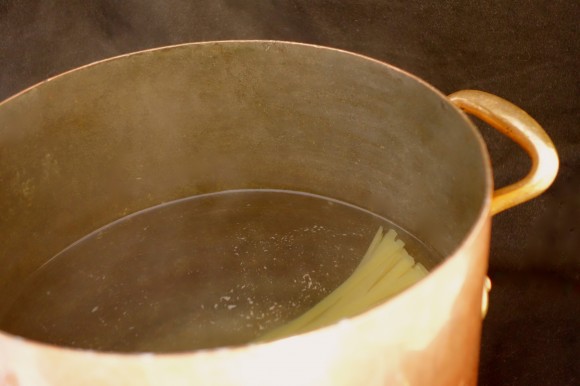 how to:
Par-Boil Cauliflower.

Bring a pot to of salted water to a boil. Add the cauliflower florets. Boil 2-3 minutes. Remove the florets with a strainer. Place florets in an ice bath (a large bowl of ice water) to cease the cooking. Drain. You can cook the cauliflower in advance.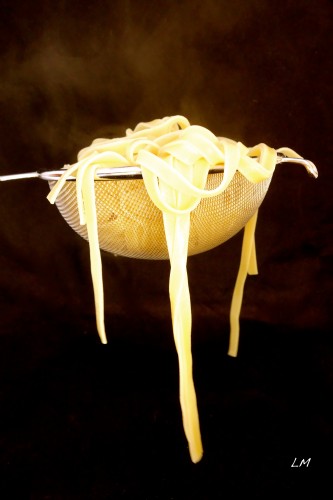 Al Dente. You can use the same boiling water you used for the cauliflower, or add new salted water to the pot. Bring to a boil. Add pasta. Cook as directed (al dente is 8 minutes cooking time for dry fettechini). Do not overcook. Drain pasta. Reserve about 1 cup of pasta water.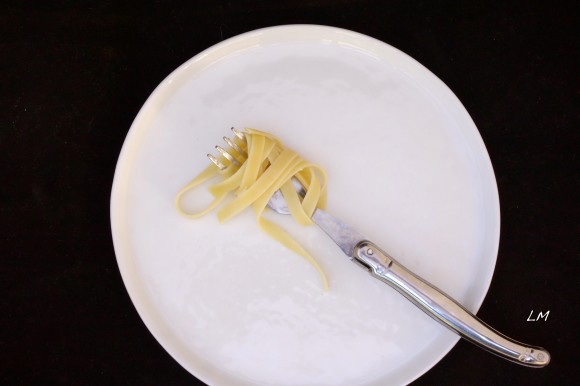 Combine.

Place a large sauté pan over a low-medium flame. Add cream and cheese and use a spatula to mix the two while the cheese is melting. When the cheese is melted, add drained pasta and florets. Use tongs to toss the pasta and the cauliflower in the cream-cheese combination. Add nuts. If sauce is too thick, add a little reserved pasta water.
Season.

Season to taste with salt and pepper. Serve warm.
Tags: cream, easy dinners, fettechini, gorgonzola, pine nuts, Romanesco cauliflower, vegetarian