rue and dandelion salad with tracker jacker dressing
serves 4
what you need:
salad
1 handful small dandelion leaves, trimmed
1 small head ofLittle Gem lettuce, leafed
2 handfuls of mesclun (with baby beet tops)
4-6 grape or cherry tomatoes, halved or quartered
4-6 Tokyo turnips, halved or quartered
4-6 baby (Dutch) carrots (various colors)
2-3 Easter radishes, thinly sliced
2-3 French breakfast radishes, halved
dressing
1 tablespoon red wine vinegar
¼ teaspoon ground mustard
3 tablespoons sunflower seed oil
1 ½ teaspoon quality honey
½ teaspoon sel de Guérande (or fleur de sel)
½ teaspoon poppy seeds, toasted
garnish
edible flower petals (as needed)
fresh rue petals (as needed)
how to:
Combine.

Place poppy seeds in a sauté pan over a medium flame and toast. Remove from the flame and cool the seeds. Place red wine vinegar, mustard, oil, honey, salt, and toasted poppy seeds in a small bowl. Use a small whisk or immersion blender to blend the dressing. The dressing can be made in advance and stored in the refrigerator.
Combine Greens.

Leaf lettuce. Wash lettuce, mesclun, and dandelion leaves in a salad spinner. Dry well (use paper towels if the leaves are still damp). Place the greens in a bowl.
Prepare Vegetables.

Use a vegetable brush to scrub the roots and dirt off of the turnips, carrots, and radishes. Do not peel, but trim in a beautiful, decorative way. Cut in halve or slice as indicated. Cut tomatoes in half or in quarters depending upon their size. Add to the bowl with the greens and combine.
Dress Salad.

Dress the salad immediately before service. Pour the dressing on the inside of the bowl and use your other hand to incorporate the greens and vegetables with the dressing.
Serve.

Place a handful of dressed greens on each plate. Make sure to divide the radishes, carrots, tomatoes, turnips so that each plate has a few.
Garnish.

Garnish each salad with fresh rue petals and edible, organic flowers.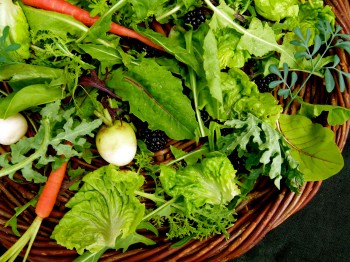 Tags: carrots, dandelion salad, Hunger Games, Hunger Games Food, radishes, rue, turnips