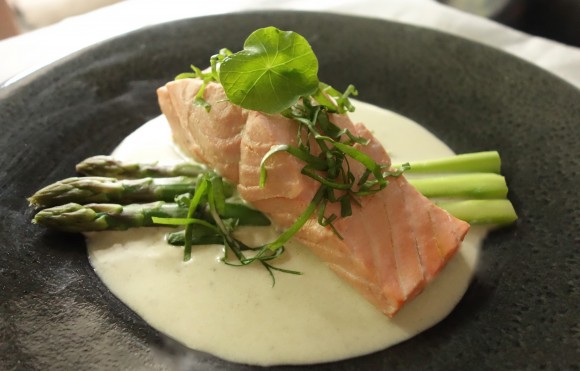 garden invasion and my favorite cold weather herb
salmon with sorrel sauce
(saumon à l'oiselle)
It was me or them. I am speaking in terms of food terms, of course, not violence.
You see, there are a few things remaining in my winter vegetable and herb garden that not only have survived in the cold, but have thrived. Dark green, crinkly Tuscan kale, yellow and rainbow chard so beautiful that it is (almost) too gorgeous to eat, frisée to add some green to my breakfast, and wild arugula with the perfect amount of peppery spice to zip up any dish. My Italian parsley, chives, and cilantro, are struggling, but holding on.
Then there is the sorrel.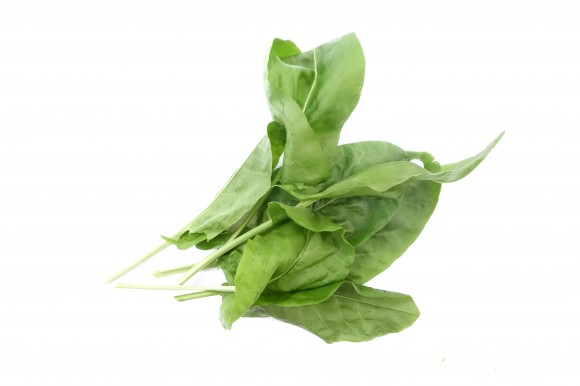 What began as a two inch plant has the confidence of a tree. The spear-shaped leaves range from the tiny and youngest ones in the center of the plant and increase in size as they extend outward. The larger and oldest leaves on the outside resemble the floppy ears of a Basset Hound. Each and every time I look at this bright green large plant of wonder, flourishing in the center of my garden, I am filled with the cooking enthusiasm that comes with the suggestion of spring. SPRING !
Sorrel is an herb, although some classify it as both an herb and a vegetable. It tastes a little sour with notes of lemon. It is a wonderful way to add an acidic balance to a dish. Often referred to a cold-weather herb, you can find sorrel right now in both supermarkets and farmer's markets (sorrel grows from late winter to autumn).
There are many varieties of sorrel, hundreds apparently, and honestly I find the classifications and varietal names to be inconsistent between sources and this inconsistency, tries my patience. I think I will have to ask Ann, my co-author of our recently published garden/cookbook HomeGrown Herb Garden, to clarify this confusion. In the meantime, I distill my present information down to what is important in culinary terms: appearance and taste.
First, the smaller the leaf, the less sour the taste. This is true regardless of the shape because the larger (and older) the leaf, the more oxalic acid giving the leaf more of an acidic taste.
Second, there are three general shapes/appearances of sorrel. The most common sorrel is referred to as "common" or "garden" sorrel and it has spear-shaped leaves. This is the one in my garden. "Blood sorrel" or "red-veined" sorrel also has spear-shaped leaves with red or burgundy veins.
In contrast, "French" sorrel has rounded, green leaves. This variety was cultivated in France and Italy for its milder taste and what is generally used in French cooking.
High in vitamin C, sorrel is perfect for this time of year where everyone seems to have a cold and walk around with a tissue in their hand. Sorrel was historically used to ward off scurvy as well, so just in case you have a scurvy concern, sorrel is the herb for you.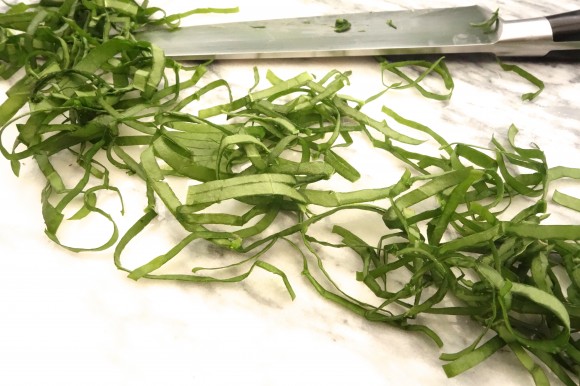 Sorrel is a simple way to add a fresh lemony zing to salads, salad dressing, legumes (I love it in lentils or mung beans), poultry, eggs, fish, seafood, sandwiches, potatoes, risottos, pastas, pizza, and soup (either as a garnish or a primary component). Sorrel pairs well with other herbs, greens, and vegetables with lemony tones.
You can use sorrel raw or cook it. Here are a few tips.
To use sorrel raw, I roll the raw leaves and cut them into a chiffonade for a delicate acidic addition to a dish. Sorrel leaves can also be puréed raw into pestos and herb sauces. You do not need to remove the stems unless the leaves are older and the stems are less tender. Whole tender blood sorrel leaves add a touch of visual interest to a dish as well as flavor. I also use the larger sorrel leaves as a substitute for grape leaves and stuff them with rice or rice with fish/meat.
You can cook sorrel, but you do not serve cooked sorrel as is because it turns to an unattractive, mushy dark green, grayish lump. The longer you cook sorrel, the less attractive and less green it becomes. As such, cooked sorrel is often used to infuse flavor to a cream or a sauce and then the solid cooked leaves are strained out and discarded. In soups, the cooked leaves are puréed and often a a few raw green leaves are added at the very end of the cooking process to brighten the color of the soup. To cook the sorrel, cut the leaves into a julienne or rough chop it.
*
This week we are making a classic dish using sorrel: saumon à l'oiselle (salmon with sorrel sauce). The sauce contains cream, but I did reduce the butter (and the cream), and it is made without bouillon. The result is a tangy sauce, true to the herb which inspires it. The sauce can made in about twelve minutes and it can be used on many things beyond salmon, including, eggs, pasta, and poultry. It is wonderful for leftovers and it can be made in advance.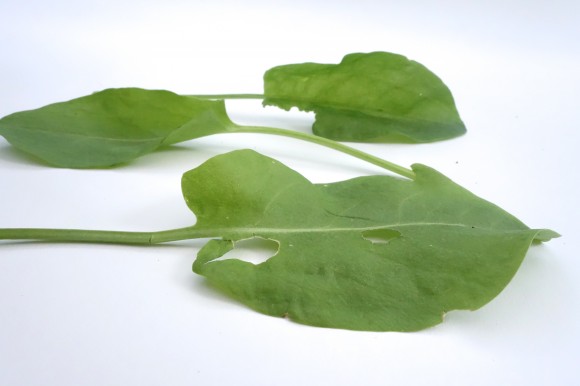 So, why them or me? Because in our organic garden, a little critter of some sort has enthusiastically decorated the leaves, large and small, with chew holes. Normally, I view the chew holes in leaves with pride because it is the marking of a truly organic garden; however, this critter is eating a lot of sorrel. A lot.
My daughters and I have speculated as to what type of critter could be eating the sorrel but we have come up with no solid conclusions; a "garden-cam" has been suggested.
My youngest says "sharing is caring." True. Who taught her that phrase? And, although I think of myself as a sharing person – I have let the wild ducks take over the pool, I do not mind (so much) if the squirrels take some apples from the trees, and I have even put seed out for the birds – I am not convinced I need to share the sorrel. Nevertheless, I decided to clip and use only the smaller leaves for our dinner, leaving the larger ones for the critters.
Sharing is caring. Sigh. 
Today, I feel a little rewarded for adopting my daughter's sharing adage because when I went to the garden to cut some kale, I found a surprise: a new sorrel plant behind the kale! Apparently, it started on its own and what is even better, it is completely untouched (most likely because it is close to the rue… a very stinky herb used to deter pests).
As it turns out, it was never me or them, nor do I have to share as much as I thought. Instead, it is one for us and one for them and life is good.
Bon App'
LM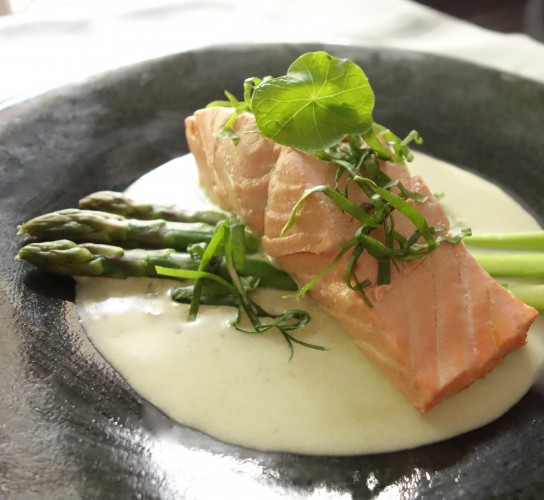 salmon with sorrel sauce
(saumon à l'oiselle)
You can pan fry or roast the salmon instead of poaching it. The sauce takes about 12 minutes. You can make the sauce while you make the poaching liquid or, you can make the sauce in advance and gently re-heat it. If you have leftover sauce, pour it over your eggs the next morning (especially hard-boiled eggs). If you have leftover sauce and salmon, break the salmon up into pieces and mix both the warmed salmon and sauce with fettechini.
There is nothing better than a recipe that can be spread over two days.
serves 4
1 1/2 pounds wild salmon (cut into 4 fillets), skin on
poaching liquid (court-bouillon)
8 cups water
1/4 cup white wine
1 teaspoon sea salt
1/2 teaspoon black and white peppercorns
1 celery stalk, chopped
1 garlic clove
1 bouquet garni (1 bay and fresh Italian parsley)
sauce
1 tablespoon unsalted butter
1 tablespoon minced shallots
pinch of kosher salt, and more to taste
2 cups chopped (into a chiffonade) sorrel leaves
1/4 cup white wine
1 cup heavy cream
white finely ground pepper, to taste
garnish
young, fresh sorrel leaves, cut into chiffonade
Make Poaching Liquid

.

Place all ingredients for the poaching liquid in a large saucepan. Place over a medium heat and let simmer for 15 minutes. Strain. Discard aromatics. Reserve poaching liquid.
 

Poach Salmon.

Heat poaching liquid in a saucepan over a medium heat and bring it to a temperature between

160 degrees and 170 degrees Fahrenheit

(71 degrees and 77 degrees Celsius). Add salmon fillets (you may need to cook them two at a time). Poached until cooked, about 6-10 minutes, depending upon the size of the fillet. Carefully remove fillets from the poaching liquid and place on a plate. Remove the skin and discard. Cover fillets with aluminum foil to keep warm.
Make Sorrel Sauce.

Place a small saucepan over a low heat. When pan is hot, add butter. Once the butter has melted, add the shallots. Use a wooden spoon to coat the shallots in the melted butter. When shallots are translucent, add the sorrel and a pinch of salt. Toss the sorrel in butter and shallots and melt the sorrel (this also takes just a minute). Add the wine and cook until the wine has been reduced to half. Add the cream. Cook until the cream has reduced to a sauce consistency, this will take about 10 minutes. Remove from heat. Strain the sauce through a sieve. Discard cooked sorrel and shallots. Adjust seasoning.
Serve.

Serve each fillet with some sauce and some raw sorrel leaves, cut in chiffonade.
Tags: herb, herbs, organic gardens, salmon, salmon with sorrel sauce, saumon a l'oiselle, sorrel