BISTRO CHEZ VOUS
the sweet smell of duck … it must be love
recipe: crispy duck breast with date and cherry chutney,
mustard frisée salad, and baked duck fat fries
This year I depart from my usual chocolate theme for Valentine's Day. This year it is duck and duck fat. 
One of the things students have routinely wanted to learn is how to properly cook duck. The reason for this request I have found is twofold. First, duck sounds fancy and out of the ordinary, making it perfect for the occasion when the cook is aiming to impress or do something "extra" nice for his/her guest. Second, there are certain calamities associated with cooking duck, ranging from improperly cooked meat or raw fat and/or undercooked skin to the stories of smoke spilling from the kitchen setting off the smoke detectors, alarm companies calling, and pets and humans with watering eyes. If any of these things have happened to you, you now know that you are not alone and your days of duck calamities are over.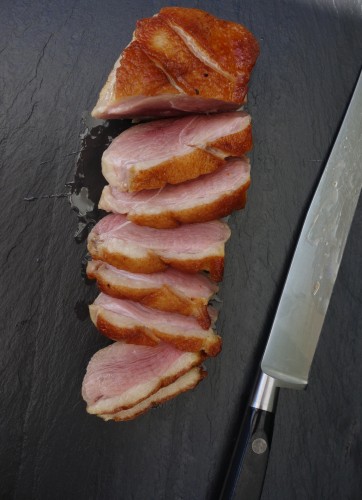 Cooking a duck breast is really easy, but you must know the product. Duck meat is lean with a thick layer of fat under the skin. The fat must be rendered (basically, melting the fat from a solid to a liquid state) without overcooking the meat. Duck meat should always be served medium rare and the skin should be crisp.
The theme for cooking duck is (and has always been) "low and slow."  Remember that phrase. Low and slow.
One of the fun things about cooking is learning to do something old in a new way. When I was recently in France, I learned a new way to make a crispy duck breast. 
Most culinary students are taught (as was I) to crisp the skin by placing the duck breast skin down in a HOT skillet, and then immediately turning to the heat to low flame and cook slowly to render the fat. After a few minutes, you turn it over for a quick minute and finish the cooking the meat in an oven.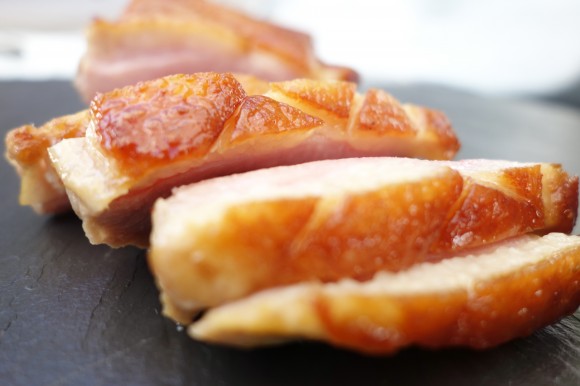 I learned a simpler way.
Start with a cold skillet. Yes, I said cold skillet. Turn on the flame (medium-low) and immediately place the duck breast in the pan (skin side down). When you hear the skin begin to sizzle, turn the flame to low and continue to cook, let the fat render and as it does, the skin will crisp. After 5-6 minutes, the duck breasts are finished in the oven.
Simplifying this process got me thinking. Since I am on the subject of duck, it is typical to fry potatoes slices, sometimes with apples and/or onions, in duck fat, what about duck fat french fries?  Duck fat fries are delicious but what if I toss them in the rendered fat and bake them rather than fry them? This eliminates standing over the stove and cuts down on the amount of fat used.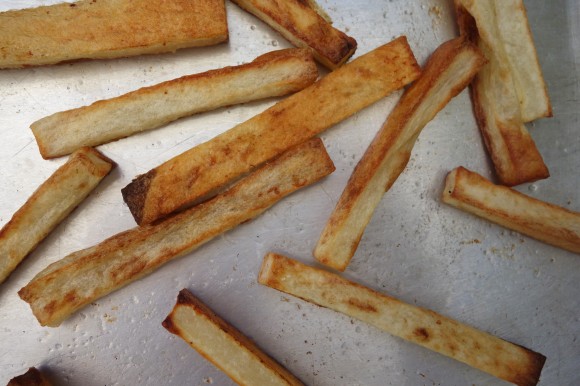 It works. 
Baking fries tossed in duck fat is a great way for homecooks to make this tasty treat without the hassle of a heavy bottomed pan filled with oil or two staging of frying at two temperatures, all of which can be a mess in a home kitchen. The fries are also crispy on the outside and soft and fluffy on the inside. 
For those of you asking, "where do I buy duck fat?" not a problem. Although you can easily buy duck fat online or at specialty stores (some grocery stores are beginning to sell it), you do not need to for this recipe. The duck fat you render from the duck breasts will be enough to coat and bake the potatoes (each breast renders about 1 tablespoon of fat). 
Crispy duck breast is generally served with a rich sauce or slightly sweet reduction. However, since we are simplifying things, we are completing this bistro-theme meal with a chutney. Chutney is a chunky condiment with both sweet and acidic components. This one is sweetened with blackberries, dried cherries, and dates with the tang of fresh lemon juice. It goes well with both the duck and the fries. 
To round out your bistro meal, we have our green salad which is made of carrots tops, frisée, mustard frill, and fresh cilantro. If you cannot find mustard frill (usually it is sold at the farmer's market), use more frisée and add some wild arugula instead. The salad with the mustard dressing is a nice balance to the chutney. The salad dressing can be made ahead but dress the salad right before plating the dish. 
One of the best things about cooking duck at home (beyond impressing your guests) is that rendered duck fat smells sweet and this smell permeates the house. Valentine's Day at Bistro chez vous (your house)!
Happy Valentine's Day à tous …
Bon App' ! 
LM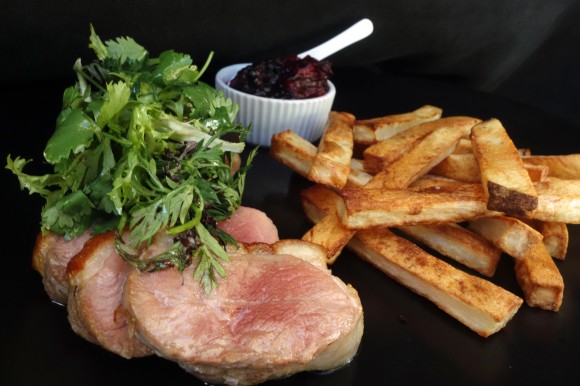 crispy duck breast with date and cherry chutney,
mustard frisée salad and baked duck fat fries
This meal is done in about a 40 minute time frame. It is important to miss en place (measure and have all of your ingredients ready before you begin).
The largest stretch of time is baking the fries which takes approximately 30 minutes.
The dressing can be made in advance and kept in the refrigerator. Dress the salad immediately before service. The dressing recipe will make 1/2 cup,
far more than you need, but just in case you want to make larger/bigger salads). 
serves 2
2 duck breasts, boneless (skin on)
kosher salt, as needed
freshly ground pepper, as needed
fries
1 tablespoon rendered duck fat 
4 Yukon potatoes, yield 16 ounces cut potatoes (1/2" thick)
kosher salt as needed
chutney
1 tablespoon rendered duck fat
1 garlic clove, minced
2 tablespoons small diced red onion
24 pitted honey dates
1/2 cup dried cherries (tart Montmorency)
12 blackberries, halved
2 tablespoons brown sugar
1/4 cup fresh lemon juice
1 teaspoon soy sauce
1/8 cup bottled water
pinch piment d'espelette 
pinch sea salt
salad
1 handful red mustard frill (or wild arugula)
1 handful carrot top fonds
1 handful frisée
1/2 cup fresh cilantro leaves
dressing
2 tablespoons apple cider vinegar (or red wine vinegar)
6 tablespoons quality olive oil
1 teaspoon Dijon mustard
1 teaspoon minced shallot
½ teaspoon sel de Guérande (and to taste)
1 pinch ground cumin
Preheat oven

to 375 degrees Fahrenheit.
Make Dressing.

Place vinegar and mustard in a small bowl. Whisk in oil. Add shallots, cumin, and salt. Mix well. Taste and adjust seasoning if necessary. Set aside. Prepare the greens and place greens in a separate bowl. Set aside (best to place in refrigerator with a paper towel on top).
Potatoes.

 Cut potatoes into rectangles and then into 1/2 " think batons. You should yield about 14 ounces of cut potatoes. Place batons in a bowl and set aside.
Duck.

Cut "x" marks in breast skin with a sharp knife, careful not to penetrate the flesh (the cuts allow for the heat to penetrate the fat layer). Season breasts with salt and pepper. Place a sauté pan or a cast iron skillet on the stove. Place the duck breasts, skin side down, in the cold skillet (do not add any fat to the skillet). Turn the flame on to medium-low. When the skin begins to sizzle, reduce the flame to low. Cook breasts in the skillet for 5-6 minutes until the skin is crispy and the fat has been rendered (remember that the skin will continue to crisp in the oven). Remove breasts from the skillet with tongs and place the duck breasts on a rack set on top of a rimmed baking sheet. Set aside. Pour the rendered duck fat from the skillet into a liquid measuring cup.
Fries.

Add 1 tablespoon of the rendered duck fat to the potatoes. Toss to coat. Add a few pinches of kosher salt. Place the coated potatoes on a rimmed baking sheet (with no liner). Do not stack the potatoes. Place the baking sheet in the oven and

bake the potatoes for about 30 minutes until crispy and golden brown.
While the fries are baking,

make the chutney.

Place a saucepan over a medium flame. When the pan is hot, add 1 tablespoon of rendered duck fat. Add garlic to the fat, once the garlic is fragrant, add the onions. When onions are tender, add dates, cherries, sugar, lemon juice, sugar, piment, soy sauce, and water. Cook for about 5 minutes. Add blackberries. Continue to cook until you achieve a chutney consistency (about another 2 minutes). Remove from stove. 
When the fries have been in the oven for 20 minutes, check to make sure they are cooking evenly and use a spatular or tongs to turn them over if necessary. Add the rack/baking sheet with the

duck breasts to the oven and cook the breasts for about 6 minutes

until the meat is medium rare (deep pink in the middle). Remove ducks breasts from the oven and set aside to

rest for about 5 minutes

. Keep warm by covering with foil. Remove the fries from the oven when golden brown (it should be about 5 minutes after you removed the duck and when it has rested). Sprinkle fries with kosher salt while hot.
Serve.

Thinly slice the duck breast on a carving board. Dress the salad divide evenly amongst the plates. Serve with chutney and the baked fires.
Tags: 30 minute meals, bistro, chutney, crispy duck breast, duck, duck fat, duck fat fries, valentine's day