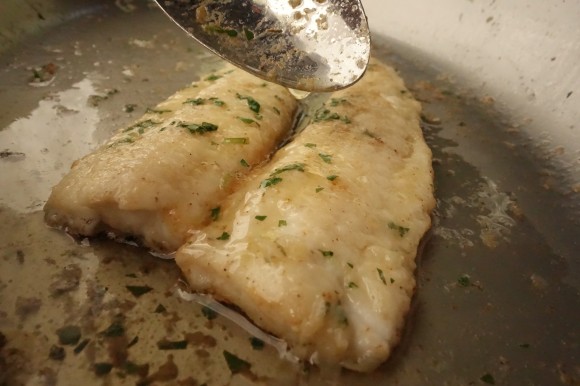 sole à la meunière 
(sole meunière)
This is the classic way to prepare sole à la meunière.The method is surprisingly simple and a good recipe to keep on file. A simple combination of browned butter and fresh lemon juice will give the sauce a nutty and slightly tangy taste. I reduced the butter but if you want more sauce to brown, add more cold butter (clarified butter does not brown). Dover sole has a meaty but delicate taste. If you cannot find Dover sole you can subsitute other types of sole. You can use trout as well. If you add toasted almond slices you then have trout almandine.
serves 2
you need:
fish and sauce
4 fillets from 1 beautiful Dover sole (skin on or off)
all-purpose flour (as needed)
kosher salt (as needed)
freshly ground black pepper (as needed)
1 ½ tablespoons clarified, unsalted butter
3 tablespoons unsalted butter, cold
1-2 teaspoons fresh lemon juice
1 tablespoon finely minced fresh Italian parsley
gros sel de Guérande (to taste)
freshly ground pepper (to taste)
optional garnishes

sautéed mushrooms or morels
pecans, sliced almonds or crushed hazelnuts, toasted
capers, rinsed
how to:
Clarify Butter

. Place butter in a saucepan over low heat and melt. The milk solids and water will  separate from the butter fat. Cool. You can easily ladle off the butter once cooled or use a fat separator.  This can be done before and stored.
Season Fish.

 Rinse fish fillets well. Season the fillets with salt and pepper.  
Heat Skillet (or Sauté Pan).

Place an ovenproof skillet or sauté pan over a high flame. Once the pan is hot, add clarified butter.  Immediately before cooking, dredge fillets in flour. Tap off the excess flour.
Sauté Fish.

Once butter is hot. Place fish in the pan presentation side down (if skin on, place flesh side down). Fish should sizzle. Cook for 2-3 minutes just until presentation side of the fish is slightly brown and crispy.  Use a fish spatula to turn fish over and cook on the bottom side for 2 minutes.  
Baste with Butter.

Add cold butter to pan. Use a large spoon to baste the fish with the butter by scooping the melted butter out of the pan and pouring it over the fish a couple of times.   
Bake.

Place pan with the fish in oven preheated to 350 degrees Fahrenheit. Fish is done when the flesh appears opaque, not clear, and the muscle tissues begin to separate.  Fillets only need to be in the oven about 3 minutes.
Finish Stove Top.

(Carefully) remove pan from oven and place it back on the stove. Add lemon juice. Season with salt and pepper. Add parsley.  Continue to baste with butter sauce which should brown and begin to smell nutty.  If you add garnishes, add them now. Adjust seasoning.  
Plate.

Lay fillets presentation side up. Pour sauce over the fish. Add more parsley if desired.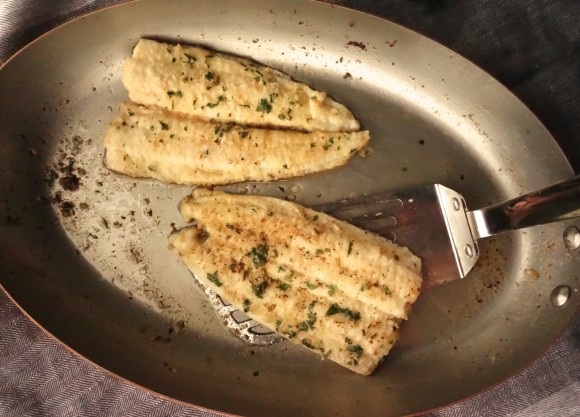 Tags: easy fish recipes, fish, French, French preparation, Julia Child, quick and easy, sole, sole à la meunière, sole meunière