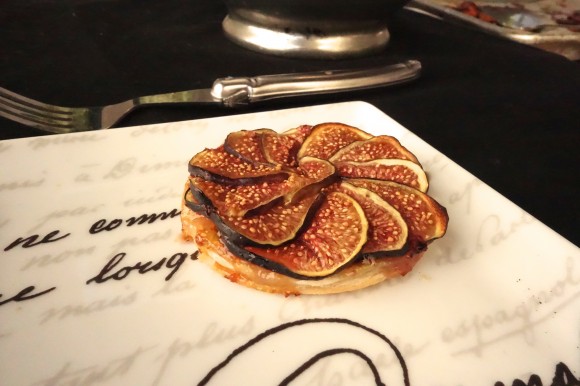 what is a fig to do ?
tartelette aux figues
(fig tartlets) 
Fig season in the U.S. is short, but sweet. They always seem to be here at the same time we are transitioning from Summer to early Fall with its demands of work and school. I like to think that the change in the market is giving us a sweet treat to ease the craziness of our schedules. Along with figs, the markets are filled with varieties of grapes and the early harvest of apples and pears. Heirloom tomatoes are disappearing with the sun.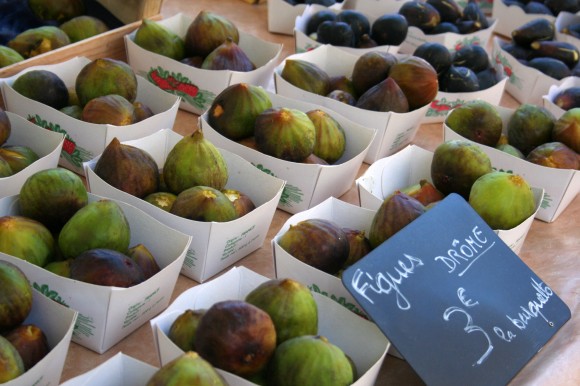 Rarely are you able to purchase figs individually. Generally they are sold in a basket and they ripen quickly (due to their sugar content). The volume purchase always leads to the question, "What to I do with all of these figs before they go bad?" Every year I am asked for fig recipes.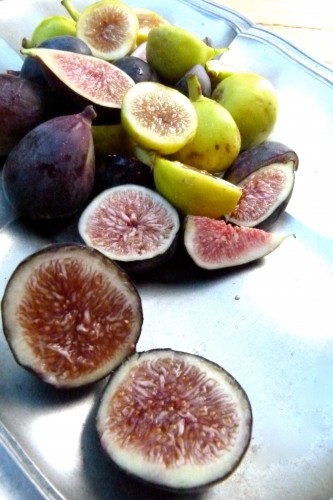 Figs add a natural sugar to your oatmeal or your Greek yogurt in the morning. Figs pair well with cheese (blue cheeses, feta, goat cheeses are my favorite to use them with). They are a nice addition to salads.
Figs can be stuffed and/or wrapped with prosciutto or bacon. You can roast them or poach them in wine. I love to use them in port reduction to accompany lamb or bake them with chicken legs. A fig compote or jam is always delicious to spread on your morning toast or to enjoy with your goat cheese.
Enjoy them now. They will be gone before you know it.
It was a combination of the chilly weather, a crazy schedule, and the annual fig question which caused me to give you an easy tartlet recipe this week. These fig tartlets can be enjoyed warm or at room temperature. You can eat them as a snack or as a dessert.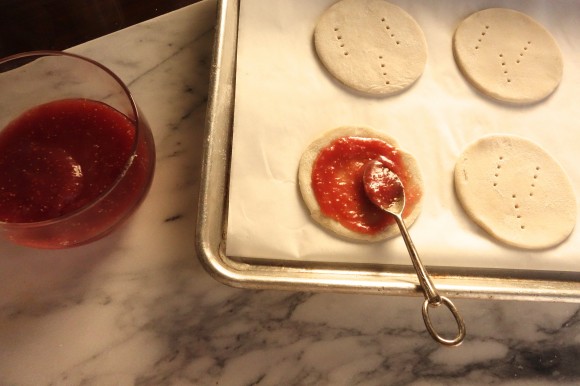 The beautiful thing about this simple recipe is that you do not have to limit it to figs (IF figs happen not to be your thing). For example, you can use thinly sliced Italian plums (also very delicious right now) or end of the season peaches (however, be mindful that plums and peaches have a higher moisture content than figs so do not use too many of them or your pastry dough will get soggy). If you do not have the time to make the fig jam you can use a quality fig jam you found at your favorite store (it will be our secret).
à table (come to the table)
LM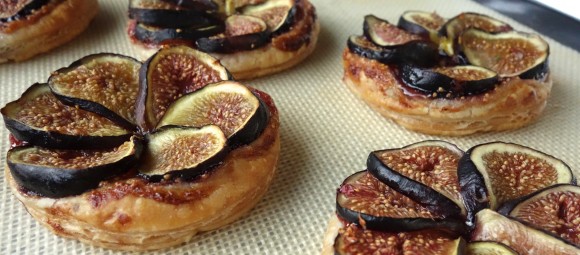 tartelettes aux figues
(fig tartlets)
makes 6 tartlets (3")
fig jam
5 ounces fresh figs
1 teaspoon fresh lemon juice
2 tablespoons (1 ounce) granulated sugar
1 tablespoon unsalted butter
tart
12 beautiful fresh figs
1 sheet frozen puff pastry (defrosted)
1 tablespoon of granulated sugar (dissolved in 2 tablespoons of water)
garnish (optional)
1 cup heavy whipping cream
1 tablespoon powdered sugar
1 teaspoon vanilla bean paste
how to:
Make Fig Jam.

Remove and discard stems. Cut figs (5 ounces) in half and place figs, lemon juice, and sugar in a saucepan over medium heat. Cook until the figs collapse, the sugar has dissolved, and the mixture begins to thicken. Remove pan from the heat. Pour through a sieve or mesh strainer (use a wooden spoon to press fig flesh through the stainer, leaving the skins. Discard the fig skins. Add butter to the strained fig jam and stir under dissolved. Let the jam cool (this can be done in advance).
Cut Dough.

Defrost a puff pasty sheet in the refrigerator. When ready to use, lay pastry sheet out on a flat surface (lightly dusted with flour). Use a rolling pin to roll pastry until it is about ¼ inch thick. Use a 3" biscuit cutter to cut circles in the puff pastry dough. Use a fork to poke holes in the circles (to prevent it from puffing too much). Place on a baking sheet lined with parchment paper and place in the refrigerator (briefly) to keep dough cold.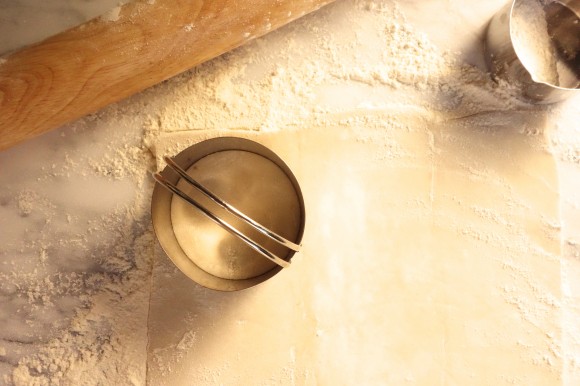 Assemble & Bake.

Preheat oven to 400 degrees Fahrenheit. Spread about 1 tablespoon of fig jam on the cut circles in the pastry dough (as shown). Thinly slice remaining fresh figs and place on top of the jam in a decorative fashion. Dissolve a tablespoon of granulated sugar in 2 tablespoons of water. Use a brush and gently brush the cut figs with the sweetened water. Bake for about 15 minutes until the pastry is golden on the sides and the figs are cooked (if the figs look dry, brush a little more sugar water on them..but not a lot!). Tartlets can be served warm or at room temperature.
Whip Cream

. If you would like to add a little something extra to your tartlets, place 1 cup cream heavy whipping cream in the bowl of a stand alone mixer fit with the whisk attachment. Whisk on high speed. Add sugar and vanilla bean paste while mixing. Stop whisking when you achieve peaks in your whipped cream (if you over-mixed it, the cream will begin to break down and look lumpy. If this happens, add another ¼ cup of cold cream and whisk until it comes together. Adjust the sugar).
bon appétit
Tags: dessert, fig tartlets, plums, snack, tartelettes aux figues