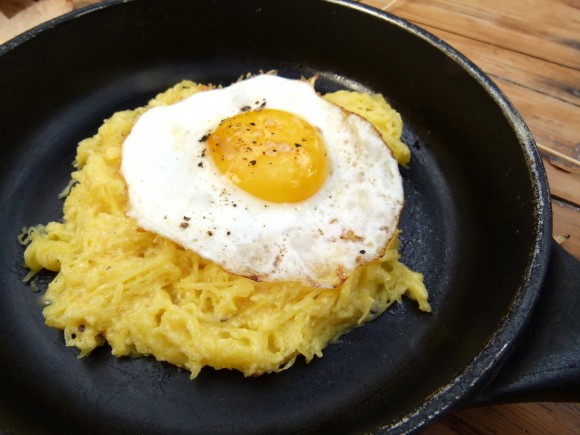 spaghetti squash à la carbonara (spaghetti squash carbonara)
(une carbonara pas commes les autres !)
(remember to read through the entire recipe to
understand the sequence of events. There are only a few steps, but its best to do them
in the suggested order)
serves 6-8
what you need:
1 spaghetti squash (approx 2 pounds, 5 ounces)
fresh thyme sprigs
olive oil (as needed)
kosher salt (as needed)
sauce
1 tablespoon unsalted butter
2 garlic cloves, finely minced or smeared
2 ounces diced or chopped pancetta
2 organic, fresh eggs
1 cup finely grated Parmigiano-Reggiano* (Parmesan)
~⅓ cup finely grated Pecorino Rustico Pepato (ewe's milk, Italy) or more Parmigiano-Reggiano
freshly ground black pepper (as needed)
gros sel de Guérande (or sea salt) (as needed)
garnish
quail or small chicken egg, fried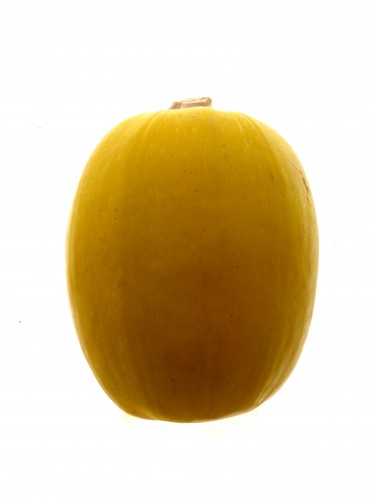 how to:
Prepare Squash.

Carefully cut the spaghetti squash in half. Remove the seeds with a spoon (or your clean hand). Rub the squash flesh with a little olive oil and sprinkle it with a little kosher salt. Place a few thyme sprigs in the cavity. Place the squash halves, face down, on a rimmed baking sheet lined with parchment paper.
Roast Squash

.Roast in an oven preheated to 375 degrees Fahrenheit until tender (about 45 minutes, the skin will begin to collapse and lightly brown).
Remove From Oven.

Remove the squash from the oven (leaving it face down to stay hot). While it cools slightly for you to handle it, begin making the sauce:
Mix Eggs and Cheese.

In a bowl, mix the eggs and the cheese until well incorporated. Set aside.
Sauté.

Place a large saucepan or stockpot on the stove over medium-high heat. Add butter and melt. Add pancetta. Cook until the fat is rendered but do not brown the pancetta. Add the garlic.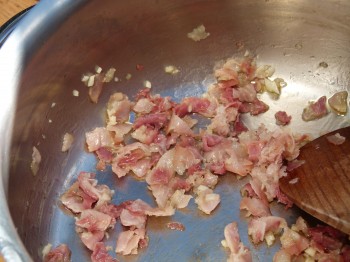 Add Squash To Pancetta/Garlic.

Once the garlic is fragrant, add the hot squash strands to the pan by using a fork scrape the strands directly into the pan. Gently incorporate the squash strands with the pancetta and oil.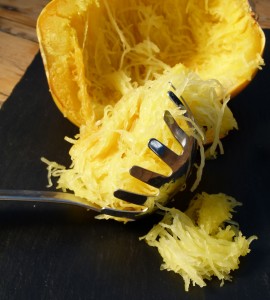 Add Egg/Cheese Mixture.

Turn the flame off (or the eggs will scramble). Slowly pour the egg/cheese mixture into the hot squash/pancetta mixture. Gently toss to incorporate the egg/cheese sauce with the squash.
Fry Egg (optional)

. Cover the pot with a lid to keep the squash warm and and while the flavors are combining, place a small non-stick fry pan over a medium flame. Once hot, melt a little butter, and egg and fry (to cook without flipping the egg and to keep the yolk a bright yellow color like the squash, turn off the heat and cover the pan briefly with a lid.
Serve.

Use tongs serve the spaghetti squash in twisted mounds on plates. Top each serving with a fried egg.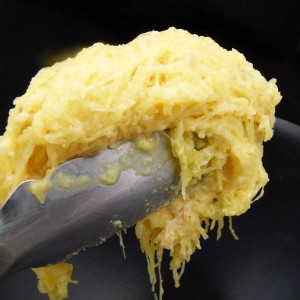 * If you finely grate the cheese, it is easier to melt.
Tags: carbonara, cheese, french cooking recipes, fried egg, pancetta, spaghetti squash, thyme