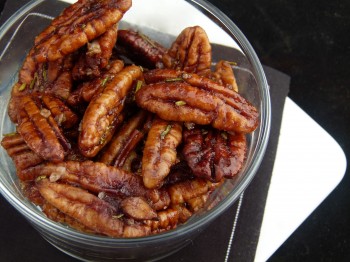 just hungry, getting spicy, and going nuts:
spiced rosemary pecans
Innocent comments, taken out of context or just plain misconstrued, can lead to life's awkward, sometimes funny moments. It is one of those moments and a party favorite recipe that bring us this week's simple pleasure: spiced rosemary pecans. 
 It was a first date and he was a brave man. He was brave because he not only
ran with me on our first date but he chose the restaurant in which we dined following our run. While neither point may seem significant on their face, let me give you some background facts. First, I run 60 miles a week. On a treadmill I do 8 miles in 61 minutes. Boston in April will be my 11th marathon. No one ever, ever wants to run with me (especially men) unless we met at a finish line (or in a corral). Second, because I cook no one ever wants to select the restaurant or cook for me. The first point I understand and since I write recipes and production schedules in my head while I run, truthfully I do not miss the company. The second point is unfortunate because I genuinely enjoy it when others select the restaurant or prepare something for me because I like to try what others have created, I appreciate all types of food, and eat almost everything. Nevertheless, I have been told that both factors are intimating. While it is not my perspective, I will give it to him, he was a brave man.
It is a Friday night and we are sitting across from one another in a restaurant which is noisy and busy with weekend diners. As we look over the menu, I learn that he is a vegetarian which I actually find familiar and endearing since I was raised vegetarian myself (surprise!). However, the three items I was considering I eliminate (out of politeness) because well, the guy just ran with me and no one has ever done that, so I will indulge my carnivorous tendencies tomorrow. We decide to order some of his favorite things and share. Now, I am thrilled because (let us recap): (1) he ran with me; (2) he chose the restaurant; and (3) he is ordering his favorite things which means I do not have to make a food decision … which to me is priceless because I have complete decision fatigue when it comes to food and when I dine out I usually ask the chef to make me anything s/he feels inspired to make.
Our first plated dish arrives. It is a salad with spiced nuts and beets. I offer reassurance that his choice is a pleasing one and I say "this looks good … I love nuts." It is loud and he did not hear me. I repeat myself, louder this time, "I said yum … I love nuts!" Out of my peripheral vision I see the couple sitting to our immediate right look at me and the man is smiling at me with "that look." I have SNL flashbacks and Alec Baldwin's skit about holiday (Schweddy) balls dances in my head. As my children would say "awkward silence" ensues. My date is now grinning at me and I feel my face becoming warm and I know it is as red as the roasted beets in the salad. And there you have the beginning of our first date: we ran; we got sweaty;  I declared my love of nuts.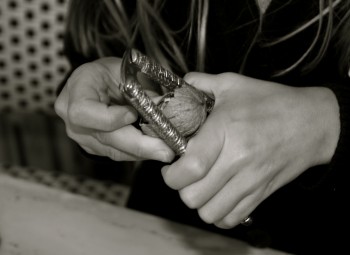 Notwithstanding the awkward moment, I know that I am not alone in my sentiments. Whether roasted, salted, sugared, or spiced (or all of the above) nuts are a crowd pleaser. In fact, every time I make them for parties, they are gone within minutes, especially if it is apéritif time.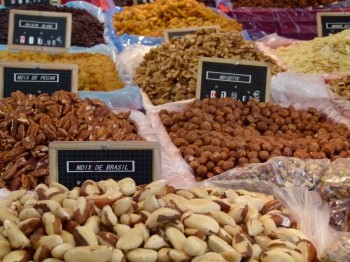 Nuts are a wonderful source of monounsaturated fatty acids (walnuts and pecans are predominately polyunsaturated) and are great for your cardiovascular health. Nuts are great sources of fiber, folic acid, antioxidant phenolic compounds, protein, and the antioxidant vitamin E.  (Harold McGee, On Food and Cooking (Simon & Schuster 1984) p. 502). As a runner, I eat one-fourth to one half of a cup of nuts every day (probably a little too much). I am not a nutritionist or doctor but I do believe the fat in nuts is responsible for the fact that I never have any joint pain despite the physical punishment running cumulatively does to my body (so I am told). As a chef, I cook and bake with nuts all of the time. In France, almonds and hazelnuts are used with complete abandon. Vivé la France ! 
This week's simple pleasure is just that: a really easy recipe that is positively addictive. It cooks raw pecans in a combination of brown sugar, spices, sea salt, and fresh rosemary. Please do not eat the entire two cups when you pull them from the oven or you will give yourself a tummy ache (they are spicy and nuts have fiber remember).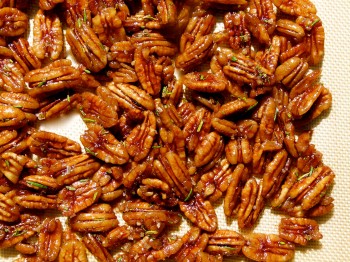 The method of preparing this recipe leaves every pecan evenly, lightly coated and not grainy, clumpy or with a thick coating (or that artificial-taste) you find with so many pre-packaged nuts. While most recipes instruct you to simply stir the toasted nuts in a sugar or corn syrup mixture  (sometimes also heated), this often leads to a clumpy, uneven mess. The key is to boil the pecans first to swell them and then to cook the swelled nuts in the sugar-spice syrup until the mixture has been absorbed by the nuts. Roast them in the oven until they are golden brown and lightly crisp (if they are still moist they will become soggy and stale quickly). Even with the additional step, the entire process takes about 30 minutes, the majority of which is inactive oven time. This is an easy, do ahead party pleasing snack for planned or impromptu gatherings. 
However, these nuts do not have to be eaten by themselves. Be creative! Here are a few suggestions:
Chop and incorporate the nuts in a soft cheese (i.e., cream cheese, ricotta, or quark) and spread it on your tartine (or bagel);
Add them to a baked potato;




 

Chop them and garnish a creamy soup with them instead of croutons (today is the perfect day to make soup with those end of the season cauliflowers, squash or sweet potatoes); or
Crush them and mix them with a little olive oil to make a crust for a

grilled bone-in steak

.
Of course, you can add the nuts to salads (vegetable or green).  Whatever you do, go a little nuts and get spicy (and vice versa). 
More recipes for runners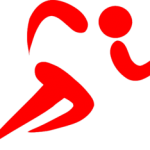 .
Je vous souhaite un bon appétit !
LM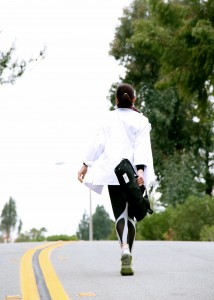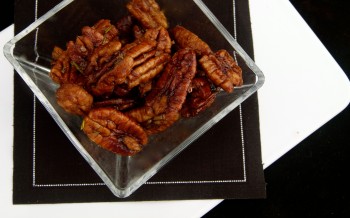 spiced rosemary pecans
makes 2 cups
what you need:
2 cups water
8 ounces whole raw pecans
½ cup light brown sugar
⅛ teaspoon cayenne pepper
½ teaspoon piment d'espelette*
2 teaspoons sel de Guérande** (fleur de sel or sea salt)
1 teaspoon minced fresh rosemary
¼ cup bottled water
how to:
Boil.

Place 2 cups of water in a saucepan over a high flame. Bring to a boil. Add the pecans and boil for 2 minutes. Drain. Set the pecans aside.
Mix Spices And Cook.

Using the same saucepan, combine the ¼ cup of water, spices, and sugar. Place over a medium-high flame. Once sugar has dissolved, add pecans and toss the nuts in the spiced syrup. Continue to cook until there is no liquid left in the pan. Remove saucepan from heat. Add rosemary and salt and stir to combine with the cooked nuts.
Bake.

Pour the spiced pecans on a baking sheet lined with a silplat. Make sure the pecans are evenly spread out over the silplat (not on top of one another).  Place in an oven preheated to 350 degrees Fahrenheit. Bake for about 23-25 minutes until the pecans are lightly crisp and golden brown (they should no longer be soft).
Cool.

Remove from the oven and let the nuts cool on the baking sheet. Spiced nuts can be stored in an airtight container for one week.
*Piment d'espelette, is the AOC recognized Espelette pepper found in the Basque region of France. It is hands-down one of my kitchen staples. You can order it here. Or, if you cannot get it in time to make this recipe, you can substitute paprika (although it is smokier than piment d'Espelette) or crush crushed red peppers but use a little less (they have more heat than piment d'Espelette).
**sel de Guérande is another one of my kitchen staples. It is a grey, coarse sea salt (although you can purchase it finely ground) hand-collected from the salt beds in Northern France. It can be found here.
Tags: first date, healthy sides, piment d'espelette, roasted pecans, Running, simple pleasures, spiced rosemary pecans