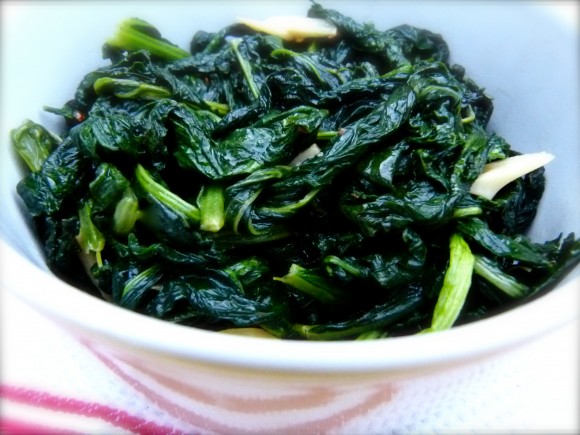 spicy sautéed kale and broccoli rabe
THANKSGIVING TIP:
This is another good side to balance the starch-heavy meal of turkey, stuffing and potatoes.
You can omit the chili peppers if you or your guests do not want spice.
Tuscan kale is also referred to as "black kale" or "dinosaur kale"
serves 4
what you need:
1 pound Tuscan kale and rapini leaves, thick stems and ribsremoved
2 tablespoons olive oil
1 teaspoon koshers salt
8 garlic cloves, thinly sliced
fresh lemon juice from 1 lemon
2 tablespoons heavy cream
1 teaspoon crushed red peppers
how to:
Trim Broccoli Rabe And Kale.

Remove leaves from the thick stalks. Cut leaves into pieces 4 inch strips.
Blanch.

Bring a stockpot of salted water to a boil. Add the kale and broccoli rabe.

Cook for 3 minutes.

Drain in a mesh colander.
Sauté.

Add 1 tablespoon olive oil to pan. When oil is warm, add garlic. When garlic is fragrant, add the broccoli rabe and kale leaves. Use tongs to toss the greens in the olive oil. Sprinkle with salt and add the other tablespoon of olive oil. Add a squeeze of fresh lemon juice. Toss the greens in the oil and juice. Sauté until greens are "melted" (they look blended together), about 20 minutes.
Add Cream.

Add heavy cream and continue to cook the until the cream is reduced and absorbed by the greens.
Add Peppers.

Add crushed chili peppers. Toss to combine.
Adjust Seasoning.

Season to taste with salt and pepper.
Tags: broccoli rabe, kale, spicy, Thanksgiving