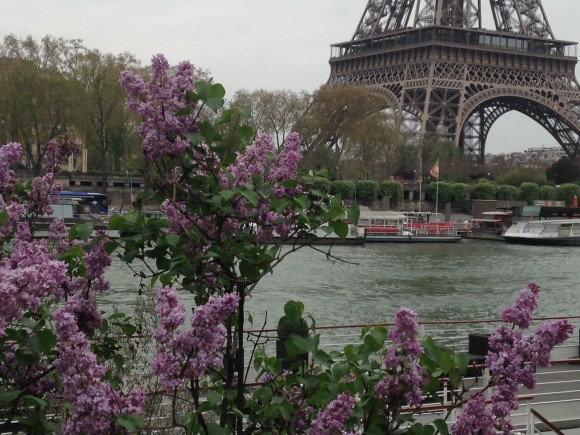 Paris in the Springtime
&
My Short List of Bon Goût
(8 Parisian restaurants you will adore)
Do you remember Frank Sinatra crooning: "I love Paris in the Springtime…"? I remember playing my parents' Frank Sinatra record (yes, I said record) wondering if Paris is more magical in the Spring. As an adult, I have found that Paris is wonderful all year long but there is something special about Paris in the Springtime. Blue Eyes was on to something.
It has been longer than usual since my last post. The last six weeks have been crazed with manuscript and photo deadlines for my second cookbook (all wonderful stuff, but exhausting) and in between that madness were trips to San Francisco to Los Angeles to Paris back to Los Angeles and then a quick two and one half days in Boston to run the marathon (another very special event). As I write this post I realize that it is the first time I have been sitting and not moving for some time. Yay for sitting (however brief it may be).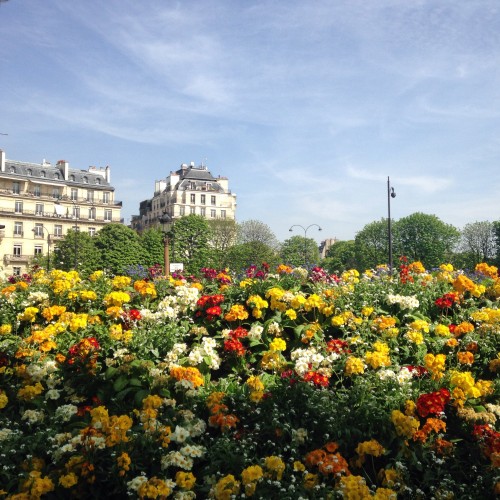 I use this "sitting opportunity" to take you momentarily to Paris in the Spring and to show you what Sinatra was singing about.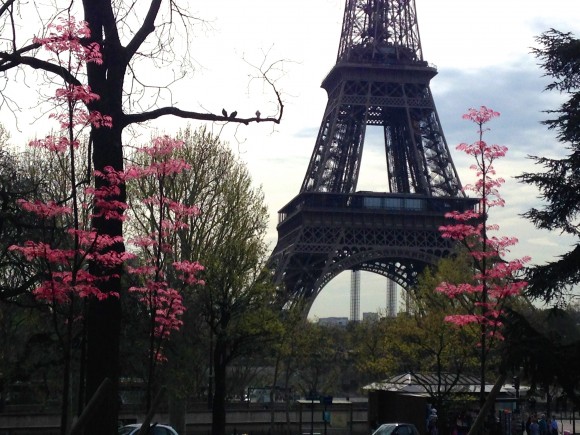 Paris in the Springtime is a beautiful inundation of all of your senses. Pink blossoms on the trees and the smell of lilacs along the Seine…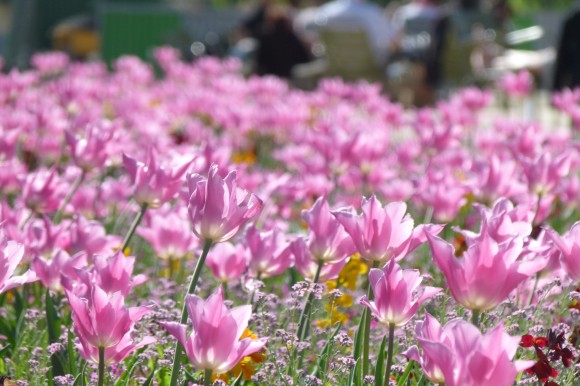 Tulips and brightly colored flowers burst through the ground and neatly hug the edges of the parks, walkways, and islands throughout the city.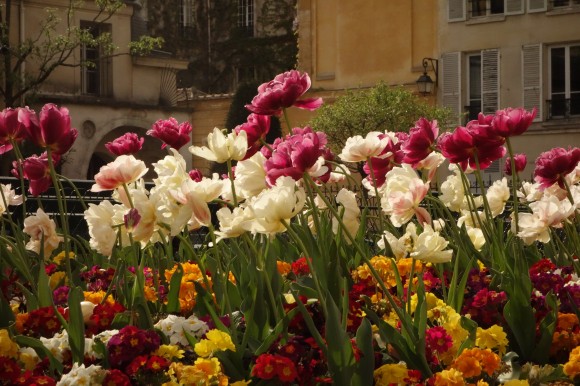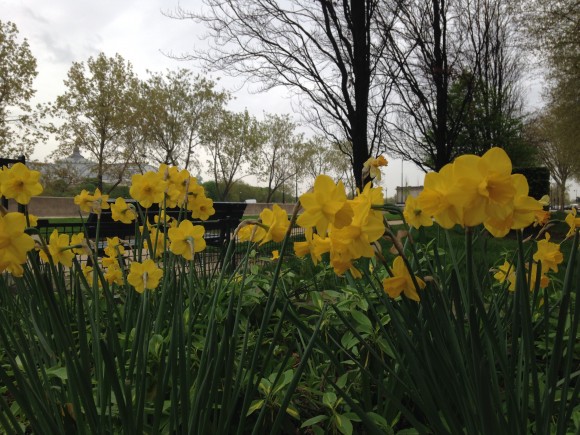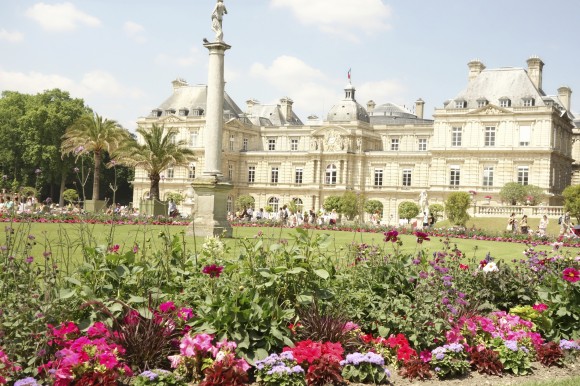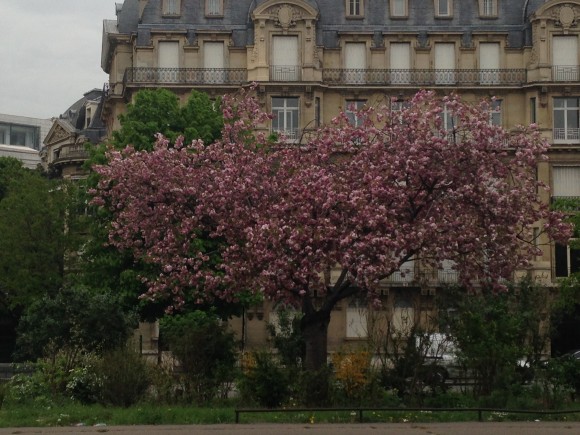 The recently-bare trees are green again allowing only the edges of the grand stone architecture to peak from behind.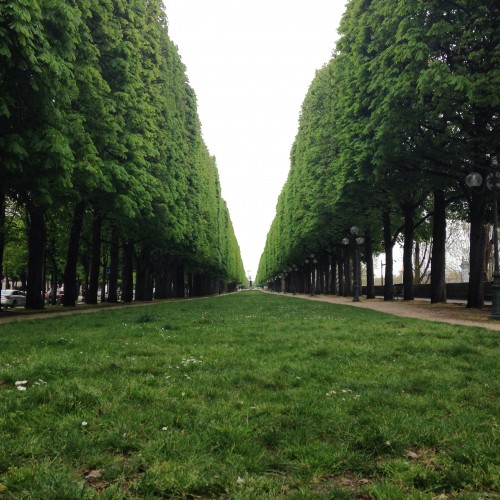 The sun shines on the city which seems even brighter after months of a grey sky.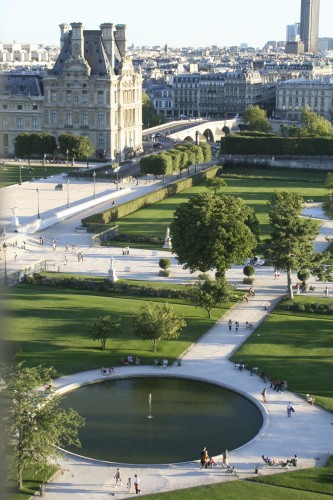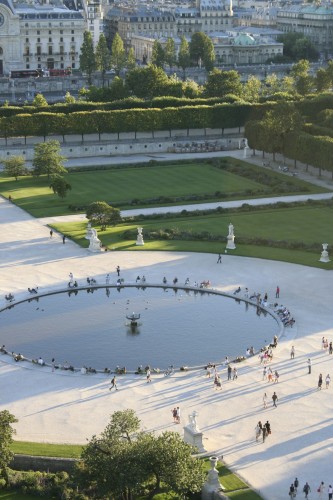 Parisians profit from the warmer temperatures and shed their heavy Winter jackets (most of which resemble down comforters with arm holes). Scarfs, tossed around their necks in that effortlessly chic way, are lighter. Umbrellas are left at home.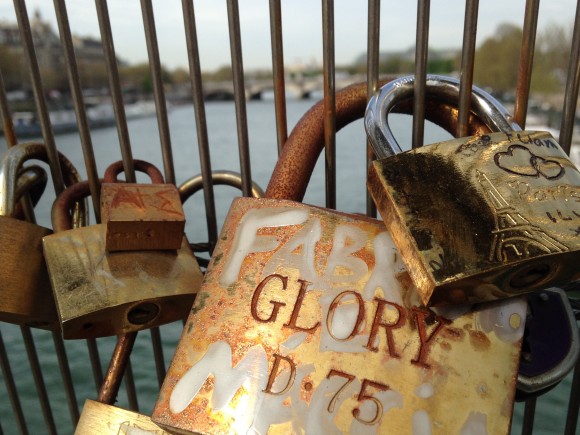 Spring is the not only a new beginning but the promise of beautiful things to come, including the very long days of summer.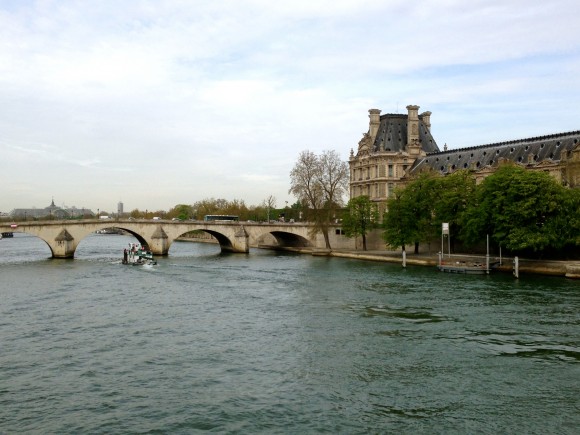 Markets take on new colors and shapes: strawberries, morels, asparagus, and artichokes compete with the Spring flowers for attention. Stone fruit is just around the corner and soon I will be making my favorite, clafoutis.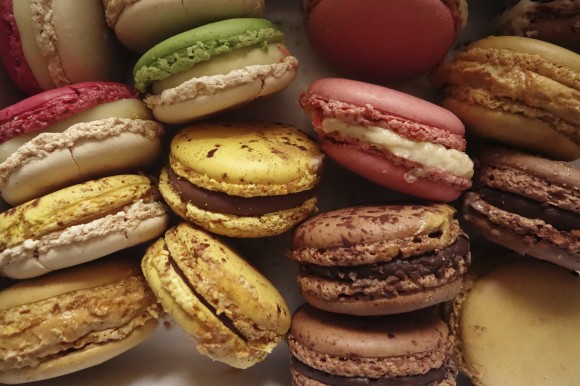 Macarons take on lighter flavors. Pierre Hermé (my personal favorite) transitions his winter flavors of foie gras, spice, and citrus for the yogurt and berry macarons that make me giddy with delight.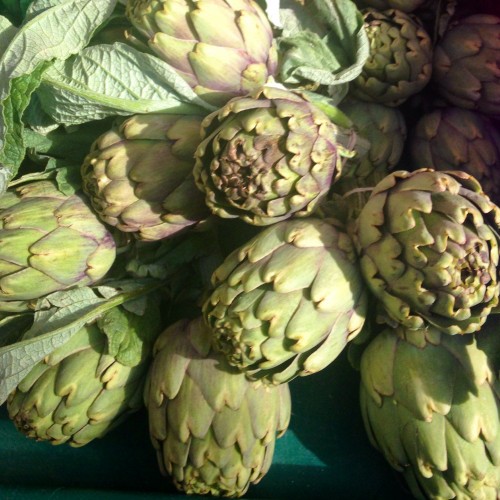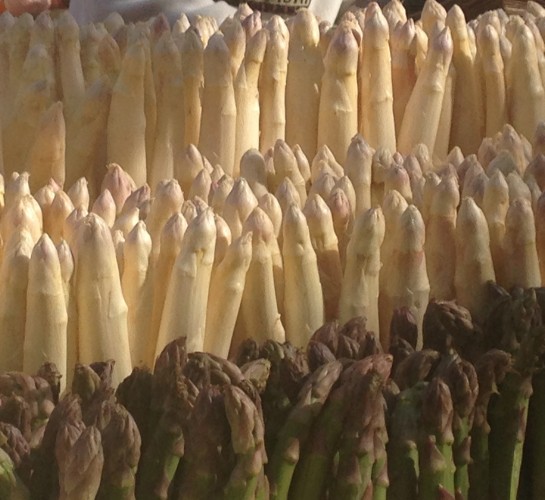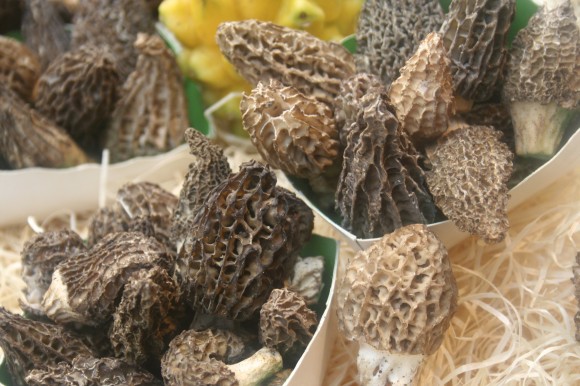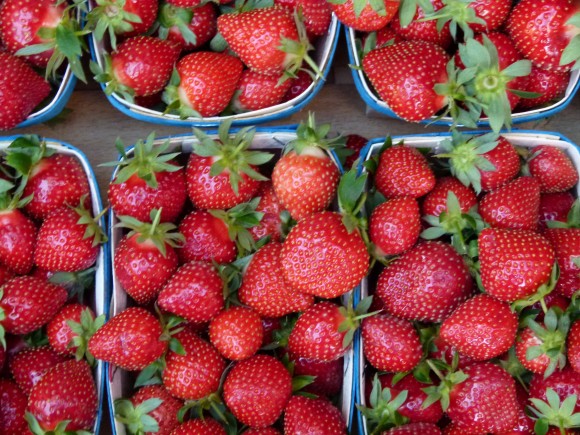 Spring is a literal and figurative breath of fresh air before summer sits in. It begs you to linger: a stroll on L'Île Saint-Louis or along the Seine perhaps with an ice cream in hand… pourquoi pas ?  The kids are still in school and the tourist season has not yet begun.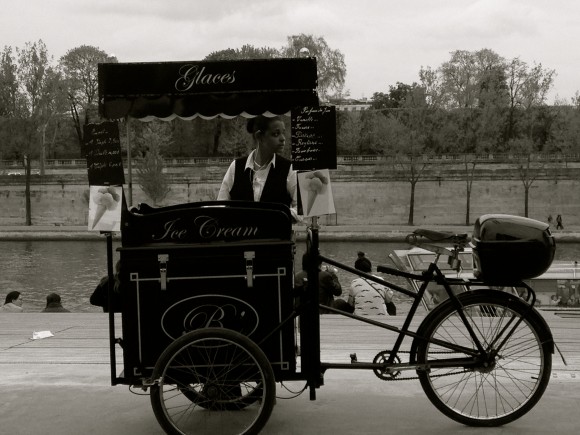 Grab a metal chair in the Tuileries and read in front of a fountain or just to catch the sun on your face.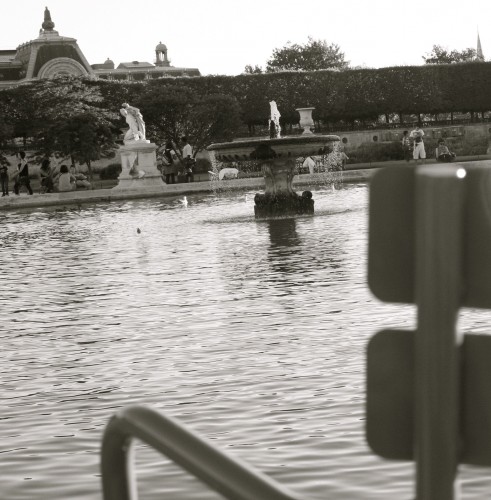 There is a definite rhythm to this city and in the Spring it is peaceful, anticipatory, and enthusiastic. It is definitely is something to croon about.
And then there is the food in Paris…This brings me to my little list.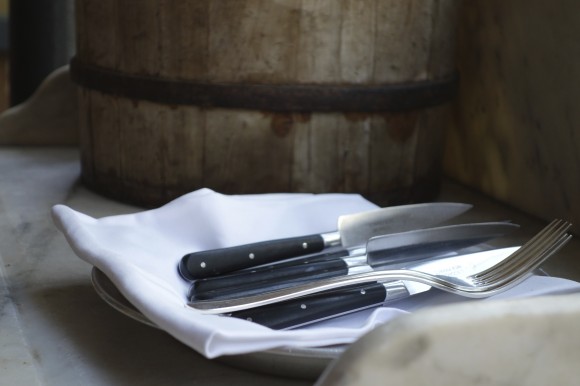 my little list of bon goût
Paris is full of wonderful restaurants and bistros and talented chefs. The appreciation and knowledge of what quality food constitutes is inherent in French culture and this artisanship – to inspire, create, and redefine "bon goût" (good taste)  – continues to make Paris the leader in gastronomy.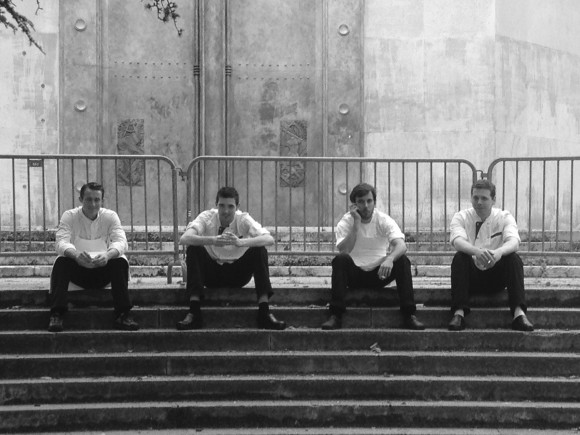 With all this beautiful food, creativity, and culinary know-how in Paris I have a lengthy list of restaurants of all styles and suited to all tastes in this site that I like. However, I am always asked for my "short list." Here it is: eight restaurants on my speed dial which I routinely recommend to those visiting Paris.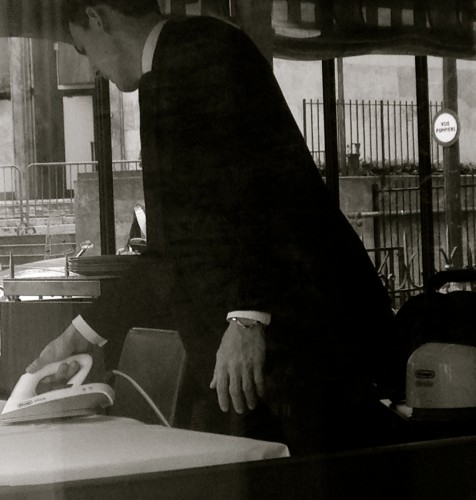 These eight restaurants/bistros have different souls and personalities. However, despite their differences and varying strengths, each one is solid in food, atmosphere, and service. I use the following monetary scale per person (including a beverage) for guidance: €€  (between 40-100 euros) and €€€  (between 100-200 euros). Make your reservations well in advance of your trip.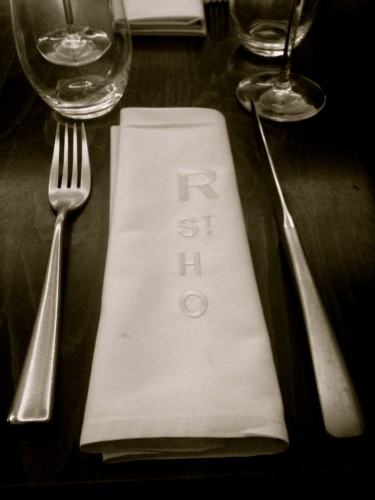 La Régalade
La Régalade, of which there are now three, is aptly named. "Se régaler" means to treat oneself; to take pleasure in something, generally a meal or drink.  The noun régalade is that moment of something wonderful happening (again, generally as it pertains to food or drink). When I asked a friend for her Parsienne definition, she placed the back of her hand over her forehead and threw her head back and an "ahhhhhh"  fell from her lips. While a tad dramatic (she is French so I kinda expected it) her definition was as authentic as it was sincere and she followed it up with, "Régalade? … The restro ? It is so good! Have you been to the new one? I went twice with my sisters!"
There are a multitude of reasons why I love this bistro (I will refer to the three as singular for simplicity). Let's start with this: impeccable technique, first-rate seasonal ingredients, and the innovation and finesse in every dish that you would expect to find at an expensive hotel but at an affordable price. That is the concept of bistronomie of which La Régalade was at the forefront and which it continues to deliver.
In 2004, owner-chef Bruno Doucet (formerly having worked with Charles Barrier and Pierre Gagnaire) took over the original La Régalade (in the 14th)  from Yves Camdeborde who founded it in 1992.  While some questioned the longevity of the bistro after Camdeborde's departure, I am sure they are eating their words now. Not only did it continue to thrive but in 2010, chef Doucet opened a second location on rue Saint-Honoré in the heart of the city and recently a third location  –  Conservatoire – in the new boutique hotel de NELL (designed by Jean-Michel Wilmotte). La Régalade Conservatoire was recently awarded a "Bib Gourmand" designation. Congratulations.
First, let me issue this disclaimer, it was night and I only had my cell phone which was near an untimely death so the photographs are poorly lit and do not nearly do the food justice (apologies, but I went to enjoy myself and my company and did not intend to take photographs).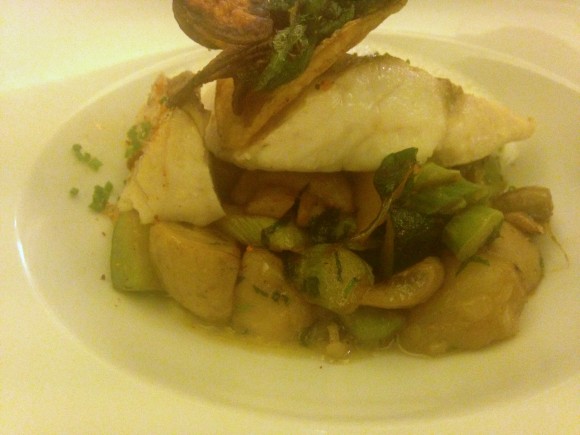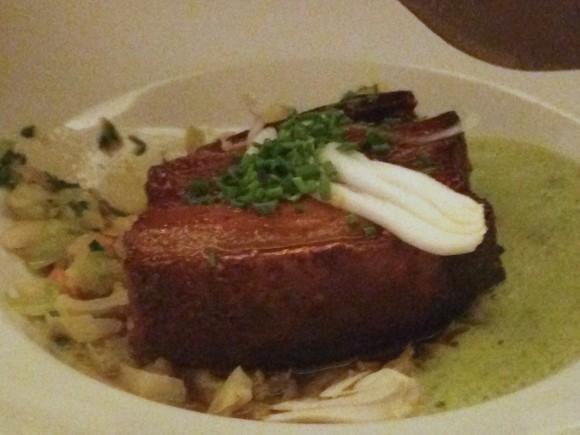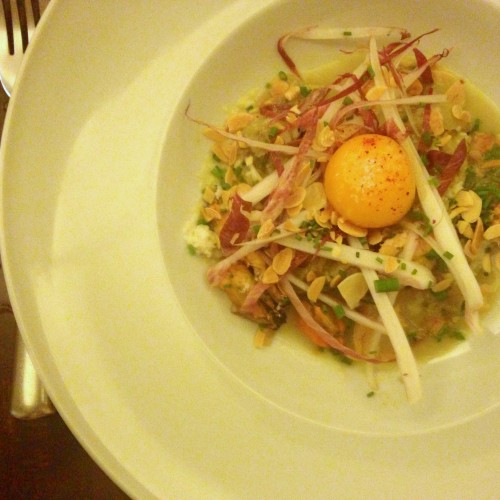 La Régalade has a prix fixe menu. You select one entrée (first course), one plat (main course), and one dessert from a list of 4 or 5 options on the menu, all of which are all varied. The dishes are traditional French dishes presented with a modern approach. Coup de cœur choices, additional items of which chef Doucet is particularly fond, are offered for a supplement.
You start with a communal terrine de compagne (country pâté served in its terrine) with cornichons and crispy French bread on the side. While you will be tempted, do not get carried away and eat too much of it, save room for the following three courses.
After you have been warmed up with this tasty bit of hospitality, the dishes that follow are a harmonious integration of seasonal tastes. Visit it now and you will know what "Springtime" in Paris tastes like. While the menu changes often, recent menu selections have included: melt in your mouth caramelized pork belly with Puy lentils in a lard fumé; langoustines with split grilled asparagus, baby spinach leaves, zucchini and a foamed emulsion with fresh herbs; shrimp in a cilantro, mushroom, and julienned green apple melange all carefully placed between crisped won ton sheets with a slightly spicy, tangy sauce; and a mussel marmite with thinly sliced endive that delivers a gentle bitter note which nicely compliments the egg yolk and cream emulsion with a hint of celery.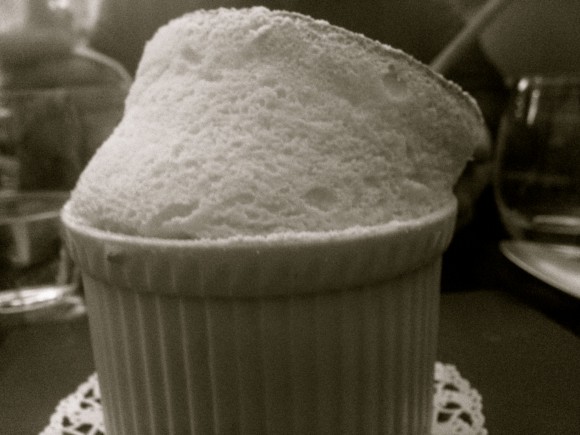 And then there is dessert. Two favorites are the soufflé Grand-Mariner that leaps enthusiastically from its dish and the creamy riz cuit au lait (rice pudding) served with a caramel sauce on the side which transported my dining companion to childhood so much so that I jokingly asked if he needed a moment to himself (Of course, I said that while I was gauchely dipping my pinky in the caramel sauce). I ate here twice in one week. I am "just sayin.'"
Tasteful and classical decor with wood and red embellishments (the Conservatoire has an art-deco flair with black and white ceramics and sleek black accents) combined with a staff that is prompt and courteous, it is no wonder why La Régalade is packed and remains a favorite of the locals. La Régalade has been heralded as one of the most solid restaurants in Paris and one of the best values. It is and more. I imagine that after you dine in one, you will insist on dining at the others if you are able. Go ahead, "treat yourself."
La Régalade Saint-Honoré
123 rue Saint-Honoré
75001 Paris
33 (0)1 42 21 92 40
Metro: Louvre-Rivoli (line 1)
Lunch: Tuesday through Friday
Dinner: Monday through Friday
€€
La Régalade – Jean Moulin
49 Avenue Jean Moulin
75014 Paris
Metro: Porte d'Orléans
33 (0)1 45 45 68 58
Lunch: Tuesday through Friday
Dinner: Monday through Friday
€€
La Regalade – Conservatoire
Hôtel de NELL
7-9 rue Conservatoire
75009 Paris
Metro: Bonne Nouvelle (lines 8 and 9)
Lunch: Monday through Friday
Dinner: Monday through Friday
33 (0)1 44 83 83 60
€€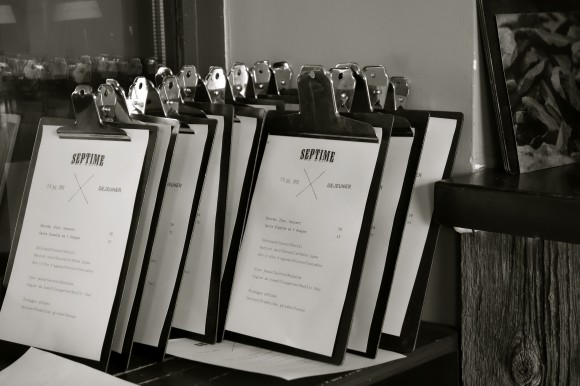 Septime
I really like owner-chef Bertrand Grebaut's neo-bistro. The sleek urban, yet casual-rustic setting with an open kitchen and bar is inviting and pleasant. For lunch you choose one of two entreés, plats, and desserts from the daily offerings. For dinner you choose 2 entrées, 2 plats, and one dessert. You can order the carte blanche en 5 étapes (5-course menu chosen by the chef) for lunch if you so choose. Septime recently earned its first Michelin star. Congratulations.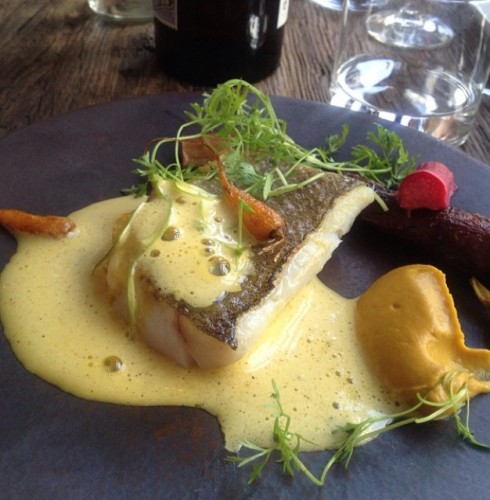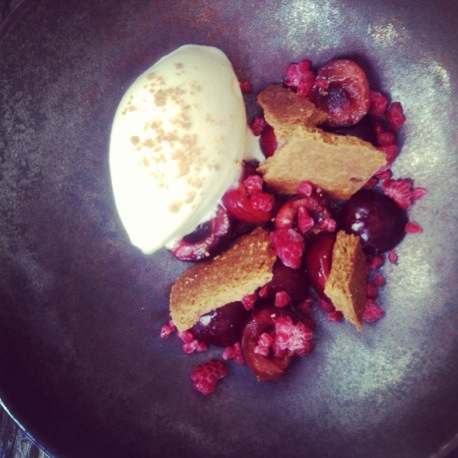 The food is simple and delicately plated with a clean, light approach that this California-native finds pleasing. Each dish is composed with three primary ingredients, sauces or emulsions are generally an accompaniment rather than a binding component.  The menu changes daily but here are few examples: white fish tartare with fennel and black currants; peaches with green beans and faissselle (a fresh cheese); pollack with roasted carrots and rhubarb; and steak tenderloin with seared cabbage and Thai basil. Dessert is something simple like ice cream with fruit and crumbled biscuits or a cheese selection. Not too much, not too little, just right. As you can see the staff is friendly.
Around the corner is Septime Cave, a little wine shop/wine bar with a tiny bar and tasty things to sample. While my arms were tired from carrying my treasures through the metro, my mouth was very happy.
Septime
80 rue de Charonne
75011 Paris
33 (0)1 43 67 38 29
Metro: Charrone (line 9)
Lunch: Monday through Friday
Dinner: Monday through Friday
€€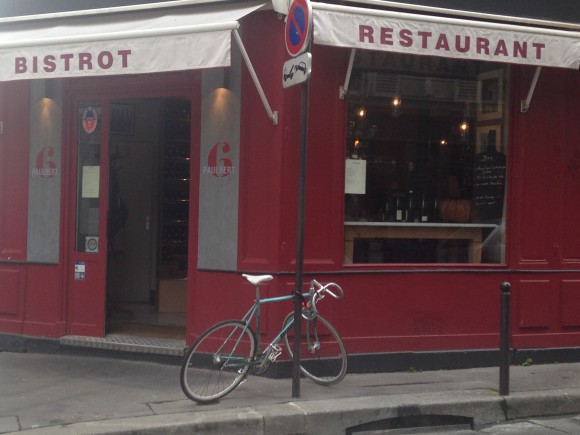 Le 6 Paul Bert
This little bistro with its epicerie and bar was quite a surprise to me. I had heard of it before, then I accidentally stumbled upon it after a long day dealing with my carte de sejour. The number remains in my telephone and I have returned many times.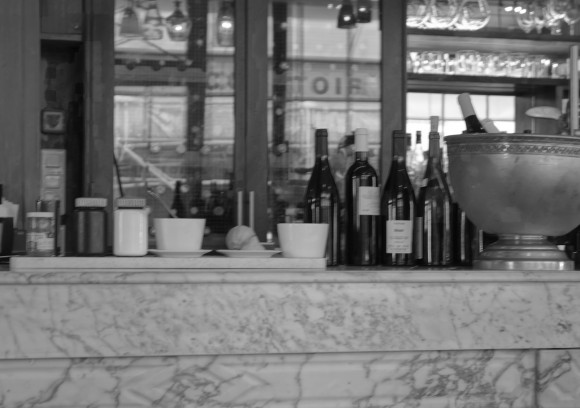 This is the second bistro owner Bertrand Auboyneau has opened on this street (he also owns Bistrot Paul Bert a few doors up). This bistro-epicerie is quaint and eclectic (there are bottles fashioned into lighting over the bar and paper bags serve as the bread baskets). This is also a prix fixe with three courses. Chef Louis-Philippe Riel changes the menu each day and you can see him work his magic in the very open kitchen. The first time I was there I had a pork tenderloin with nasturtium leaves, grilled zucchini with a green salsa, followed by mussels and cod with seared cabbage and pea shoots. I am particularly fond of anything with monkfish. For dessert you can have a cheese plate or something sweet. The restaurant attracts both locals and visitors and there is a nice selection of charcuterie, wine, and various treats to take away on the epicerie side of the restaurant.
Le 6 Paul Bert
6, rue Paul Bert
75011 Paris
33 (0)1 43 79 14 32
metro: Faidherbe-Chaligny (line 8)
Lunch: Tuesday through Saturday
Dinner: Monday through Saturday
€€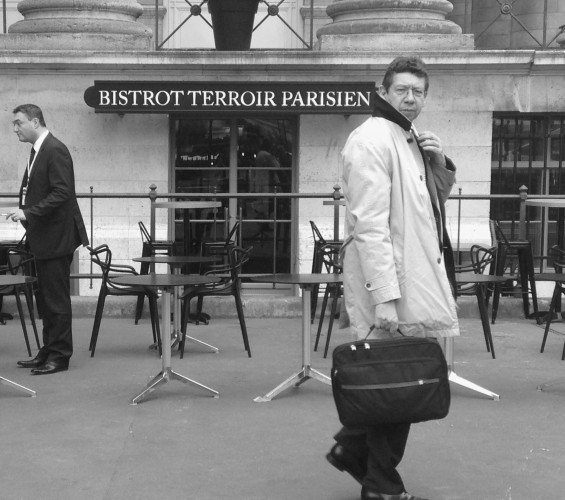 Terrior Parisien®
And then there were two. Multi-starred chef Yannick Alléno (formerly of Le Meurice) took his concept of the Terrior Parisien® menu — a farm-to-table concept celebrating the agriculture in Ile de France (the department surrounding Paris) — and devoted an entire bistro to it and then a second one on the other bank. Again, my apologizes for the terrible lighting on these photos.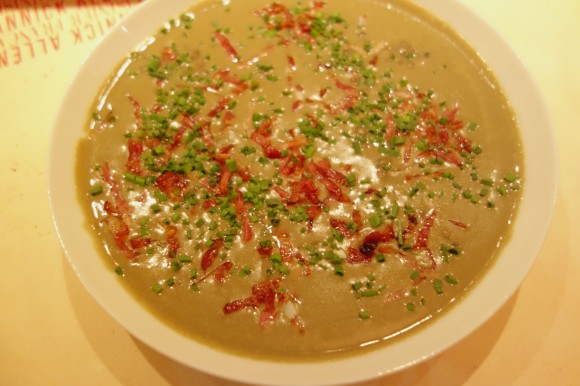 The bistros serve classic French fare with new twists. I love the charcuterie and pâté board which comes with a selection of five meats: fromage de tête; persillé au jambon (terrine of ham and parsley); boudin noir (blood sausage); terrine de pot au feu (think of your pot au feu ingredients in a terrine shape); saucisson a l'ail (garlic sausage), and jambon blanc de Paris (white ham from Paris). The French onion soup with an inverted gratin concept (the cheese is balled and breaded and fried instead of the traditional gratin on top) and the navarin d'agneau printanier I find particularly delicious.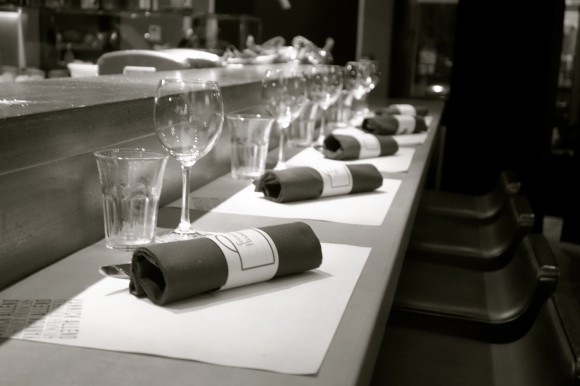 Terroir Parisien® in the Latin Quarter has a cosy atmosphere with the bar in the middle of the dining room. This one draws locals and visitors. The new location in the Bourse (the French stock market) has a more business-like feel for obvious reasons. There is a stronger emphasis on charcuterie here and even if you do not have time for sit-down meal there is a charcuterie bar with homemade rillettes and everything you need for a perfect picnic. Just a suggestion.
Terrior Parisien® – Saint Victor
20 rue Saint Victor
75005 Paris
33 (0)1 44 31 54 54
metro:  Maubert-Mutualité (line 10)
open everyday for lunch and dinner
€€
Terrior Parisien® -Palais Brongniart
28 place de la Bourse
75002 Paris
33 (0)1 83 92 20 30
Metro: Bourse (line 3)
Lunch: Monday through Saturday
Dinner: Monday through Saturday
€€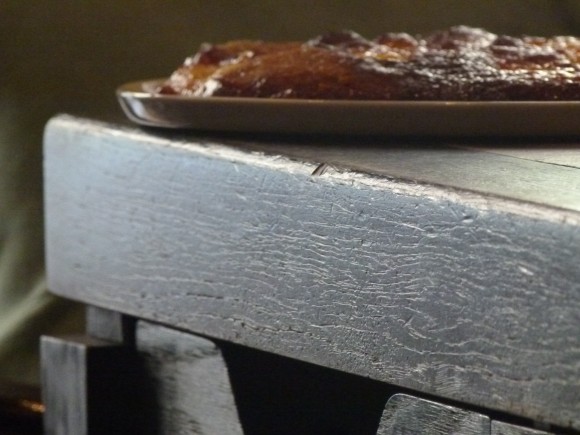 Mon Vieil Ami
Owner Antoine Westermann's quaint bistro on the ever-so charming l'Île Saint Louis. I first became familiar with chef Westermann's food at Drouant where the food is ultra fresh, the portions are generous, and everything comes in fours for purposes of sharing. Mon Vieil Ami has the same Alsacienne touches and portion generosity for which Michelin-starred Westermann is known but the emphasis of the bistro is on vegetables.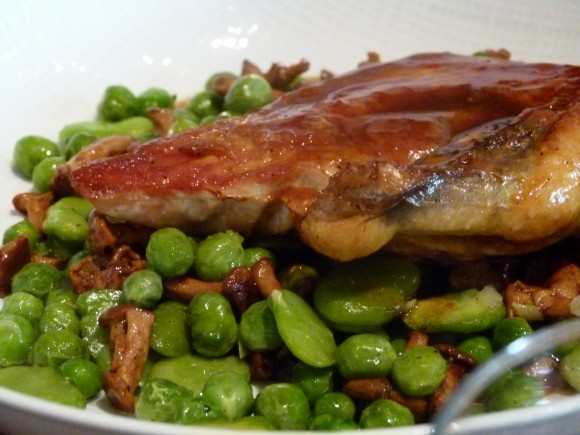 The menu is seasonally-driven (as you can imagine with the focus on vegetables) but my favorites include anything with the foie gras and the cocotte de legumes. There is a "100 % legumes " menu (in France "legumes" are vegetables) which is unique for Paris although some items use chicken stock so if you are vegan or vegetarian be sure to ask. The desserts are divine – sour cherries with ice cream, fruit tarts, and millefeuille au chocolat noir –  are just a few. You can chose an entrée, plat, and dessert for about 47 euros or order à la carte.
Mon Vieil Ami
69, rue Saint-Louis-en-I'Ile
75004 Paris
33 (0)1 40 46 01 35
metro: Pont Marie (line 7)
open everyday for lunch and dinner
€€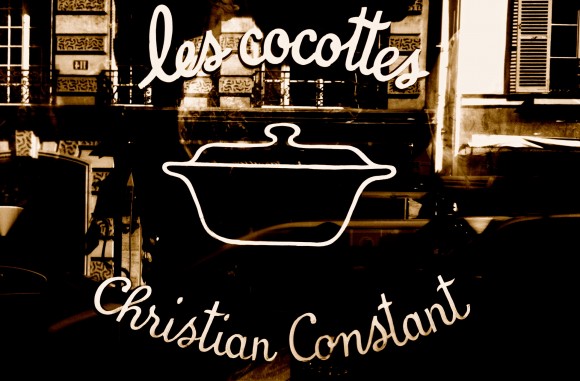 Les Cocottes (de Christian Constant)
Chef Christian Constant owns three restaurants on rue Saint Dominque in this swanky part of town. All three eateries have a distinct personality. Les cocottes is a simple place with communal tables, box wine, hanging cured ham legs, and no reservations. It is fun but you will likely have to stand in a line to get in as  it is first come, first served. "Les cocottes" refers to the Staub pots (big and small) which is what most dishes are cooked and/or served in. You can sit at the long bar with the locals or at a high table. The waitstaff is professional and friendly and don't mind that I park myself at the bar with my iPad and chat with them and other expats in between courses.
The restaurant is popular with locals, expats, and tourists alike. The menu is à la carte and includes everything from terrine de campaign and Cesear salad to braised beef in red wine and roasted chicken. It is simple French fare which agrees with most palates. Its close proximity to the Champ de Mars and the Eiffel Tower makes this a popular place with visitors. Do not leave without enjoying the chocolate tart which I cannot resist (although I occasionally alternate between that and the Brebis and cherry confiture or a berry crumble just to mix it up).
Les Cocottes (de Christian Constant)
135, rue Saint Dominique
75007 Paris
33 (0)1 45 50 10 31
metro: Ecole Militaire (line 8)
open everyday for lunch and dinner
€€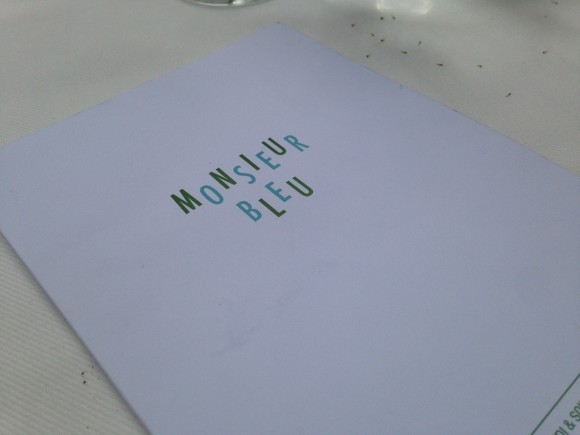 Monsieur Bleu
 I avoided this restaurant for a while as it was known as  "le tendence" and I am not only not a trendy person but have found that many trendy spots do not live up to the price tag or the hype. However, I gave in because I am a member of the adjoining museum and I thought it would be a refreshing break from my neighborhood routines. I was also curious. It was a good decision that resulted in not only an enjoyable meal, but a new local hang out.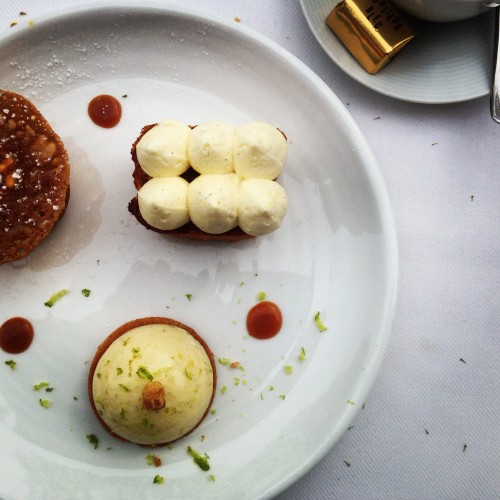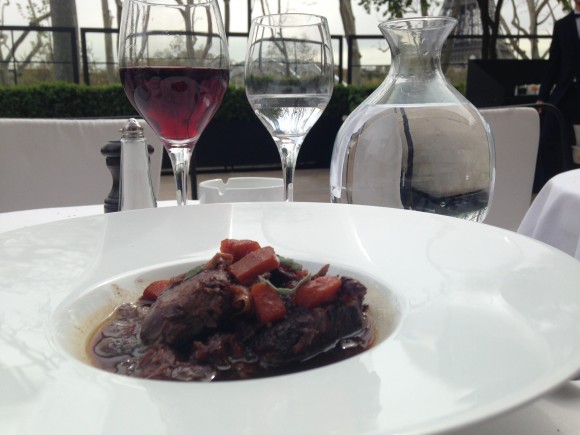 Monsieur Bleu is a swag, deco-inspired modern brasserie gras de the très chic architect and designer Joseph Dirand. The restaurant is located on the Seine-facing side of the Palais de Tokyo, a modern art museum in a string of museums in the 16th by the Trocadero. While the restaurant has both indoor and outdoor dining (and I do love the interior with the olive green seats and the grey and black accents) you would be a fool not to set outside on the large terrace in the padded chairs, drinking a refreshing beverage, and enjoying your food with a direct view of the Eiffel tower without the tourist mayhem including the jumping pink toy wind-up poodles and the trinket sellers shouting in your ear to buy an Eiffel tower key chain for 1€.
Chef Benjamin Masson (from Brittany) offers a variety of  items on the menu from crus, salads, and American classics (a cheeseburger for example) to classic French dishes such as roasted chicken. The menu seems driven by the varied clientele. I had the braised beef cheeks and the white asparagus which were delicious. The staff was attentive and my café Gourmand made me quite satisfied (le café Gourmand is when you cannot decide on one dessert you can have an assortment of mini-desserts to accompany your espresso – pourquoi pas ? tiens !). There is a weekend DJ and the place gets a little lively (the Palace de Tokyo is also open until late at night). Whether you come day or night, it is good place for people and Tower watching and enjoying your time.
Monsieur Bleu
20 Avenue de New York
75116 Paris, France
33 1 47 20 90 47
open everyday for lunch and dinner
Metro: Iena (line 9)
€€€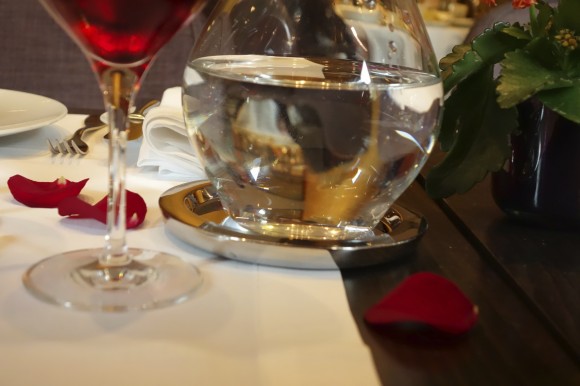 114 Faubourg
Last but not least, 114 Faubourg. I do not often dine in the hotels in Paris, but local friends brought me here and I liked it so much that I returned soon thereafter when friends visited from the States.
114 Faubourg is located in the Bristol hotel, not far from the Elysée and the fancy retail shopping and art galleries. It is an upscale brasserie, less fancy than the Epicure by head chef Eric Frechon but more upscale than le Jardin Français (the other two choices in the hotel). Chef Eric Desborders (in collaboration with chef  Frechon) earned 114 Faubourg a Michelin star in 2013. Like Monsieur Bleu, I find the menu driven by the clientele. The price is not modest (a cheeseburger is 36 euros and Fish n' Chips is 32 euros). Red rose petals on the crisp white linens remind you that you are in a hotel; however, despite its price and its one-star status, the atmosphere is welcoming and comfortable.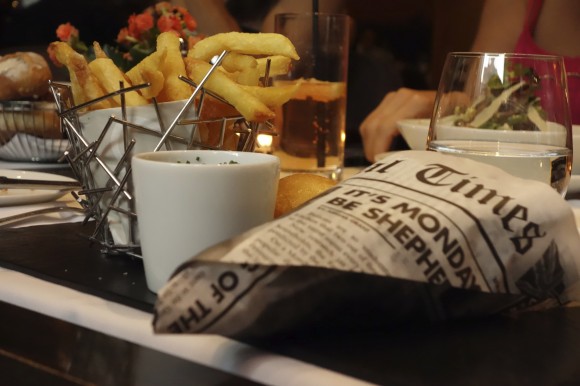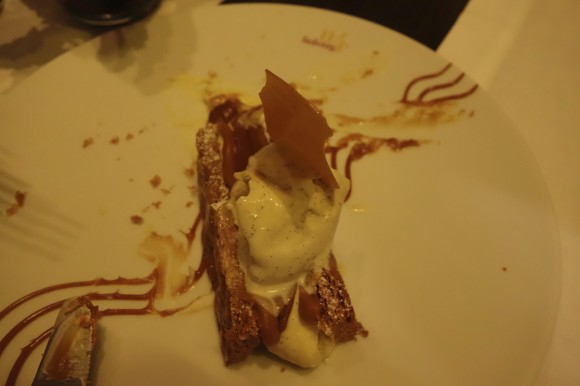 The roasted monkfish with smoked bacon, gnocchi and red wine jus and the duck pâté en croûte are my absolute favorites (although I did sample some of everything at the table from everyone on both occasions as gauche as that sounds). Pastry Chef Laurent Jeannin's millefeuille is light with the perfect ratio of cream and pastry and I definitely recommend it. The wine list is extensive (the sommelier is wonderful at selecting the perfect wine to accompany your meal). There is a 54 euros prix fixe menu of three courses for lunch only. Otherwise, everything is à la carte.
Le 114 Faubourg
114 rue du Faubourg Saint-Honoré
75008 Paris
33 (0)1 53 43 44 44
Lunch: Monday through Friday for lunch
Dinner: Monday through Sunday
Metro: Champs-Elysées Clémenceau (line 1)
€€€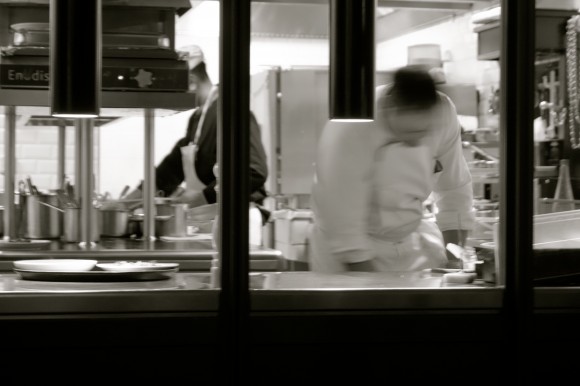 Tags: 114 Faubourg, antoine westermann, benjamin Masson, Bertrand Auboyneau, Bertrand Grebaut, bistro, bistronomie, bistros, Bruno Doucet, celebrity chefs, Eric Desborders, La Régalade, Le 6 Paul Bert, Les Cocottes de Christian Constant, Louis-Philippe, mon vieil ami, neo-bistro, Paris (Paris), Pierre Hermé, restaurants, Septime, springtime, terroir parisien, yannick alleno