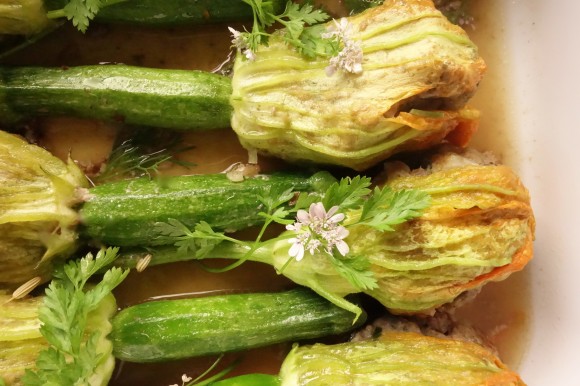 spring has sprung
& 
"GREEN IS THE NEW BLACK"
zucchini blossom farce with veal, spring greens and herbs
I knew the question was coming. Then it came.
"Now that you are done with your herb manuscript … will there still be green in our dinner?" asked my ten-year old. I knew what she was getting at; she was angling for Mac and Cheese. I scanned my memory to think of a time when dinner did not have something green. Coming up empty, I responded:
"Chances are very high there will be green."
"Really, Mom?"
"Well, you know what I say …"
"Mom…" she interrupted.
"GREEN IS THE NEW BLACK."
I laughed (alone). "Wear black; eat green." My children have heard it often. I am waiting for them to arrive at adulthood for my words to really resonate.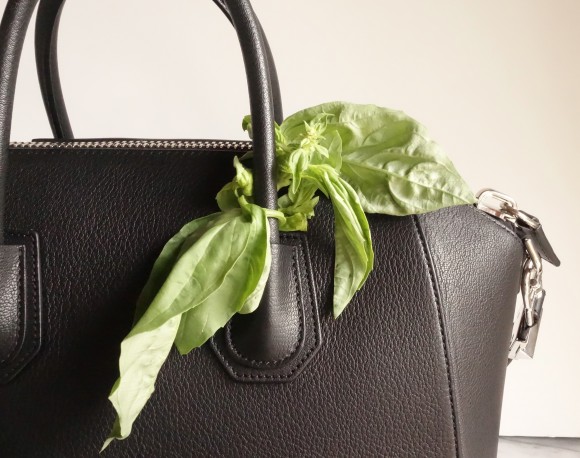 The last six months were spent, in part, co-authoring a book about herbs. In truth, taking on a second book project was something I did not really have the time for but the concept was so consistent with how I cook and teach that I could not pass it up. Six months later, I am pleased I did not.
The book will be composed of two parts. The first section is authored by a woman who is an authority on growing herbs (NOT me). The second part is where I come in: providing a variety of recipes and various modes of preparation and ways to use herbs in the kitchen. Needless to say, my family was exposed to a great deal of herb recipe experimentation before the recipes were tested. My children have been troopers.
For the cook, whether you are writing a book, planning a menu or compiling a restaurant concept, there is a point where you feel a little bound and you crave to "just cook." You think about regaining the freedom to cook things just because you want to not because you have to. It is not an uncommon sentiment.
My "just cook" opportunity arrives.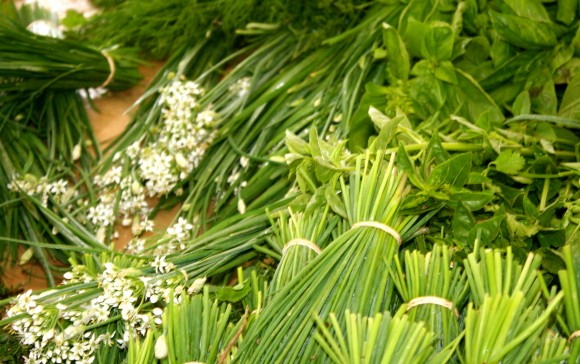 I head to the Farmer's Market with no list or preconceptions or ideas. I am just going to look and pick up a few things as I am soon leaving Los Angeles.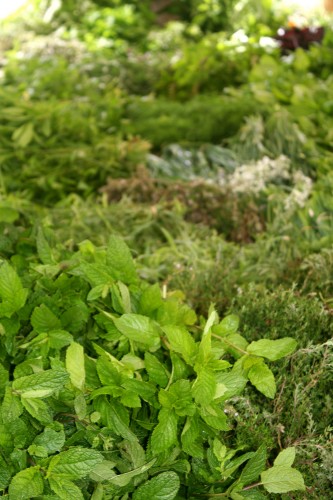 So there I was at the Santa Monica's Farmer's Market and my market bags soon became filled. FILLED! So much for just looking…
Not only were my bags filled but I realized that my bags were filled with everything GREEN: Spring asparagus, artichokes, pea tendrils, sprouting broccoli, tender leafy greens, gorgeous sweet basil, Thai basil, bundles of chervil, frisée, baby fennel, Spring onions, Spring garlic, and flowering coriander. I thought it was funny that the day I do not have to cook anything with herbs, I still do. "GREEN IS THE NEW BLACK." (By the way, I do not know why am I typing in all caps today or using green-colored wording , call it genuine Spring enthusiasm).
The only non-green items in my bag are strawberries and zucchini blossoms.
Today is the first day of Spring. In food and life, Spring represents new beginnings and transitions us gracefully from the cold of Winter to the warmth of Summer. Heavier foods such as cabbages, cauliflower, sunchokes, and winter squash are making way for lighter, more hydrating ingredients such as leafy greens, flowering fruit, and small vegetables. The garlic and onions are fresh. The strawberries are sweeter (strawberry season is Spring, not year round) and in May apricots and cherries will be here.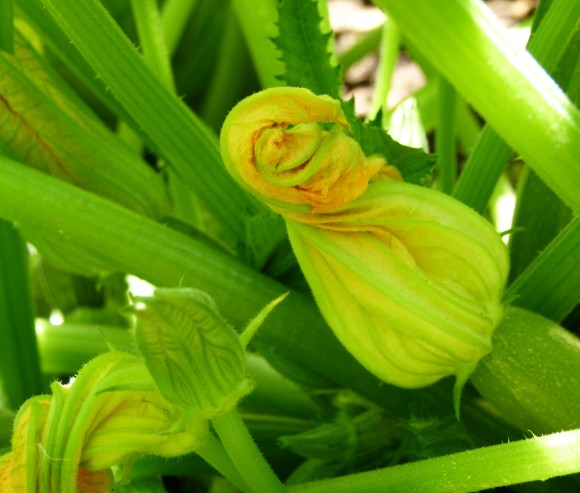 New growth in the garden means zucchini blossoms. One of my favorite things.
Zucchini blossoms are used with abandon in France, particularly the south. The blossoms are generally stuffed with cold preparations such as a melange of chopped tomatoes and other summer fruits or stuffed with goat cheese. Beignets de fleurs de courgettes are zucchini blossoms that have been stuffed with an herbed goat cheese filling, fried, and served with a tomato coulis on the side. It is a staple in Provence (you can find that recipe HERE).  
I felt like "just cooking" something with a thankful nod to Winter while at the same time enthusiastically greeting Spring.
I recall seeing in a French food magazine a while ago zucchini blossoms that had been stuffed with ground veal and olives. The idea stuck in my mind because it combined a meaty concept (although veal is light) with a delicate package. Beautiful and hearty. Perfect.
So I took the Spring greens: the fresh garlic and onions and the baby fennel out of my market bag. I chopped them finely and sautéed them in olive oil. I then combined their fresh Spring-like aroma with ground veal, finely-ground bread crumbs, fresh herbs, and an egg graciously bestowed upon us by Laverne (one of our chickens). I shaped the mixture into meatballs and gently browned them. I removed them from the pan to give them a little cool off and made a jus from the meat dippings with wine and beef broth. I stuffed each blossom with a meatball and placed the stuffed blossoms back in the pan where they steamed in the jus for just enough time to cook them. From beginning to end it was 30 minutes. "Just cooking" was dinner.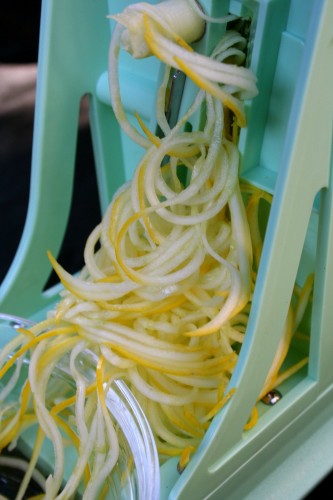 The stuffed blossoms were served on a bed of shredded zucchini and spaghetti with sautéed baby yellow tomatoes. I felt obligated to include some form of pasta for my little one. She got her cheese, grated, on the side.
"What do you call this Mom?" she asked me at the table.
"GREEN spaghetti and meatballs."
This time, she laughed too.
Happy first day of Spring. The recipe is below.
à table
LM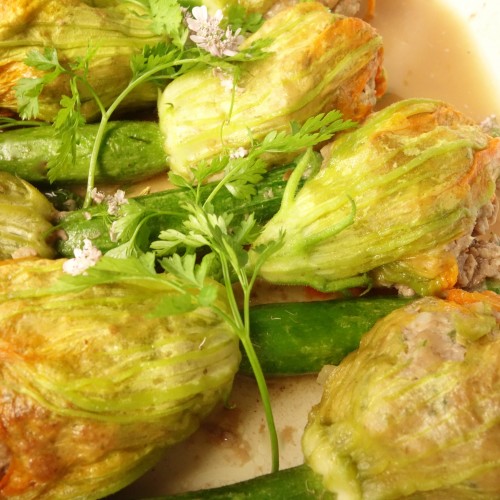 zucchini blossom farce with veal and spring greens
Do not make the meatballs too big for the blossoms because you want to be able to wrap the blossom petals around the meat, enclosing the meat inside. You can substitute  ground beef, lamb or chicken if you prefer not to use veal 
makes 12
olive oil, as needed
12 unblemished zucchini blossoms, stamens and pistils removed carefully
¾ pound ground veal (or chicken)
1 egg, mixed
2 spring garlic, whites only and chopped
¼ cup small diced spring onions
¼ cup small diced fennel
¼ cup bread crumbs
¼ cup cut in chiffonade sweet basil
1 tablespoon minced fresh chervil
½ teaspoon kosher salt
⅛ teaspoon ground black pepper
¼ cup dry white wine
1 cup beef (or chicken) stock
fresh basil, as needed for garnish
fresh chervil, as needed for garnish
Sauté.

Place olive oil in a santé pan over a medium-high flame. Once the oil is hot, add the garlic. When garlic is fragrant, add the onions and fennel. Sweat onions and fennel until tender. Remove from stove.
Combine.

Combine in a food processor the ground meat, egg, bread crumbs, onions, fennel, garlic, chopped basil and chervil, and seasoning. Pulse to combine ingredients.
Meatballs.

Remove the blade from the food processor carefully. Use your hands to form 12 meatballs (the same size). Return the sauté pan to the stove over a medium-high flame. Add a little olive oil if necessary. When the oil is hot, lightly brown the meatballs (you only have to do this on one or two sides so they hold their shape). Use tongs to remove the meatballs from the pan and set on a plate to cool a little.
Jus. Add the wine to the hot pan, scraping the meat bits from the bottom of the pan. Reduce the wine by half. Add the broth. Bring the liquid to a boil. Reduce the flame to low. Carefully add one meatball to the center of a zucchini blossom. Use the leaves to fold around the meat. Repeat for all 12 blossoms. If this take you longer than a few minutes, turn off the flame so your liquid does not reduce too much. Re-heat the liquid when have finished stuffing the blossoms.
Steam.

Place the stuffed blossoms in the pan. Cover with a lid. Cook over a low flame for about 10 minutes until the meat is cooked. Serve the blossoms with the jus. Garnish with fresh herbs in a beautiful way.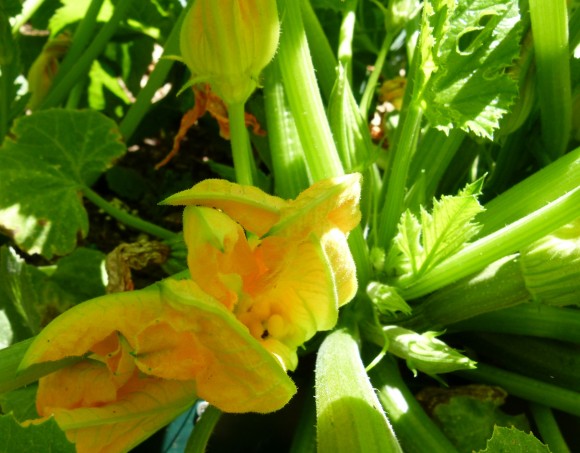 Tags: french cooking recipes, garlic, spring greens, veal, zucchini, zucchini blossoms