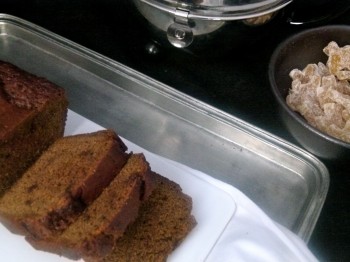 sugar and spice . . . it is all nice:
pain d'épice (with ginger and honey cream cheese spread)
Nothing gets us into the holiday spirit more than our sense of smell. While the decorations and songs are festive, it is the smell of roasted chestnuts, mulled wine, and baked treats that transport us to memories of family meals, gatherings around a fire, and baking holiday cookies. For many people, the smell of gingerbread is synonymous with the holidays. Filling your home with a little holiday sugar and spice this season was the inspiration for this week's simple pleasure: pain d'épice (with ginger and honey cream cheese spread).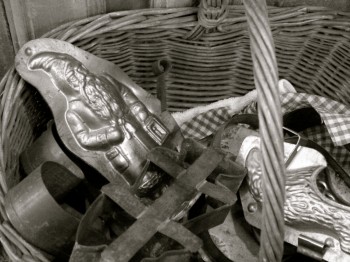 Pain d'épice ("spice bread") is a loaf cake particularly popular in the Alsace region of France. It is sometimes topped with candied fruit and/or nuts and often served with tea or coffee. Traditional pain d'épice is made with wheat and rye flours and honey both of which are used to to create a pâte-mère, a paste of honey and flour that is fermented over a series of days. The spice combination (for which the bread gets its name) varies with the region in which you find it, but it generally includes a combination of ground cinnamon, cloves, green anise, ginger, and cardamom. Mélange pain d'épice is a pre-measured mixture of pain d'épice spices that you can find in all French grocery stores and on the internet.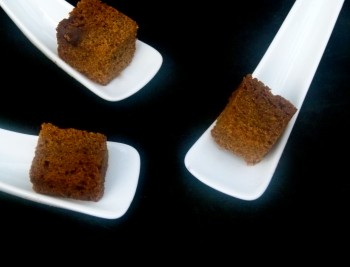 This is not your grandmother's pain d'épice. In fact, it is more of a gingerbread–épice cake. 
I use a modified muffin method so it is very simple, no pâte-mère. Instead of only honey this recipe also uses a combination of rich brown sugars and  blackstrap molasses which make the spice "bread" moist and give it a lush deep brown color. I use third-boiled molasses (blackstrap molasses) because it is less sweet than first-boiled molasses and has the health benefits of calcium, iron, and potassium (however, some brands are too thick and/or bitter so be careful about the one you choose). I recommendWholesome Sweeteners Organic Molasses).  The rye flour is replaced with bread and all-purpose flours (to make it more accessible to more people).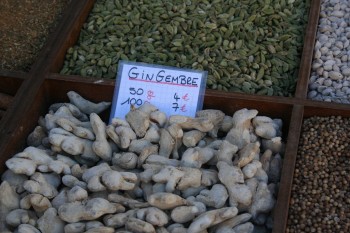 In addition, since I have turned this spice bread into a spice cake, why not give it a little frosting. Included is a recipe for an easy cream cheese spread made with honey and ginger.  The spread is optional as the pain d'épice is delicious on its own. However, if you use the spread, be creative and create a pain d'épice tartine, or top squares or muffins with the cream cheese spread.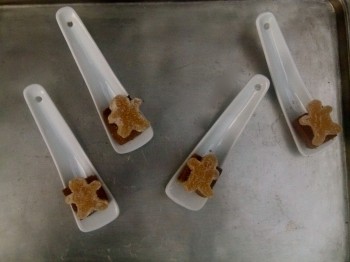 Lastly, you can pan this batter several ways. You can use a brownie pan or various size loaf pans (small loaf pan, miniature loafs, or loaf pan). You can also bake the batter in a muffin tin. However, if you are using a brownie pan, miniature loaf pans, or a muffin tin, be careful of over-baking…pain d'épice brownies are delicious but they have a tendency to be dry because the large surface area causes them to bake very quickly. My preference is to use three small loaf pans. 
Whether you call it pain d'épice or gingerbread, it will fill your home with the holiday spirit and create lasting memories (and full tummies).
 Je vous souhaite un bon appétit !
 LM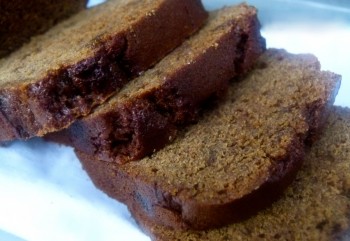 pain d'épice
(with ginger and honey cream cheese spread)
stats:
makes 1  (9 x 12")  pan or
3 small loaf pans (3 by 5") or
1 medium loaf pan or
11-12 miniature loaves
what you need:
bread
2 cups all purpose flour
1 cup bread flour
½ teaspoon kosher salt
1 ½ teaspoon baking soda
2 eggs, room temperature
1 yolk, room temperature
½ cup muscovado sugar (or dark brown sugar)
½ cup light brown sugar
½ cup unsulphured molasses (second molasses or blackstrap molasses), room temperature
½ cup quality honey, room temperature
8 tablespoons unsalted butter, room temperature
2 teaspoons melange pain d'épice*
1 teaspoon fresh orange zest
¼ teaspoon fresh ginger zest
1 teaspoon vanilla extract
1 teaspoon orange oil/extract
2 tablespoons unsalted butter, melted and cooled
*If you do not have melange pain d'épice, substitute the following:
1 teaspoon ground cinnamon
½ teaspoon ground cloves,
½ teaspoon ground nutmeg 
⅛ teaspoon ground ginger
spread
½ cup cream cheese
1 tablespoon smeared crystalized ginger**
1 tablespoon milk
1-2 tablespoons honey (to taste)
how to:
Grease Pan.

Spray a loaf pan(s) with non-stick spray.
Melt Butter.

Place 2 tablespoons butter in a small saucepan over a low flame. Melt butter. Once melted, set aside to cool.
Combine Dry Ingredients

. In a bowl, combine the flours, salt, and baking soda. Set aside.
Combine Wet Ingredients

. In the bowl of a stand alone mixer, combine the eggs, sugars, honey, molasses, zests, extracts, and spices.  Mix on low speed until combined.
Add Dry. 

Add the dry ingredients to wet ingredients. Mix until combined.
Add Melted Butter

. Stir in the (cooled) melted butter until combined. 
Pan.

Pour the batter into the prepared pan(s) (a little over ½ full).
Bake.

Place the pan on a baking sheet and place it in an oven preheated to

350 degrees Fahrenheit.

Bake until the bread is set in the middle and a toothpick inserted into the middle comes out almost completely clean.
Cool.

Let the pain d'épice cool in the loaf pan for a few minutes and then lift it out of the pan and let it finish cooling on a wire rack.
Store

. The bread will store at room-temperature wrapped in plastic for about a week. You can freeze it as well.
Make Spread (optional).

Finely mince the crystalized ginger with a chef's knife or a small food processor. Add the cream cheese, milk, and honey to the ginger and stir until combined. The spread can be stored in the refrigerator in an air-tight container for about 5 days. If you spread it on the bread, store both in the refrigerator. 
**you can find  crystalized ginger (including the crystalized ginger babies) at the ginger people 
food for thought
 The smell of spice bread is alluring. In fact wasn't it Hansel and Gretel
who were lured into a house made of gingerbread ? That was not really playing fair…who could resist that ?
Tags: gingerbread, honey, molasses, pain d'épice