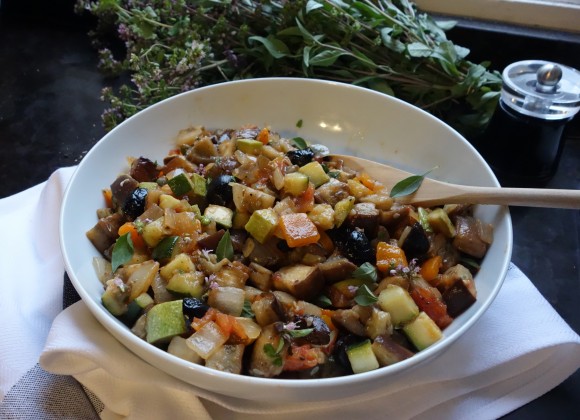 a successful vacation (by Oscar Wilde)
summer caponata
Vacation. Actually, it is more like this VACATION ! 
This year I thought I would try something new: take a vacation and NOT work. You know get out of the kitchen, enjoy the cooking of others (often), step out of my routine, and detach from my computer. So far so good. Oscar Wilde said that "moderation is a fatal thing [and] nothing succeeds like excess." By Mr. Wilde's standard, I have been highly successful in my vacation thus far.
It began when my local fromagier informed me that I had filled the stamps in my carte fidelite (a frequent purchaser card … like you have at Pinkberry). After 25 purchases, in an unspecified amount of time, I was treated to free cheese. Excusez-moi ? Mais oui ! FREE (FRENCH) CHEESE ! So I proudly skipped home with my whole round of Saint Félicien, a creamy cow's milk cheese which is in season right now (Saint-Marcellin is really my favorite but given that it is VACATION, I went for the creamier Saint Félicien to mix things up a bit). It has been a down-hill slippery slope from there. 
To go with the cheese, I needed bread. Bread, daily, in all shapes and varieties. To go with the bread and cheese, I needed some pâté de foie gras, plain, layered, and en coûte (for comparison, you know, who makes the smoothest one without blemishes). 
The bottom of my vacation food pyramid which resembles the color of a toddler's diet, is dessert. Pierre Hermé's summer macarons with his yogurt and fruit flavors and Aoki Sadaharu's pastries using Japanese flavors. Miam ! Alain Ducasse's NEW chocolate shop with its perfectly packaged chocolats in a range of percentages and from various regions and the top shelf chocolat, the "primiere cru" (who know chocolat has a premiere cru?). More maim ! Profiteroles at Café Flores. Victor & Hugo's mille-feuille and then the sampling of the same desserts at other places for "comparison." The chocolate tasting tour I gave my daughters was merely gratuitous and a highly unnecessary exercise in gluttony (sampling chocolat from 8 chocolatiers) but without regret. There are more pictures of these temptations in my IG gallery which you can access from this home page (I mean, who does anything anymore without photographing it and posting it on IG right)? I jest. Kind of.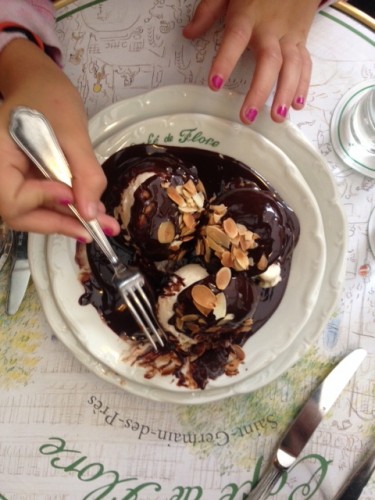 Then the overwhelming craving for vegetables came as I knew it would. Vegetables that have not been cooked or finished with butter or cream.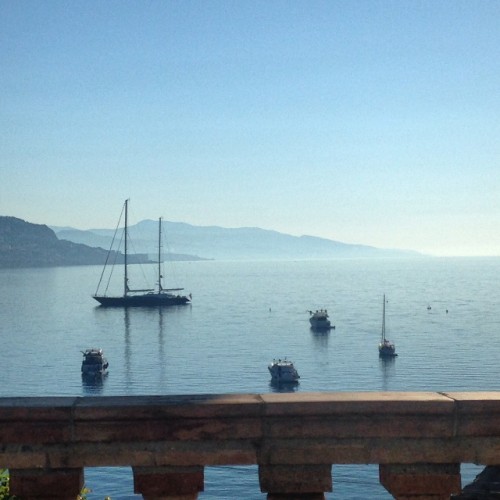 Vegetables prepared like they do in the Mediterranean where my palate generally lies.  I saw these at the marché.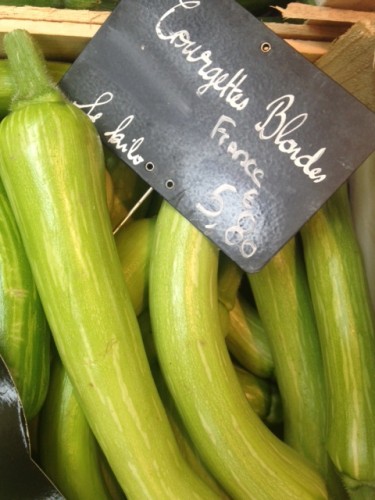 I made caponata.
Caponata is the Sicilian version of France's ratatouille but with primarily eggplant, olives, and capers. It is easy to prepare and versatile in its presentation. You can use it as a side dish to accompany any kind of meat OR fish, it can be a light meal in itself, or you can use it for a sandwich or to top a tartine (they make nice appetizers). You can even purée it into a sauce for pasta.
I have not made Caponata for a while for no reason in particular. It was one of those things I would make for gatherings if I was asked to bring a last minute side dish because it is a crowd pleaser and it travels well (meaning you can take it to the Hollywood Bowl for your concert or to the beach for a picnic).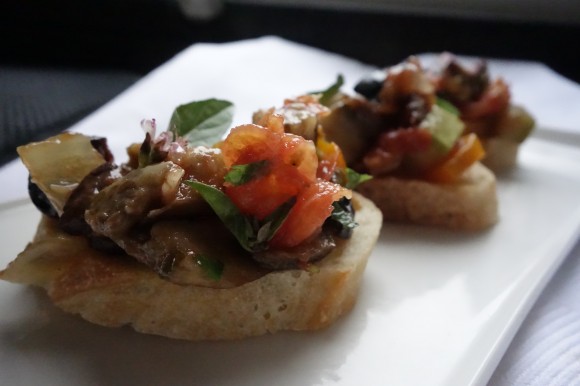 The caponata leftovers came with us on the train to the Provence and we enjoyed it for lunch. It tastes even better the next day. 
As I type this, watching the haystacks and grazing goats zing past my head, a French toddler in front of us is singing in English "Everything is Awesome … Everything is Cool."  My girls look at me and smile. They recognize the song and my youngest joins in and mouths the words. I find the genuine enthusiasm for the simple lyrics endearing and correct. They are right. Everything is AWESOME, especially on vacation ! 
bon vacances ! 
LM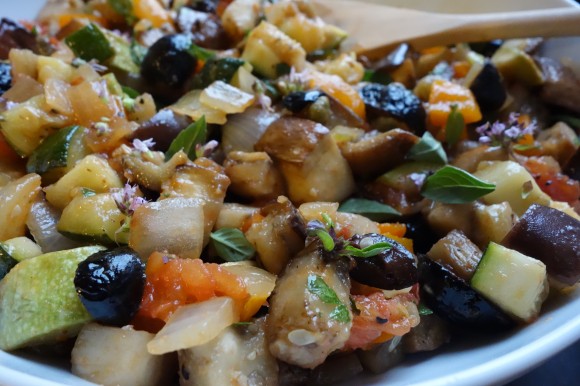 summer caponata
Caponata is a Sicilian speciality similar to France's Ratatouille.  It can be used as a side or a main course. Caponata can be a topping on bread for a tartine or on a toasted crouton (crostini) for a passed appetizer. It can also be tossed with pasta or puréed and used as a pasta sauce. For proper cooking and a nice appearance, dice the vegetables the same size.
serves 6 – 8 (as a side)
1 eggplant
1 zucchini
olive oil, as needed
gros sel de Guérande (or sea salt), as needed
freshly ground black pepper, as needed
1 red or orange bell pepper
2 ripe tomatoes
2 garlic cloves, minced
1 white onion, diced
1/4 cup chopped black cured olives
1 tablespoon capers, drained and rinsed
small fresh basil leaves, to taste
1 tablespoon fresh chopped Italian parsley
small fresh marjoram leaves, optional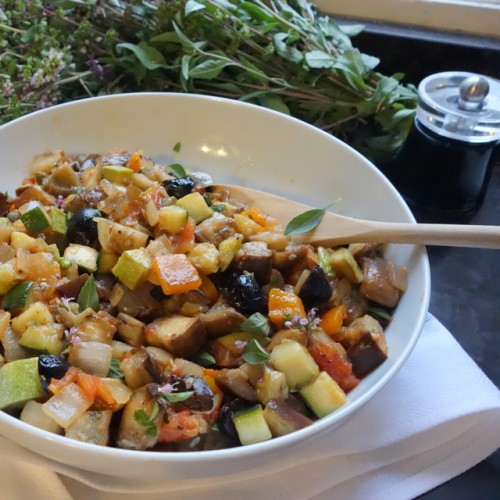 Preheat Oven

. Preheat oven to 375 degrees Fahrenheit (190 degrees Celsius).
Macerate Eggplant & Zucchini.

Cut ends off of the eggplant and zucchini. Dice into 1/2- 3/4" cubes. Place in a bowl. Sprinkle and toss with salt. Set aside for 30 minutes.
Roast Eggplant & Zucchini.

Drain the water from the eggplant and zucchini. Add olive oil and some salt and pepper. Toss to coat. Place in a baking dish and roast in the oven for about 35-45 minutes until soft but still holds its shape. Use a wooden spoon to occasionally stir the eggplant and zucchini while cooking so it does not stick to the dish.
Tomatoes.

Bring a saucepan of water to a boil. Cut an "X" in the skin on the bottom of each tomato. Place tomatoes in the water for 1-2 minutes. Remove tomatoes from water with tongs or a slotted spoon. Place in an ice bath. Remove the tomato skins and discard. Quarter the tomatoes. Remove the membrane and the seeds. Discard Dice the tomato flesh. Set aside.
Roast Pepper.

Place the pepper on a rack over a flame or on a grill. Char all sides of the skin. Remove from stove/grill. Place pepper in a bowl and cover with plastic wrap (the trapped steam will steam the skins off of the peppers). When cool enough to touch, remove skin. Discard. Core and remove membrane and seeds. Discard. Dice the pepper flesh. Add to the diced tomatoes. Set aside.
Cook Vegetables/Adjust Seasoning

. Place a large pan over a medium flame. Once hot, add 2 tablespoons olive oil. When oil is hot, add garlic. When garlic is fragrant (this will not take long at all), add onions. Toss to coat in the oil. Cook onions for about 5-6 minutes, once onions are soft, add the tomatoes and pepper. Cook until the water has been cooked out of the peppers (about 7 minutes).  Add olives, capers, eggplant and zucchini to the pan. Cook for another 5-7 minutes until the flavors come together.Remove from the stove. Add fresh herbs and stir to incorporate. Adjust seasoning with salt and pepper.
Serve.

Caponata can be served warm or at room temperature.
Tags: caponata, easy recipes, Paris (Paris), provence, summer recipes, vegetables, vegetarian