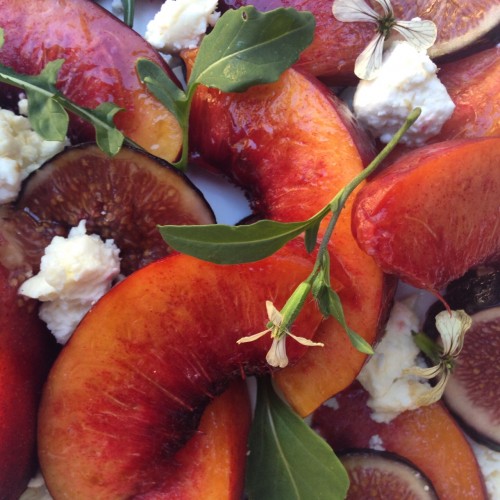 (no) Labor Day Summer Salad
fig and nectarine fruit salad
End of Grandes Vacances. End of summer. Sigh. No more long sunny days and lazy mornings. No more cabana boy bringing you a chilled rosé to sip on at the beach with your friends. Bigger sigh. As if that isn't too much to take in, the return to reality after vacation can be jarring. There is the vacation mail that was held and now spilling over the box ready for you to dive in. The appointments, forms, supplies, and back to school events filling your calendar which despite your color labels (an organizational system that Martha Stewart herself would admire) your calendar does not look organized. Instead, it looks like a toddler has taken crayons to it. Although vacation brings a rejuvenation and a new sense of life, sometimes we are not yet ready to let go of summer.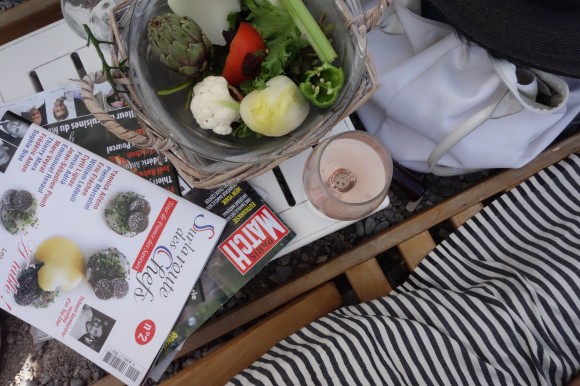 For me this is especially true when it comes to summer fruits including: melons; stone fruits; heirloom tomatoes; and figs. Labor Day weekend seems to mark the end of summer and these foods. After Labor Day, the supply of these fruits dwindles with the appearance of white pants (although Los Angelenos have carved out an exception for the pants rule it seems).
I have a friend who says she does not really like to cook, she would rather cut and assemble. As I hold on to the lazy days of summer, this weeks post, a simple salad for upcoming Labor Day weekend, is for her.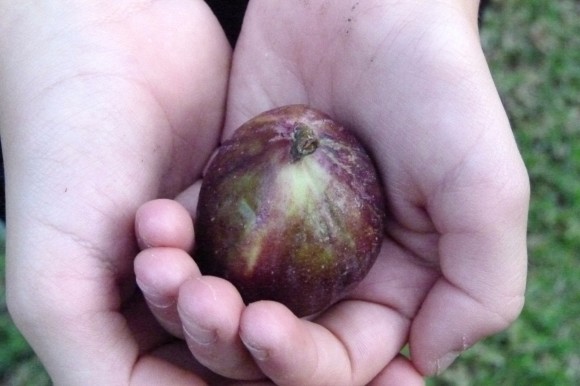 While at Farmer's Market recently, a person next to me said, "I love figs, but what do I do with them?" The phrase struck a chord in me and I thought of this fig dilemma and my "assembling" friend. This post was born.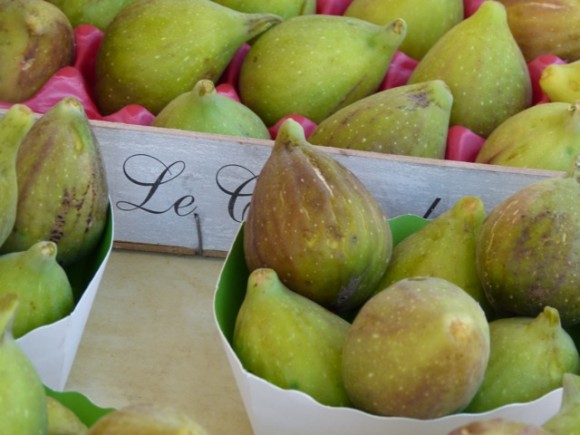 There are many easy things to do with figs. My favorite things to pair with this luxurious, fleshy fruit include sweet and/or salty flavors such as honey, caramel, thick balsamic glaze, grapes, stone fruit, cured meats, and/or bacon.
Figs also pair well with cheeses: Banon, a creamy blue cheese, goat cheese, feta, and Burrata are my favorites. Raw figs are an easy addition to a sale of shaved fennel, an arugula salad, or various soft mixed greens. Figs also goes well with grilled meats and fish. Perfect for Labor Day !
Labor Day weekend is usually spent outdoors grilling or picnicking. This post – a summer fruit salad with figs – is perfect for that and it is oh so simple and oh so good.
Savoring the end of the season does not always have to mean making preserves. Sometimes enjoying our favorite summer fruits in the moment with family and friends creates memories which lasts longer and can be twice as sweet.
Here is to cutting and assembling. It is "#simple" and "#delicious" (as my daughters would say). For more recipes with figs under the recipes tab of this site. 
Happy end of summer. 
bon appétit !
LM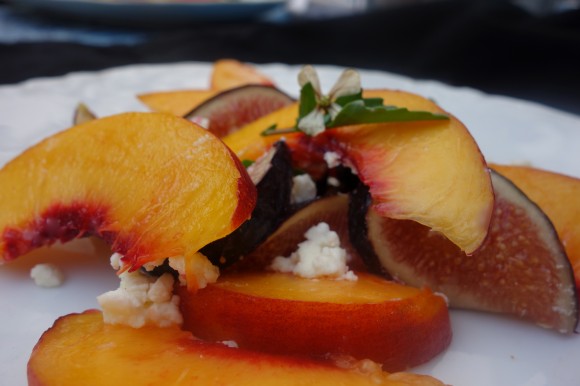 fig and nectarine fruit salad
Do not add salt to this salad because the feta will be salty enough. Buy the pre-crumbled feta because it is a little drier and will not make a mess of your beautiful salad. You can add as much arugula as you like: for more of a fruit salad only add a few tender leaves for color. For a lunchtime salad, add more arugula. Serve the balsamic glaze on the side. It is not necessary but lovely addition for those who enjoy it. If you do not have a balsamic glaze, combine a quality balsamic vinegar with some honey. No cooking needed.
serves 4-6 
2 beautiful, ripe nectarines
6 ripe figs
1/3 cup crumbled Feta cheese
wild arugula, as needed (optional)
balsamic glaze (or crema), as needed
quality oil olive, as needed
Cut

.Remove the pits from the nectarines. Slice nectarines into wedges. Remove stems from figs. Slice figs.
Assemble.

Combine figs and nectarines in a bowl. Add feta cheese and some arugula. Gently combine. Let the salad sit for 15 minutes before serving.
Serve.

Serve on a chilled plate with balsamic glaze (or crema) and olive oil on the side
Tags: Chef Morgan, easy recipes, easy salad, figs, fruit, nectarines, summer