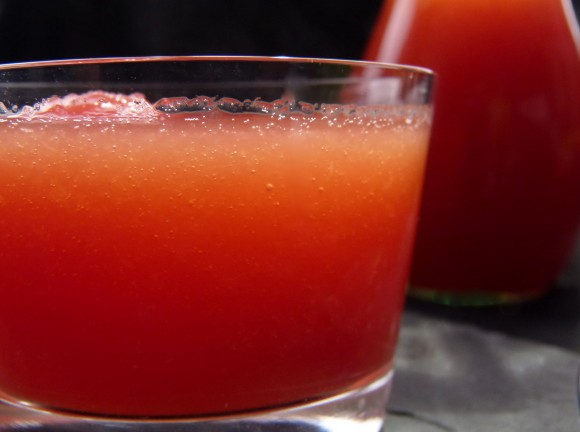 summer melon gazpacho
makes 3 cups plus garnish (serves 4-6)
what you need:
gazpacho
1 ½ cup (300 ml) watermelon juice from one red, ripe watermelon
15 ounces (430 g) chopped ripe cantaloupe
1 teaspoon fresh lime juice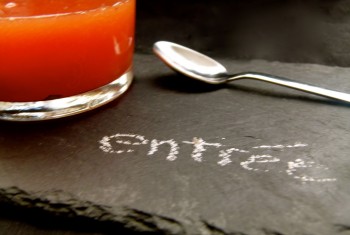 garnish
¼ cup small dice watermelon
¼ cup small dice cantaloupe
¼ cup small dice tomato
¼ cup small dice cucumber, peeled
1 teaspoon minced fresh sweet basil
pinch kosher salt
1 teaspoon fresh lime juice (and to taste)
1 teaspoon olive oil (and to taste)
how to:
Prepare Garnish

.

Small dice (brunoise) watermelon, cantaloupe, tomato, and cucumber (¼ cup of each). Place in a bowl with the minced basil. Add a pinch of salt, lime juice, and olive oil (to taste). Mix together gently. Cover and place in the refrigerator to keep cold.
Juice Watermelon.

Rough chop the remaining watermelon flesh. Make juice from the chopped watermelon by pressing it through a sieve or strainer. Discard any seeds and fibers. Set juice aside. You should yield 12 ounces (300 ml) watermelon juice.
Purée Cantaloupe

. Dice cantaloupe and place in a tall canister (to use with an immersion blender), a blender or a food processor. Add watermelon juice and lime juice. Purée until smooth.
Strain Purée.

Pour the purée into a china cap or strainer (not fine mesh) to eliminate chunks.
Chill.

Chill purée in the refrigerator for at least 3 hours. Stir well before serving.
Garnish And Serve.

Add 1 tablespoon of garnish into each (chilled) serving cup or glass. Pour in purée until ⅔ full. Serve cold.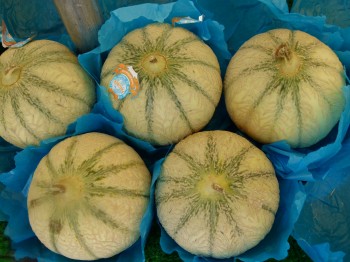 Tags: cantaloupe, Cavaillon melon, gazpacho, watermelon