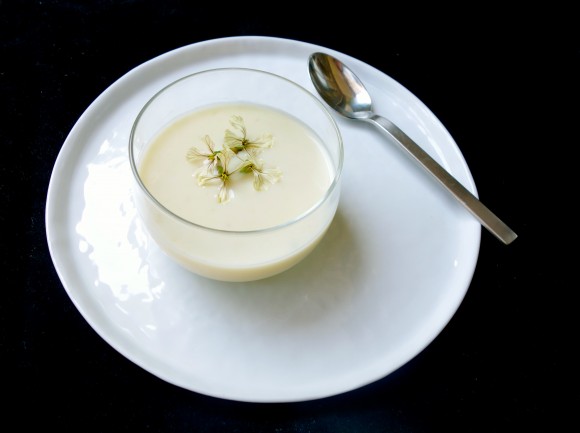 goût de luxe
fancy enough for a ladies' lunch
simple enough for a school night
perfect for summer
summer truffled vichyssoise
I was down to my last teaspoons of truffled salt. It was a shocking realization because I buy it by the carton as there are few things that can fancy up common, everyday foods the way a little sea salt infused with truffles can. Eggs, popcorn, risotto, even creamy butter to spread on your favorite toast … Voila ! Instant special. Instant gratification. I searched my nearly empty refrigerator for anything fresh. It was the few remaining vegetables in my refrigerator before my departure and the desire to use this last bit of truffled salt which inspired this week's simple pleasure: summer truffled vichyssoise.
This is not a new recipe of mine. In fact, it is one that I have used over and over throughout the years because it is a consistent crowd pleaser and it is super easy. Young or older. Fancy or not so fancy. Special occasions or mid-week dinners. This soup works for most people and in most situations. It can be made in advance and kept in the refrigerator for a few days so it is great to have something already delicious whipped up if you get stuck in traffic or guests stop by unexpectedly.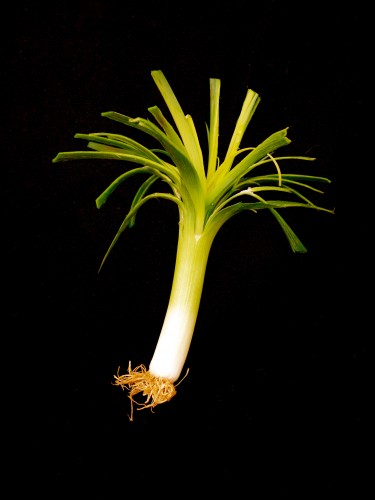 I also love this recipe because it utilizes ordinary ingredients that most people already have on hand: leeks, an onion, celery, and potatoes. However, with its French name it sounds very gourmet but in fact it is just chilled potato and leek soup with some extras created in the U.S. by chef Louis Diat whom grew up in the French town of Vichy.
Truffled salt is something I encourage people to keep in their kitchen. It takes very little truffled salt to make a dish extra special and you will love it. You can find truffled salt on line and in many speciality stores, even my favorite coffee shop(s) in Los Angeles, Caffe Luxxe. Here are my three favorites: Sel Gris de Guérande aux Truffes d'Été by Maison de la Truffe ; Truffle & Salt; and Sale con Tartufo Bianco.
Generally, I use heavy cream very little in my cooking and when I do, I use it sparingly. This recipe is no exception. However, I like to keep the cream in for reasons of simplicity, appearance, and taste (it absorbs the truffled salt so well). Moreover, one half of a cup of cream divided amongst 8-10 people, is only 17-21 calories per cup size serving. Not bad.
There are a few keys to making a good vichyssoise. First, you must purée and then strain the soup (push it through a sieve) to get rid of the fibers from the leeks and celery. This step makes all the difference.
Second, you must chill it well and serve it cold. It is best made the day before you serve it but if you are going to eat it the same day, chill it for at least 4 hours. Serving the soup in a chilled bowl or cup will keep it cool.
Third, adjust the seasoning after it is cold. Remember that the sodium content of your stock will affect how much seasoning you need to add.
To make this soup vegetarian, use water instead of chicken stock but make sure to bump up the flavor of the water with a bouquet garni.
mangez bien, vivez bien, et bon appétit !
LM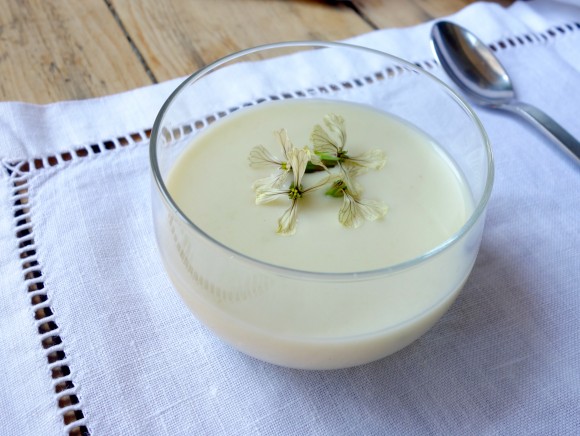 vichyssoise with summer truffles
serves 8-10 (cup servings, approx. 62 calories)
you need:
1 tablespoon unsalted butter
½ yellow onion, diced
2 medium leeks (white portions only), diced
1 large celery stalk, diced
2 yukon potatoes, peeled and diced
4 cups chicken stock
½ – 1 cup heavy cream (to taste)
1 ½ -2 teaspoons summer truffled salt
freshly ground white or black pepper (to taste)
minced fresh chives (optional)
how to:
Sweat

. Place a large saucepan over a medium-high flame. Once pan is warm, add butter and melt. Add onions, leeks, and celery to the pan. Sweat in the butter. Once tender and onion is translucent, add potatoes and chicken stock. Bring to boil and reduce the flame. Simmer until potatoes are fork tender (about 20 minutes).
Purée/Strain.

Remove from the stove. Use an immersion blender (or food processor) to purée until smooth. Place a vegetable mill or a sieve over a clean bowl. Pour the puréed soup though the vegetable mill or a sieve (use a wood spoon or spatula to push the soup though the sieve) into the bowl.
Add Cream.

Add cream and 1½ teaspoon of truffled salt to the soup. Stir well.
Chill.

Cover the soup with plastic wrap and place in the refrigerator overnight (or at least for 4 hours). Check seasoning (you usually need to add salt after soup chills). Season to taste. Serve soup in a chilled cup. Garnish with minced fresh chives.