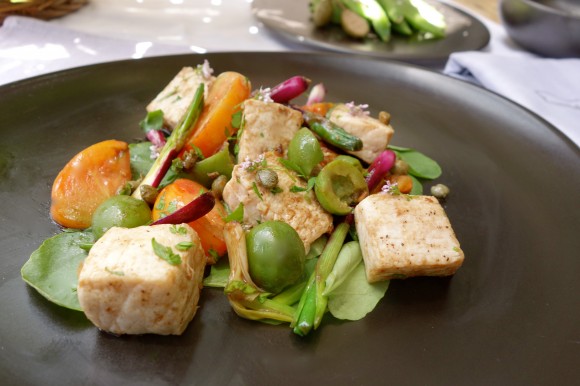 puppy love & when to cook and tell . . .
swordfish Mediterranean sauté
I am over the moon about the summer stone fruit which has arrived in the markets. However, I must admit that I am still clinging to the fava beans and English peas which are declining in number as summer rapidly approaches. While picking out fava beans at the McGrath Family Farm stand at the Sasnta Monica Farmer's Market, it was there I fell in love. I could not help myself. It was this instant affection with inspired this week's simple pleasure: swordfish Mediterranean sauté.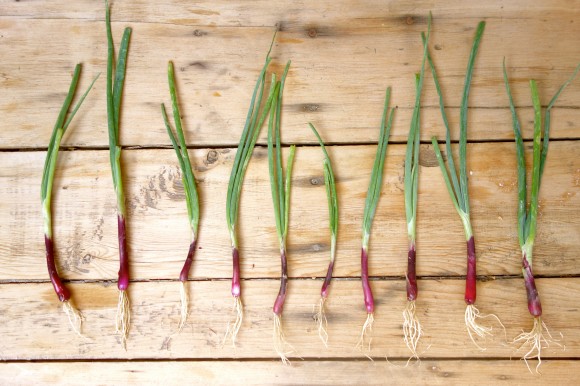 So there I was at the stand and my heart went flip-flop for something next to the favas: scallions. No, that is not a code for anything nor am I alluding to any French slang term (les oignons, also an allium, can refer to someone's tush). There were really scallions. Not just any kind of scallions mind you, but the tiny, tiny baby red scallions. I call it the puppy factor because who can say no to anything that small and cute, even if it is a scallion. I only had to glance to my right to spy some heirloom tomatoes (thank goodness for the long growing season in L.A), and dinner was planned. We were going Mediterranean. Light food, simple and colorful. Food as welcoming and bright as the summer sun. Dinner built around these baby red scallions.
Swordfish is popular and enjoyed throughout the summer in the Mediterranean. With its meaty texture, swordfish goes well with olives and capers and tomatoes. I thought that these baby red scallions would be a terrific addition to that classic Mediterranean combination. It was. Garnished with some flowering coriander and minced fresh Italian parsley, the result was delicious, light and just what I had envisioned at the market (an instant culinary transportation to the Mediterranean).
To think it all started with puppy love..over some scallions.
mangez bien, vivez bien, et bon appétit !
LM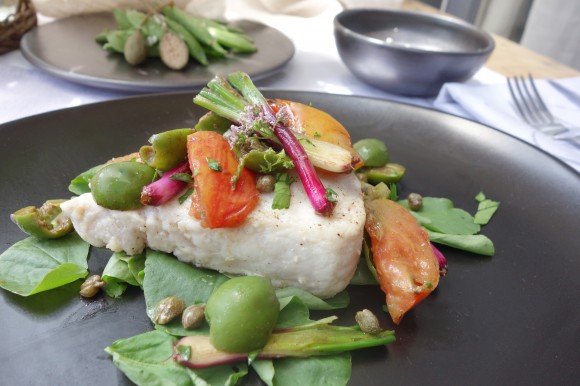 swordfish Mediterranean sauté
serves 4-6
24 ounces fresh swordfish steak, trimmed and cut into cubes*
kosher salt (as needed)
freshly ground black pepper (as needed)
piment d'espelette (optional)
1-2 tablespoons olive oil
2 garlic cloves, minced
¼ cup capers, rinsed and drained
2 dozen olives, pits removed and cut in half
baby red scallions (as needed)
2-3 beautiful heirloom tomatoes
1-2 tablespoons balsamic vinegar
1-2 tablespoons minced fresh Italian parsley
fresh flowering coriander or basil (as needed for garnish)
fresh watercress leaves (optional)
*You can use whole swordfish steaks instead of cubing the steaks. Plan on about 4-6 ounces of swordfish per person.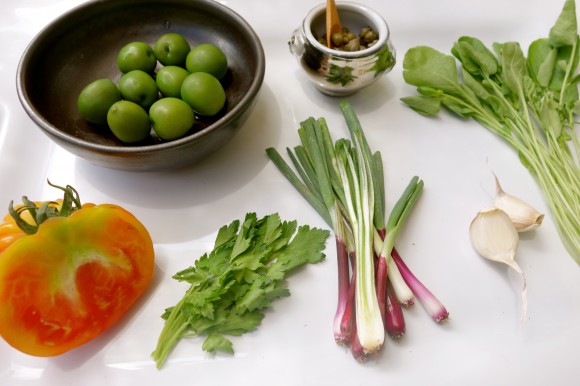 how to:
Prepare Swordfish

. Trim the skin off of the steak(s). Cut steaks into ½-1 " cubes. Season with salt and pepper (and a little piment d'espelette if you have it).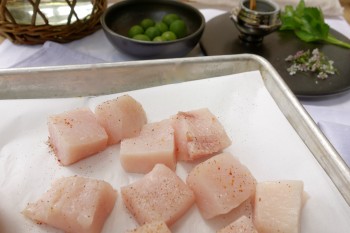 Prepare Fruits/Vegetables

. Trim the scallions (4" in length) and remove the roots. Remove the pits from the olives and cut olives in half. Drain and rinse the capers (or they will be too salty). Cut the tomatoes into wedges.
Sauté.

Place a large sauté pan over medium-high heat. Add olive oil to hot pan. One oil is hot, add garlic. When you can smell the garlic, add the swordfish. Use tongs to turn the swordfish in the pan to evenly cook. When almost done (swordfish is done when it is opaque in the center and no longer translucent), add tomatoes, capers, onions, and olives. Sauté for 2-3 minutes to combine the flavors and finish cooking the swordfish (fish is opaque). Add vinegar to the pan and toss the sauté mixture in the vinegar and cook for another 1-2 minutes.*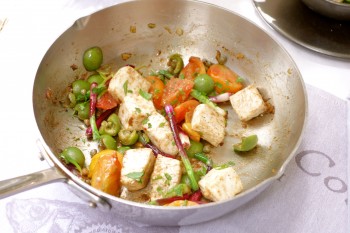 Season & Garnish.

Salt and pepper to taste. Garnish with fresh herbs and serve warm. Serve on a bed of frsh watercress if you have it.
*If you are cooking the swordfish steaks (rather than the cubes) cook the steaks and remove them from the pan. Set aside on a plate and cover with foil to keep warm. When the sauté is done (if will only take a few minutes), pour the sauté over the swordfish steaks evenly. Season and garnish.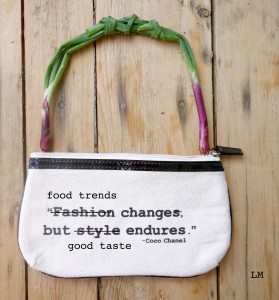 Tags: easy dinners, Mediterranean, scallions, swordfish, tomatoes