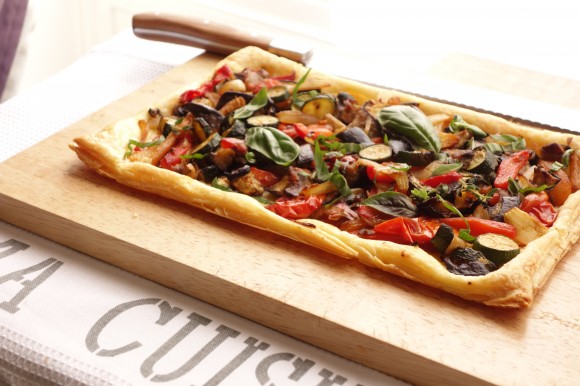 a good summer's day
summer vegetable tart à la Provençal
Some days everything just seems to go right. The weather is perfect. I did not step in a gift from a neighbor's dog nor did I walk a piece of furniture down the rue to my apartment. The children are not fighting. Beyond the domestic bliss and no more juin gloom, the little things that in France I have come to expect to test my patience actually fell into place. I felt this moment should be recorded.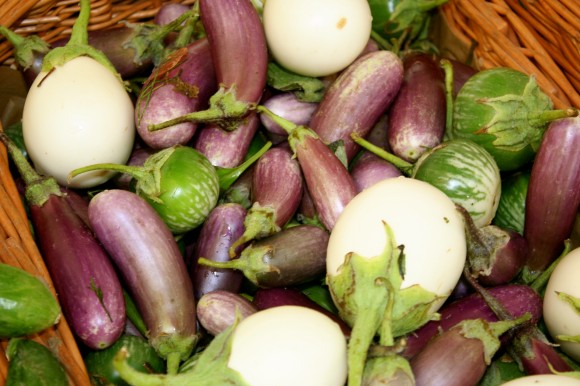 First, I had been granted my Compétences et Talents long-term visa and I was told that when I arrived in France it was necessary to file additional paperwork within a certain period of time. What should have been easy resulted in a three day process of frustration taking me all over the city just to get to the correct office (that comedy of errors I will not get into right now). However, I finally reached the right place and the right person. Moreover, not only did I find the correct person that is handling my file, but she is lovely, knows what she is doing, and she recognized me as "the chef" and complimented me on my cookbook. Very nice.
Second, my ATM card worked. Now I know you are thinking that this is not such a big deal either, but in France it can be. If you accidentally use the wrong code for your card…cumulatively (I swear it was two times not three over the course of two years) the ATM machine will capture your card. Sometimes you can get it back the next day by returning to the bank and documenting that the card belongs to you. I have done that.
The most recent card sucked up by the ATM was a replacement card (for a preceding card that got sucked up by the ATM). The replacement card took me two months to receive and I never received the code. When I returned to France I had to go to the bank to get the code. I use the replacement card with the new code. However, the ATM also takes this card and I could not get it back. Apparently my bank canceled the replacement card (unbeknownst to me) because it did not match the code. Sigh.
I return to my bank for a new card…one that actually matches the code. With hands sweating and much anxiety, today I use the second replacement card and the code and … it works! I get cash. My card is returned. I am doing a little victory dance in front of the cash machine and passersby think I am nuts but that is okay. The process took 3 months.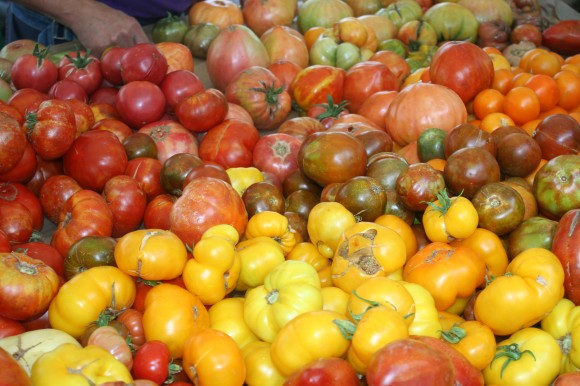 Lastly, there are my lovely daughters and they truly are lovely. However, last summer they bickered and fought with one another so much I thought I was going to lose my mind. I know I am not alone as sibling fighting at this age is very common (I think theirs is retribution for the grief my brother and I gave our mother). As any former lawyer would do, I made them sign contracts that the fighting would cease with video-forfeiture clauses should they breach. As any chef would do, these witnessed contracts were placed in the most important room in the house: the kitchen to remind them of their obligations on a daily basis. So far this summer, there has been no fighting and today I was complimented on their good behavior. It is a red banner day.
A day without complications and little victories calls for easy, uncomplicated food.
We were having both American and French friends over for dinner. To tide everyone over until dinner I make some summer tarts in anticipation of our annual upcoming trip to Provence.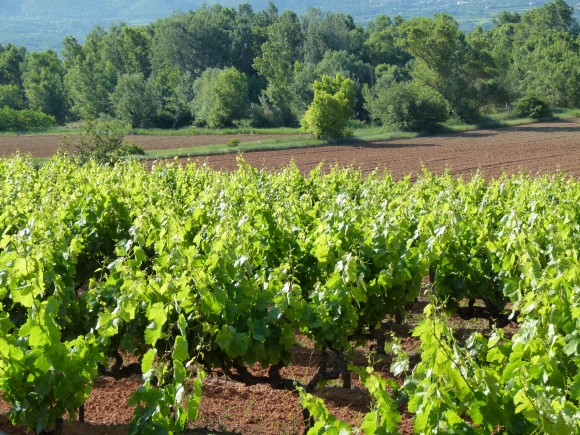 These tarts are easy to make and the vegetables can be cooked in advance.
The recipe calls for puff pastry dough that you can find in your grocery store (in the U.S. it is usually frozen just defrost it in the refrigerator). Tomatoes, zucchini and eggplant have a high moisture content so you need to make sure they are well-cooked (but not dehydrated) otherwise you will have a tart with crispy edges and a soggy center. If this does happen, you can redo the tart with another pastry sheet. It only takes about ten minutes to bake so it is nothing to be upset about. The vegetables are still delicious.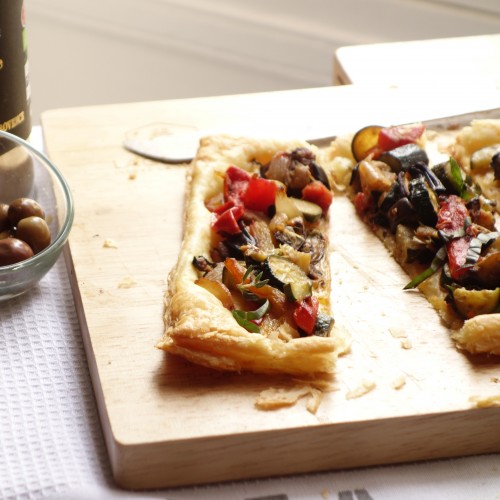 Garnish the tart with fresh basil and thyme. You can also add Niçoise olives or anchovies which pair with the flavors (or serve them on the side).
Here is to a good summer's day.
bien, vivez bien, et bon appétit !
LM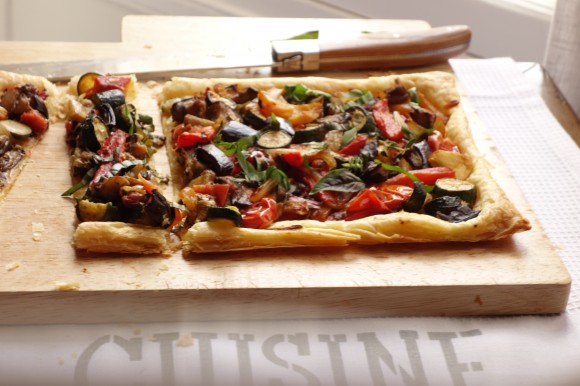 summer vegetable tart à la Provençal
makes one tart (serves 4-6)
ingredients:
1 sheet puff pastry
1 small yellow onion, sliced
1 small eggplant
1 beautifully sun-ripened tomato, sliced (seeds and center removed)
1 yellow (or red) pepper, roasted
1 beautiful zucchini (any color)
fresh basil (as needed)
1-2 tablespoons olive oil
sel de Guérande (or sea salt) (to taste)
freshly ground black pepper (to taste)
I egg, mixed
how to:
Preheat Oven.

Preheat oven to 400 degrees Fahrenheit (or gas mark 6).
Roast Pepper.

Cut the stem and top off of the pepper. Remove seeds and membranes. Place pepper on a grill (or over a range) and roast until the skin is blistered on all sides (you can also blister the skin with a kitchen torch by placing the pepper cut side down on a metal baking sheet and hold the torch 2-3" from the pepper, blistering all sides). Place pepper on a plate or in a bowl and cover with plastic wrap. Set aside for 20 minutes, the trapped steam will loosen the skin. Remove skin and slice. Set aside. If you want to save time you can purchase roasted peppers in your deli aisle at the grocery store.
Roast Eggplant And Zucchini.

Trim ends and discard. Cut eggplant in quarters and slice. Cut the zucchini in half and slice. Toss both in olive oil. Season with salt and pepper. Place in an ovenproof dish and roast until done (they are no longer white but golden brown and reduced to about half in size). Remove from the oven and set aside.
Cook.

Place a large sauté pan over a medium flame. When warm, add olive oil. When oil is warm, garlic. When garlic is fragrant, add onions. Cook onions until translucent. Add some fresh thyme, peppers and tomatoes and cook until the moisture has been cooked out of the pan. Add eggplant and zucchini and toss to incorporate. Cook for about five minutes to combine the flavors. Remove from heat. The vegetables can be made in advance and even served on the side.
Bake.

Place the puff pastry sheet on a baking sheet pan lined with parchment paper. You can use any shape you like … a rectangle, square or circle or make smaller tartlets (i.e., 4 by 4 inch squares). Mix egg in a dish and brush mixed egg around the edge of puff pastry about one inch from the edge. Top the pastry sheet with the cooked vegetables. Use only a thin layer (if you pile on too many, your crust will not bake). Bake until the puff pastry is deep golden brown and puffed up along the edges.
Serve.

Can be served hot or at room temperature. Garnish with fresh thyme and basil.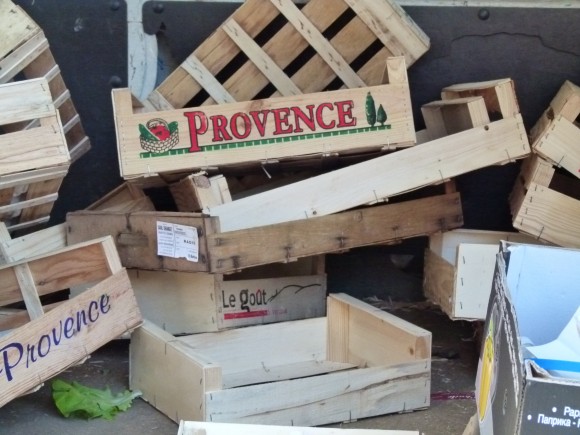 Tags: à la Provençal, provence, summer, Tart, vegetables