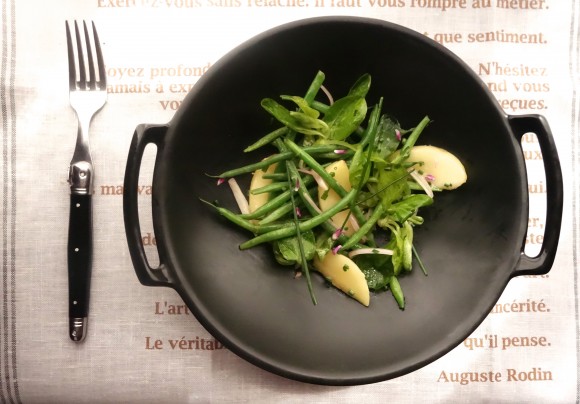 Paris Day Trip: Versailles et Le Potage du Roi
white peach and haricots verts salad with fresh chives
My quest to see a kitchen garden built for a king and my daughters' desire to see where Marie Antoinette lived led us to Versailles. We came home with white peaches and our day trip inspired this week's post and the recipe: white peach and haricots verts salad with fresh chives.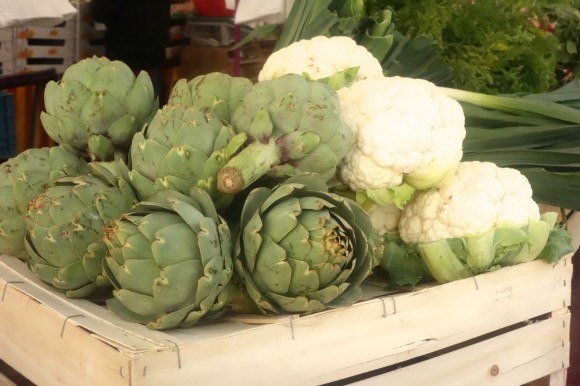 Every year we plant a kitchen garden. The summer garden is surprisingly productive, especially the tomatoes (assuming the chickens are "free range" within their free-range coup and not mucking-about in our garden). The kitchen garden we have in Los Angeles is much more successful to any kitchen garden in Paris, as the latter would be, well, non-existent.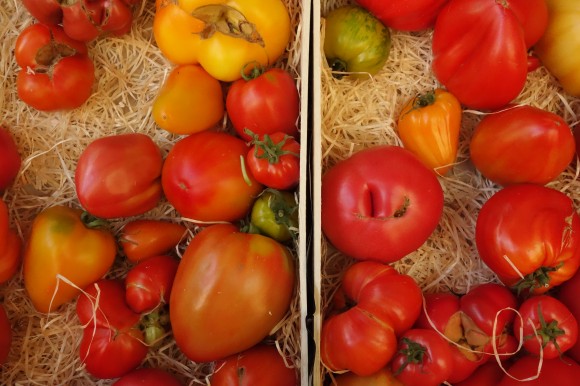 In Paris, I have tried to maintain a kitchen "garden" or I should say a collection of potted herbes outside on the kitchen window ledge. It has not been without incident.
My Paris kitchen is smaller than most American closets. The fact that I cook with a gas stove and very sharp knifes in such a small space is both a worry and a wonder. To keep me from feeling too confined, there is a large window which is open practically all of the time. Outside this window is a two foot stone ledge. The windows open in.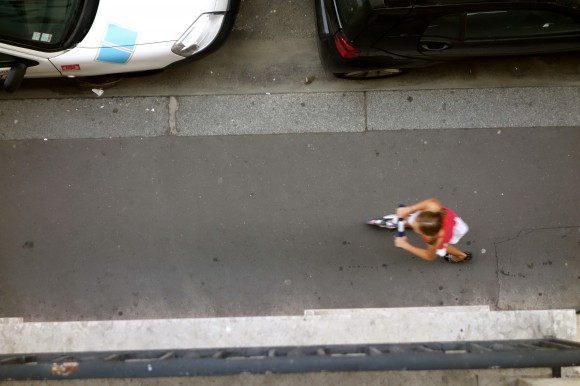 I have learned that there are actually restrictions on watering the plants on your balcony as well as doing any work on your balcony (i.e., painting) to avoid things from falling on the pedestrians on the sidewalk below. Urban living. I have never seen this rule enforced, but it seemed to be abided by. I am not going to test it.
The first time I tried my hand at a kitchen (herbes) "garden" I accidentally knocked the basil pot off of the balcony (thankfully, it was still in the plastic pot set in a tiny burlap sack so it was not too heavy). However, the man underneath who had his cigarette forcefully knocked from his hand as he drew it near his mouth was not to pleased despite my "très desole Monsieur…pardon !" shouted from four floors above his head. The answer would be to get a heavier bottomed pot that is not so easily displaced, but my worry is it, too, will fall off and do greater damage than extinguishing a cigarette.
While a few secured pots on my kitchen ledge is the most of a kitchen garden I will have in Paris, we do have le potage du roi (the king's kitchen garden) just thirty minutes away. Originally a garden built for a king, it is now available to everyone.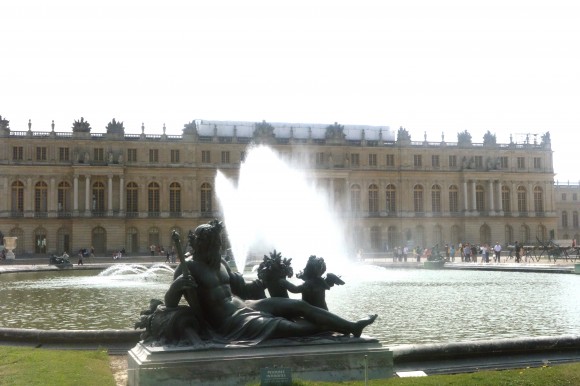 It is Saturday morning. We set off for Versailles. I am looking for a garden. My daughters are looking for evidence of a queen.
Versailles lies just outside Paris (take the RER C, exit Versailles Rive Gauche). It takes about 30 minutes from the Eiffel Tower.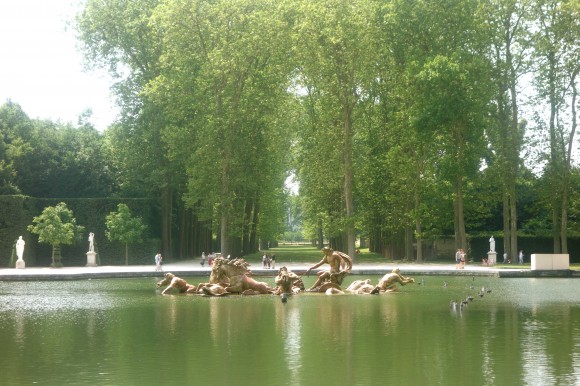 We arrived one and a half hours before le potager du roi opened. However, we were first in line for the farmer's market which was setting up in front of the historic Saint Louis Cathedral (just across the street).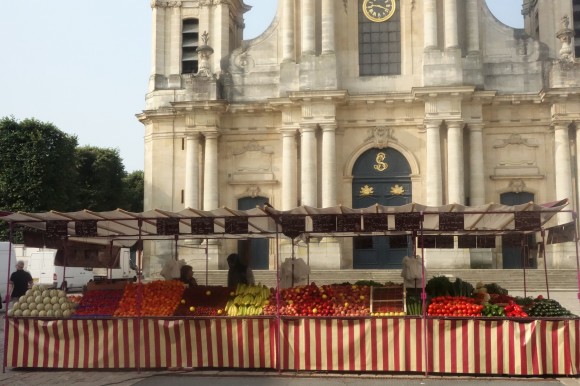 The produce was gorgeous. It was "bio." We had to make a stop.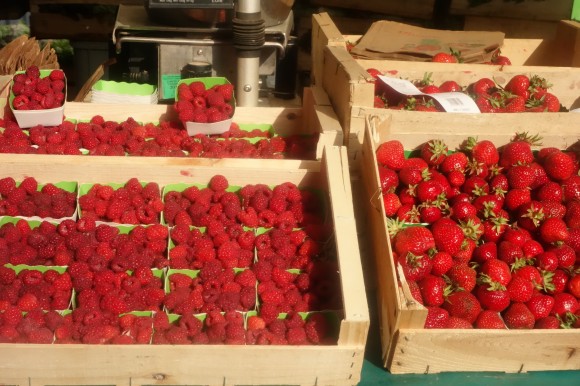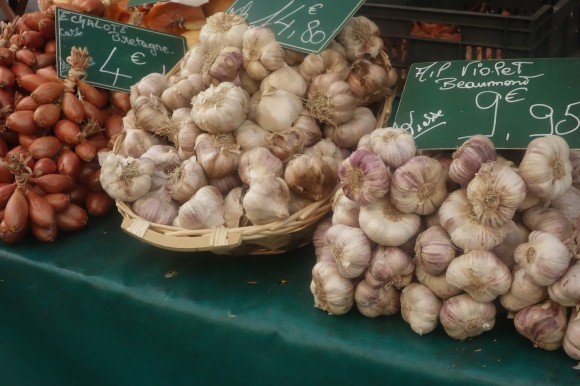 We bought some white peaches to take to the Château. It was still early so we decided to return to le potage du roi after visiting the Château.
Versailles was busier than I remembered. Despite the lines, we danced down the Hall of Mirrors, commented on how short the royalty's beds were, rowed a boat in the Grand Canal (another French homage to Venice, Italy), snacked on fruit in the royal gardens while watching the Grandes Eaux Musicales (water fountains dancing to classical music), and ran through the mazes in the L'Orangerie.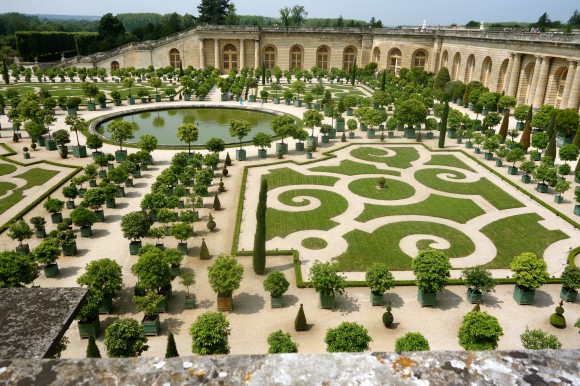 With all this tourism, we worked up an appetite. We found a delicious little restaurant en route back to le potage du roi called Le Saint Julien. Quaint. Good service. Good food. It was exactly the stop we needed and we headed off for the kitchen garden.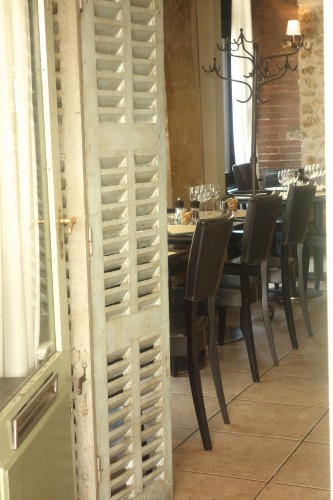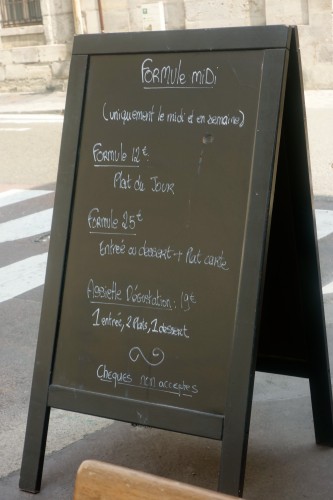 le potager du roi
Le potager du roi occupies 22 acres (it is a little larger now than original due to the addition of the clos aux asperges (the asparagus patch)). Le potager du roi lies to the left of the Château. If you are walking from the gare towards the front entrance of the Château turn left on rue Satori where you will find restaurants of every kind, cute boutiques and bars. When you cross rue de l'Organgerie, le potager du roi is there on your right side (the cathedral is on your left).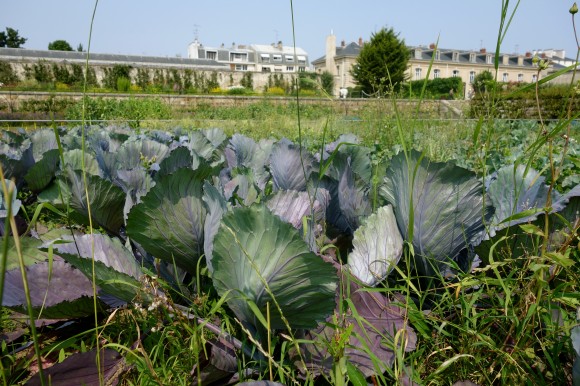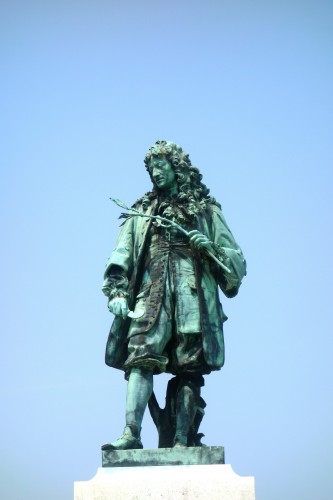 Jean-Baptiste La Quintinie began the garden for King Louis XIV. A statue of him prominately surveys the garden. Initially a lawyer…hum…Quintine travelled to Italy where he learned his love for growing fruit and vegetables. In 1670 King Louis XIV named him the director of the royal vegetable and fruit garden. In 1678-1983 he created le potager du roi.
Today there are 400 fruit tree varieties and 300-400 vegetable varieties.
The fruit trees are trained in espalier against wires on walls or creating walls which divide the vegetable beds. The trees that create walls between the vegetable beds consist of apple and pear varieties many of which are not available (or at least readily available) in the States such as Reinette Blanche du Canada, Reinette Grise Ancienne, and Buerré Hardy.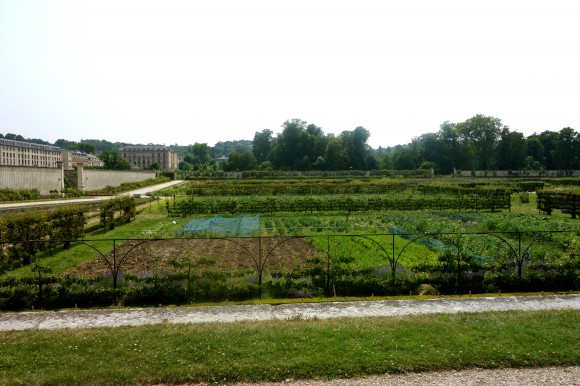 Le potager du roi not only produces 30 tons of fruit and 20 tons of vegetables each year, but it preserves historical methods of pruning (there are more than 60 forms of fruit trees here) as well as preserves rare varieties of fruits, vegetables and herbs.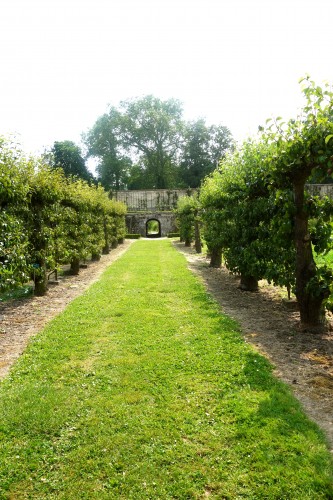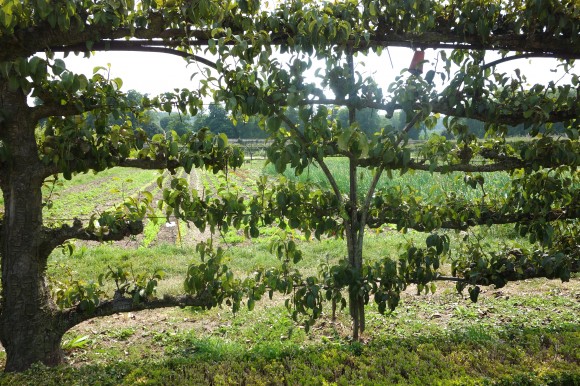 Le potage du roi is not bio (certified organic) but they use "certified organic treatment products" and certain areas of the garden have been organic for about 6 years in an effort to figure out how to apply organic gardening to the garden overall.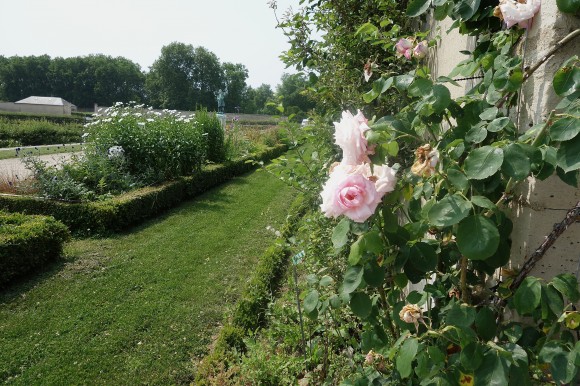 The design of the garden is not only beautiful but highly functional. For example, the walls created by the espalier pear and apple fruit trees absorb the heat during the day and lessen the cold at night. The walls also create shade during the day for the vegetables.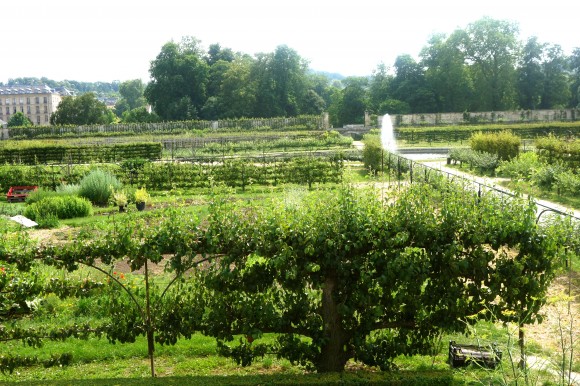 Ten gardeners work the garden with the assistance of seasonal workers. There are gardening classes and tours (11:00 a.m., 2:30 p.m. and 4:00 p.m. on the weekends).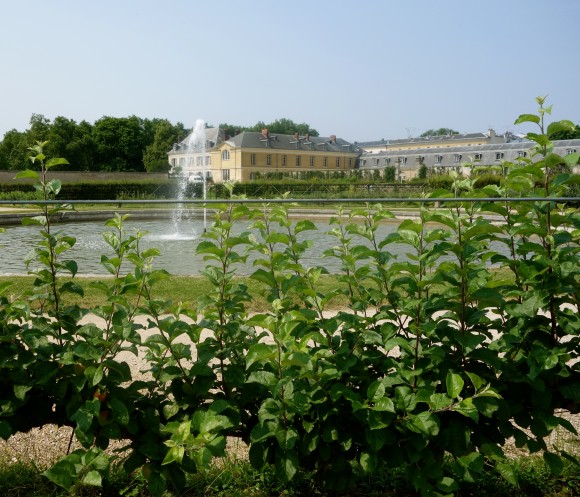 Fresh fruits and vegetables from the king's garden are sold on Tuesdays, Thursdays, and Saturdays in the small bookstore boutique at the entrance. It opens at 10 a.m. and if you do not get there by 10:30, it will be picked over, and largely gone by lunchtime.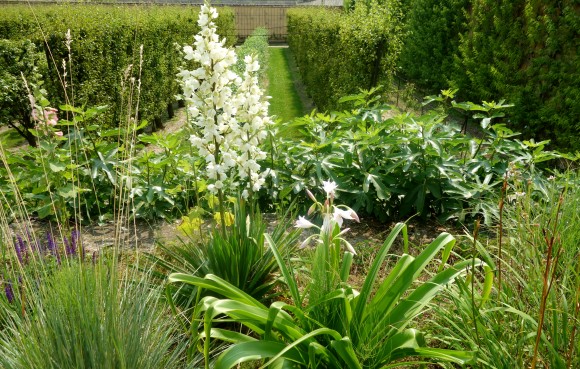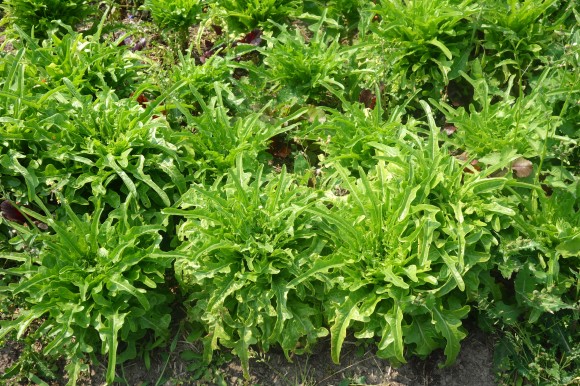 By the time we returned to the garden that day, everything had been sold. It was a good excuse to return later. We did and what we bought on that visit will be featured in another post (but I could not wait to show you the pictures of how amazing this garden is now).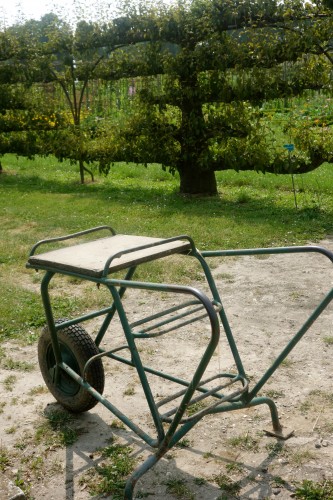 Although we did not take home anything from the garden that day, we used the beautiful white peaches we found at the morning market for dinner that evening. They were put to good use and incorporated in one of my girls' favorite salads which they asked me to make. The recipe is below. Contacts for your visit to Versailles are here:
Le potage du roi
www.potager-du-roi.fr
33 (0)1 39 24 62 62
April through October (except May 1)
Tuesday through Sunday, 10 am to 6 pm
Tours 11 am and 2:30 pm (and 4 pm on weekend and holidays)
admissions €4,50
children under 12 free
Marché Saint Louis
Place de la Cathédrale Saint-Louis
Saturdays from 7:30 am to 1:30 pm
Chez Saint Julien
www.lesaintjulien.fr
33 (0)1 39 50 00 97
Quartier St. Louis
6 rue Saint Julien
Versailles
Château de Versailles
www.chateauversailles.fr
April through October (high season)
Chateau open everyday except Monday
Gardens are open everyday
check site for times (as well as days/times in winter season)
mangez bien, vivez bien, et bon appétit !
LM
white peach salad with haricots verts and chives
serves 4-6
ingredients:
2 beautiful white peaches, peeled, sliced and pits removed
5 handfuls haricots verts, trimmed
1 shallot, thinly sliced
2 tablespoons minced fresh chives
10 fresh chives, trimmed about 4 inches
1 handful mâche, trimmed and washed
burrata (optional)
3 tablespoons quality olive oil
1 tablespoon quality red wine vinegar
2 teaspoons heavy cream
1 teaspoon Dijon mustard
½ teaspoon sel de Guérande (or sea salt)
how to:
Blanche Haricots Verts.

Cook haricots verts for 1-2 minutes in a pot of salted, boiling water. Use tongs to remove beans from the water and place beans in an ice bath. Drain. Blot dry with paper towels. Set aside (in refrigerator to keep cool).
Slice Peaches And Shallots.

Peel the skin from the peaches (if they are as ripe as they should be, this will be easy… if not, place them in boiling water for one minute to loosen the skin and then peel). Remove pits. Slice peaches into wedges (about 8 per peach). Place peaches in a bowl with thinly sliced shallots. Add haricots verts and fresh chives and greens.
Prepare Dressing.

Place vinegar and mustard in a bowl. Whisk in oil and cream. Add salt. Whisk well until a good emulsion is reached.
Dress Salad.

Add dressing to the salad, a little at a time, and toss to coat.
Plate.

Decoratively place the salad on a plate. If you want to add burrata, break the cheese into pieces and add to the plated salad in a decorative way. Serve chilled.