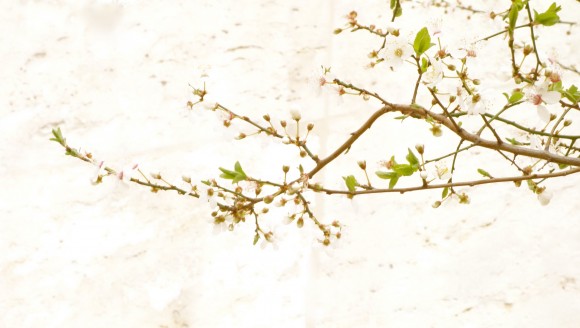 sunday dinner
spring lamb with fava beans and mint
Spring marketing, family Sunday dinners, and upcoming Easter, inspired this week's simple pleasure: roasted lamb with fava beans and fresh mint.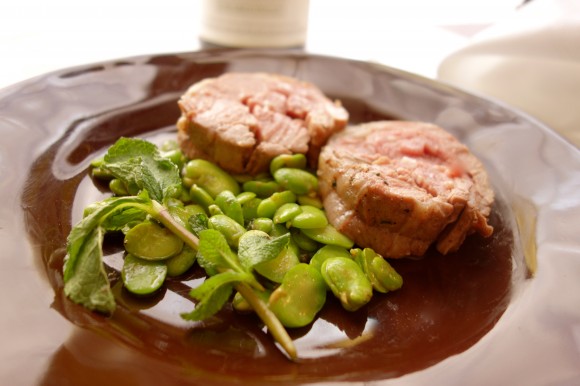 I arrived in Paris on a Saturday and I had very little time (comme d'habitude..as usual). I had little time because it was Saturday. Saturday is the day to complete your errands, including all of your marketing, because on Sunday almost everything is closed. Sundays are considered family days. Sunday dinner is enjoyed at home.
I had only a few hours to visit the le boucherie, the Monoprix (the supermarket), le marché (open air farmer's market), la fromagerie and then head up to the Montmarte (street not hill) to hit G. Detou (gourmet and cooking supply store) and Mora (baking and supply store) for Easter supplies and chocolate moulds. Ambitious but doable. Done.
Sundays in Paris are "calme." Parisians enjoy the parks, attend mass, and visit museums. This Sunday the usual tranquility was changed by a political demonstration in Paris which brought the streets of central Paris to a Los Angeles grid lock. Home sweet home. Those lucky enough to get on a metro were packed in like sardines. All the more reason to stay in and cook at home.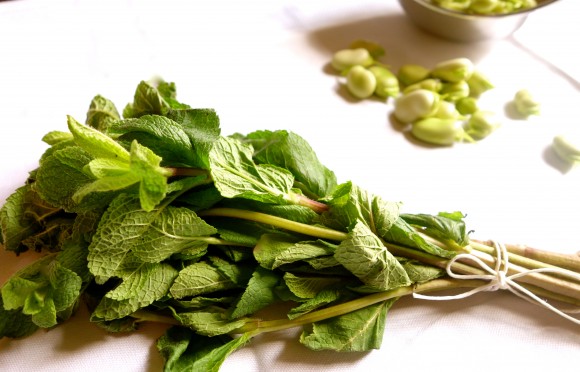 Hands down, spring is my favorite season. This time of year the buds on the woody trees are just beginning to bloom and the bulbs of daffodils and tulips have pushed their way through the earth to show their cheery colors. Spring is life renewing itself. Culinarily, I look forward to the arrival of fava beans, morels, asparagus (especially the white asparagus), sweet spring carrots, onions, and peas.
The market did not let me down. The favas beans were there. Large. Green. Demanding my attention. Attention won. It is the beginning of at least 4 months of legume-wonderfulness here. In Los Angeles, it used to be that fava beans could only be had during a two week period (if at all) but fava beans are becoming more available as the demand for them increases. Thankfully!
The pairing of legumes and lamb is spring classic. In France, lamb is a favorite choice for Easter Sunday dinner, ham is not even a close second. The only issue is what cut of lamb and how to cook it.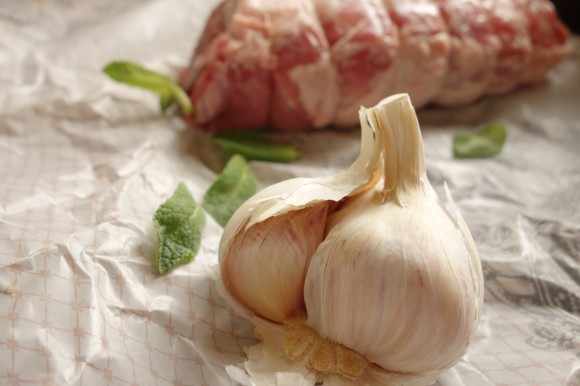 This week's recipe uses the lamb saddle. It is less expensive than a rack of lamb but equally as tender. The saddle also takes about 30 minutes in the oven to roast, less time than a leg of lamb (and more tender). The saddle is often stuffed and pan seared first but we are going simple and even cooking the beans in the same pan.
Remember the mint jelly that used to be served with lamb when we were children? Mint in. Jelly out. This week we are using a mint and olive oil salt rub and inserting thin slices of garlic in the meat to enhance the flavor of the lamb as we roast it.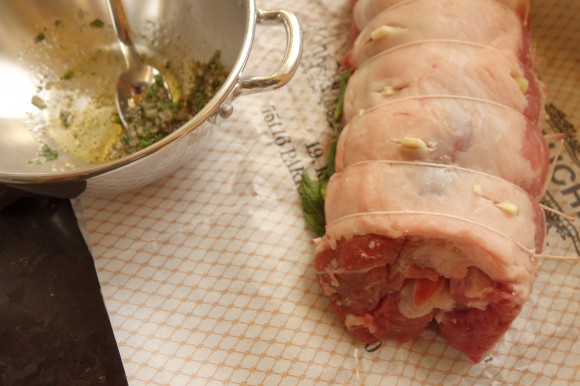 If you cannot find fava beans, peas, lima beans or white beans are a good subsitution. As for the lamb, you can substitute the leg or the rack if you prefer, just follow the recipe and note that the cooking times will be different.
I imagine that many of you are having the Saturday I recently had in prepartion for your Sunday dinner this weekend. If your Sunday dinner celebrates Easter, I wish you and your loved ones a very happy Easter. If you are celebrating Passover week, I wish you happy Passover as well.
mangez bien, vivez bien, et bon appétit !
LM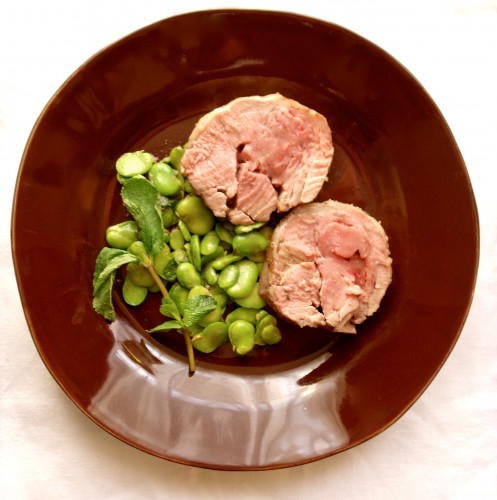 roasted lamb with fava beans and fresh mint
serves: 4
what you need:
1-1½ pound tied lamb saddle, tied (bones and fat cap trimmed)*
1 clove garlic, sliced
2 teaspoons olive oil
1 teaspoon gros sel de Guérande (½ teaspoon kosher salt)
¼ teaspoon freshly ground pepper
1 teaspoon minced fresh mints leaves
4 cups fresh fava beans (or white beans or Lima beans), pods removed**
2 pinches granulated sugar
2 teaspoons fresh mint leaves, en chiffonade
1-2 tablespoons unsalted butter
kosher salt (as needed)
freshly ground black pepper (as needed)
*The saddle of the lamb is a double loin (sometimes called a rolled double lamb roast). Ask your butcher to remove the bones, trim the fat cap and tie the meat. The saddle is a tender cut of meat, less expensive than lamb chops but more expensive than the leg or shoulder. If your butcher does not have a saddle cut, you can substitute lamb leg.
**If you are buying fresh favas (in the pods) remember that about 1 pound of fresh fava beans yields about ⅓ cup of beans.
how to:
Season Lamb.

Combine salt, pepper, oil and mint. Spread over the meat. Let meat set at room temperature for one hour.
Blanch Fava Beans.

Remove beans from their pods. Cook beans for about 3 minutes in a saucepan of salted, boiling water. Drain and place beans in an ice bath. Once cool, remove skins from the beans. Discard skins. Set beans aside
Preheat oven to 350 degrees Fahrenheit

.
Roast.

Place lamb in a roasting pan and put in the oven. Roast for about 30 minutes. Officially, 145 degrees Fahrenheit is considered medium rare for lamb. I take lamb out of the oven when it registers between 130-140 degrees Fahrenheit on an instant read thermometer (remember that carry-over cooking will raise the temperature). The meat should be pink, but not red. Remove lamb from pan and keep it warm by covering with aluminum foil. Let the meat rest for 10 minutes while you finish the beans.
Finish Beans.

Remove the extra grease from roasting pan. Add water (about ¼ cup) to hot roasting pan, scrapping the pan drippings from the bottom with a wooden spoon. Add a pinch of sugar. Add fava beans and toss them in the jus. Add a little butter and gently toss beans in butter. Season to taste with salt and pepper. Add fresh mint leaves. Combine.
Serve.

Remove the kitchen twine from the saddle and slice meat in one inch slices. Serve warm with fava beans.
Tags: Easter, fava beans, lamb