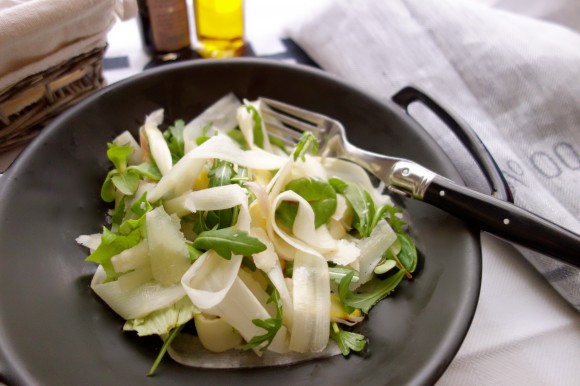 spring sun throught the curtains and inspiring lunch
raw white asparagus salad
with parmesan and baby spring greens
For France it has been one of the coldest winters in recent history. While the Parisian snow long disappeared, it remains chilly especially for this California native. The remodeling of my apartment was nearing an end and although it was primarily a grey week, one morning the long-awaited sun shone through the window, through my newly hung curtains, and the illumination called me from the warmth of my tiny place to the still-chilly open air market. It was this morning which inspired this week's simple pleasure: raw white asparagus salad with parmesan and baby greens.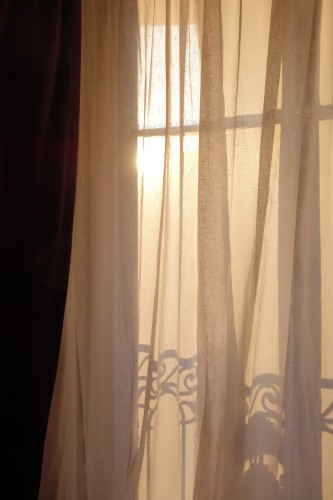 Just when hope had almost vanished (and a couple days before I would return to the States) the sun finally arrived and it shone through the drapes which took me over nine months to hang (but I will leave the story of the hijacked drapery rod and its French replacement for another day). The morning was looking good and adding to my joy was the fact that today was the day for my local open air market. As I worked my way down the sunny aisle, I was surrounded by white and green asparagus on either side. Curtains finally hung in the bedroom; sun through my window; asparagus: I felt like skipping. I think I did.
Asparagus is one of my favorite spring vegetables. It also happens to be one of the vegetables I am asked most about with respect to preparations and recipes, particularly white asparagus.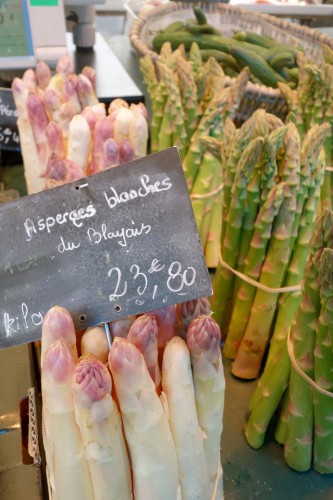 In France, the white asparagus is of gargantuan portions. When the grocer asks me how many I want, I always blush and feel slightly greedy if I ask for more than 2 or 3. Puréed they make a wonderfully creamy velouté. Roasted or steamed, they can be served plain or with a sauce or eggs. They are a perfect addition to pasta or risotto and pair well with many meats and seafood proteins.
After my purchases, I returned to my apartment. Tarps and drop cloths were strewn throughout the apartment for a recently undertaken painting project which created a certain amount of chaos. It also rendered cooking a bit of a challenge (particularly since it is necessary to remove some of the contents of my kitchen and oven and put them in the living room to make room for cooking…sigh). However, with the living room in a dusty disarray there was no place to empty the contents of the kitchen. No cooking today. I decided lunch would match the weather and my mood.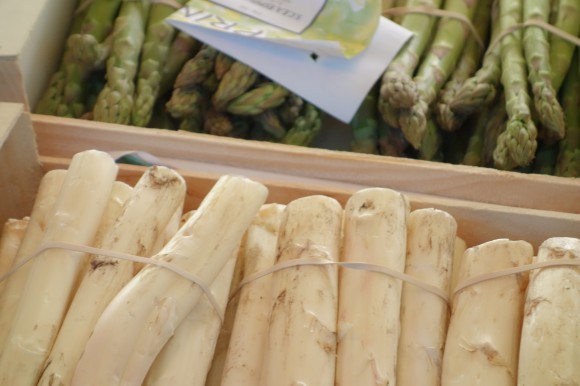 This week's recipe is refreshing and light. We are enjoying white asparagus raw (you can substitute green asparagus instead) only "cooking" the sliced asparagus by macerating it with a little salt which softens the spears and withdraws moisture. Combined with a quality aged parmesan cheese and tender baby spring greens you have yourself and easy, yet special, salad. If you want to add protein, add a few of slices of a hard-boiled egg (or a whole poached egg) and/or thin slices of prosciutto.
White asparagus macerated to be as curved as my drape rod and as bright as the spring sun. Lunch with less than five ingredients and no cooking. It is a great day.
To read more about white asparagus, click here. For asparagus recipes beyond the salad recipe below, click here and here.
mangez bien, vivez bien, et bon appétit !
LM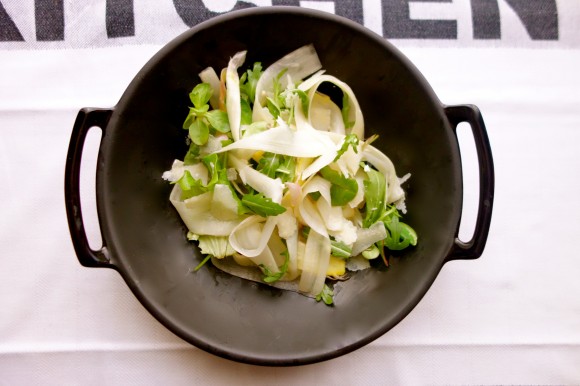 raw white asparagus salad
serves 4
what you need:
8 ounces large white (or green) asparagus spears, trimmed
2 handfuls of various baby greens (mâche, wild arugula, mesclun)
½ teaspoon sel de Guérande (or ¼ teaspoon kosher salt)
2 ounces quality parmesan cheese, sliced
quality olive oil (as needed)
quality balsamic crema (or glaze) (as needed)*
thin slices of Parma prosciutto (optional)
poached or hard-boiled egg (optional)
Balsamic crema or glaze is a thick balsamic vinegar (a little sugar has been added to the vinegar and it has been thickened by reduction). You can make this delicious glaze yourself by putting balsamic vinegar and a little light brown sugar in a saucepan and cooking it until it reaches a syrup consistency. Be careful not to burn the vinegar and remember that it thickens as it cools… so do not let it cook too long or you will have balsamic hard candy.
how to:
Macerate Asparagus

. Use a vegetable peeler to peel the asparagus spears (as shown). Create a flat surface on one side and then placing the flat side down on a cutting board. Use the peeler to slice the asparagus spear lengthwise. Repeat with all asparagus spears. Place the asparagus strips in a bowl. Add salt and toss. Place in the refrigerator for at least 2 hours.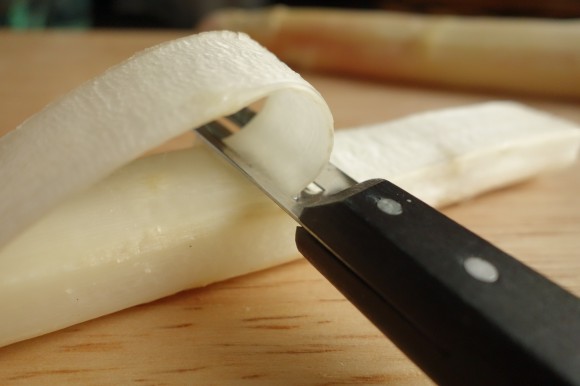 Drain.

Gently squeeze the excess moisture from the strips and pour the excess water from the bowl.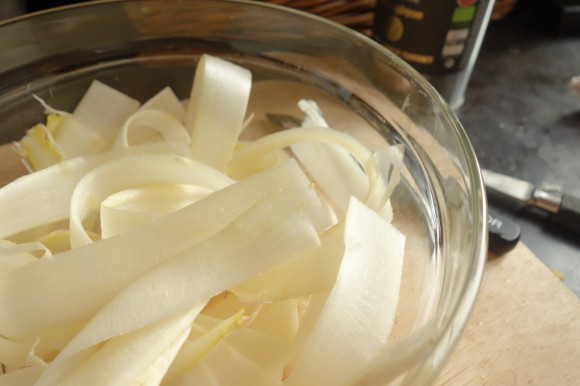 Plate.

Add the asparagus on top of the baby greens. Add cheese shavings.
Dress.

Drizzle balsamic vinegar glaze and olive oil over salad to taste. Toss.
bon appétit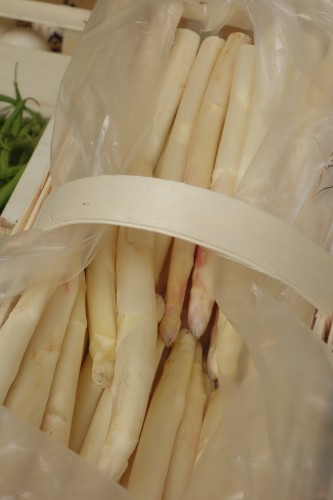 Tags: salad, white asparagus