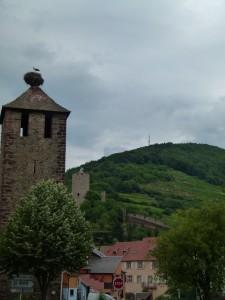 venez avec moi en Alsace
An Overview
A family member, I deeply love, is loosing her sight. She has never been to France. She never will go. On a recent trip to the Alsace (alzas) region in the northeastern area of France, I called her. She asked me what Alsace was like.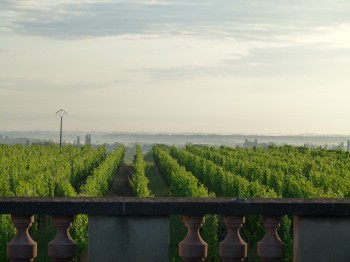 I stood on my hotel balcony and I gazed upon vineyards blanketing the entire Alsace region, the green horizon only broken up by small villages and castles. I struggled with words to place her there with me because descriptions can be flawed. Nevertheless, I tried to convey the warmth of this place and its people, the comfort of its food, and the beauty of the region. I told that:
The Alsatian people are warm and as welcoming as an embrace between reunited loved ones. 
The country breeze is peaceful and dreamy and it makes you whisper.
Grape leaves wave majestically in the breeze as if they were swaying to your favorite classical melody. 
The food is generous with family-style plates of comforting meats, yet refined at the same time with the warm flavors of bacon, rendered goose fat, tangy cheese and sauerkraut, and notes of

juniper berries

,

fennel seeds

, and cumin.
The smell of cinnamon, allspice, and ginger spills into the streets from the boulangeries and fill you with the anticipation only a child knows waiting for Santa. 
Biscuits and breads are generously baked with French butter, nuts and dried fruits. It is Christmas everyday.
Friends bond over apéritifs of the region's delicate and fruity wines served in an elegant, petit green-stemmed glass and served with

goose liver pâté

de

foie gras

that has been embellished with a hint of ginger. 
Where one vineyard ends, the next begins. Together they weave a green quilt with varying patterns and shades of green. Each square unique and adding to the richness of the region as a whole.

 
Driving on the wine route is like watching the end of the

film Cinema Paradiso

  (where scenes of couples in various films are spliced together to form one continuous and passionate embrace) because leaving one winery, and approaching the next, fills you with a continuous reoccurrance of  joy and anticipation.
I realized then that the words were spilling quicker and quicker from my mouth and my voice was filled with excitement and she was appreciative but I was even more so, because it feels good to share a special discovery with others.It is now with the same spirit that I share my culinary visit to Alsace with you.
Venez avec moi en Alsace for a little taste of this special corner of the France.
LM