it is hot in here: tarte flamblée with Alsacian slaw … "ah weee"
The region of Alsace is beautiful and full of wonderful people, A.O.C. wines (such as Muscat, Gerwürztraminer, and Riesling) and its own culinary traditions one of which is tarte flamblée (also known as flammeküche). In a nod to this special region of France, tarte flamblée served with a lardon and apple cabbage slaw is this week's simple pleasure.
Flambé (flom bay) comes from the verb flamber which means one of two things: (1) the use of a flame to remove the down from poultry; or (2) tipping your sauté pan enough so that the alcohol in your pan catches fire. In the latter case, the drama ends as quickly as it begins because once the alcohol is gone from your pan, so too is your fire. Contrary to the visual images that the name "tarte flamblée" conjures up, no "flamblé" is involved in the poultry/feather or fire capacity. Rather, the name comes from practical purposes; after bakers raked the coals in their oven they would bake some rolled-out "sample" dough to test the oven to see if it was hot enough. That testing dough became the base for what is now known as tarte flamblée.
Tarte flamblée is generally described as a pizza. It is (but a pizza is really nothing more than a savory tart). In any event, the pâte a pain (the dough) for a tarte flamblee is rolled out very, very thin and when baked it is a little crispy like a cracker (except leaven with yeast). Crème fraîche and grated cheese (and sometimes fromage blanc too) are combined to cover the dough and are topped with thinly sliced raw onions and lardons. The tart is baked and served immediately while hot.
I modified classic tarte flamblée slightly by adding fresh fennel seeds to the dough. Fennel seeds are commonly used in baked goods in Alsace. I also cut back on the dairy but bump up the flavor with those tastes Alsacian in character: Munster cheese, Reisling and pain d'espice. Partially cooking (and draining) the lardons separate from the tart will keep your tart from soaking in pork fat. The result is one which I believe you will enjoy and will be pleased to serve to your guests.
Lastly, tarte flamblée is usually served by itself with a frosty beverage. In my opinion if you serve a white you need a green. Our "green" is a cabbage slaw true to the flavors of Alsace: cabbage, honey, lardons, and apples. Tarte flamblée can be a starter, a meal or shared as a snack. However you enjoy it just make sure your oven is really, really hot.
Je vous souhaite un bon appétit !
LM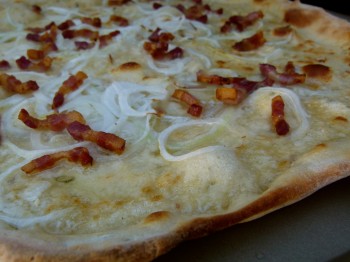 tarte flamblée
(à ma façon)
stats:
yield: one tart
what you need:
quality premade pizza dough for one tart
1 teaspoon fennel seeds
1/2 cup crème fraîche
3 tablespoons grated quality Munster cheese
a pinch of pain d'épice
2 tablespoons Riesling (or similar white wine)
1 cup thinly sliced white onion
4 ounces lardon
1/2 teaspoon kosher salt
a couple turns on the pepper mill of black pepper
how to:
Prepare Dough.

Use quality prepared pizza dough. Add fennel seeds to the dough. Follow manufacturer's instructions regarding fermentation.
Roll.

On a lightly floured surface, use a rolling pin to roll the dough out until very thin… about 1/8 of an inch thick.
Pre-Heat Baking Stone

. Place a pizza stone (or an upside down baking sheet) in the oven and preheat oven until it reaches 425 degrees Fahrenheit. It is critical that your oven and baking surface are very hot.
Par-Cook Lardons.

Heat a skillet over a medium-high flame. Add the lardons and partially cook. Remove lardons from the skillet and place on paper towels to drain.
Mix

. In a bowl mix together the crème fraîche, cheese, wine, pain d'épice and salt.
Top

. Spread the cheese mixture all over the rolled out dough (go to about 1/2-1 inch from the edge). Generously scatter onions and lardons on top of the cheese mixture.
Rest.

Let tarte rest for about 5 minutes.
Bake.

Using a pizza peel, place the tart directly on the stone or baking sheet (if you do not have a peel, you can place the tart on a piece of parchment paper or on a ventilated pizza plate and place the paper or plate directly on the stone). Bake tart until the crust is golden brown. If the onions and lardons are not browned you can turn on the broiler to lightly brown them.
Serve.

Serve tarte immediately while hot.
food for thought
Like a tarte flamblée, some of our favorite culinary treasures
were the result of accident or an after-thought rather than by design;
crêpes suzette (involving the flamblé technique),
chocolate chip (Toll House) cookies, and tarte tartin are a few.
Here is to your kitchen creations. . .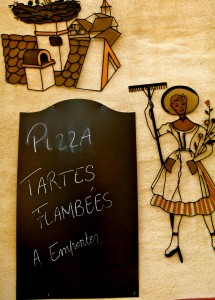 Tags: Alsace, appetizer, cheese, crème fraîche, dough, fennel, fennel seeds, Flambé, lardon, Munster, pain d'épice, pâte a pain, pizza, raw onions, simple pleasures, tart flamblee, tarte flamblée