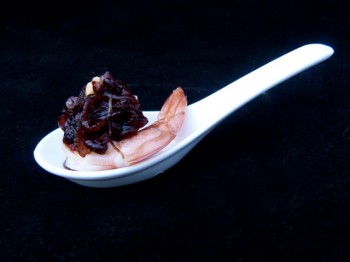 a new hors d'oeuvre for the New Year
2011 is almost here and I cannot wait. I am ready to get past the large meals, stuffings, and the sugary treats that dominated my December 2010. Seafood is a wonderful contrast but it seems like I see the same hors d'oeuvres over and over. New year. Time for something new. So the issue is whether we can have a lighter hors d'oeuvre that is special enough for a New Year's celebration but easy to prepare at the same time? Of course we can. This week's simple pleasure is just that: shrimp saor cocktail.
The shrimp saor cocktail is my take on shrimp cocktail. Saor is a traditional dish from Venice, Italy. It is thinly sliced onions (usually white or yellow) that have been marinated in a sweet and sour sauce made of wine, sometimes vinegar, and sugar. Typically saor is served on top of steamed or grilled sardines ("sarde in saor") although it can grace the likes of more expensive lean fish such as dover sole. Saor is served with raisins, currants, pine-nuts, and often polenta cakes. It can also be served with a small green salad.
This dish is ideal for New Year's because you can prepare the saor the day before (it actually tastes better if you let it refrigerate overnight) and it is served at room temperature. While you can steam the shrimp, I think sautéing the shrimp and serving them warm is ideal for this cold weather. Either way the active time for this recipe is about 25 minutes.
The saor shrimp cocktail can be a passed hors d'oeuvre or served as a first course if you are having a sit-down dinner. If you want to fancy it up a bit, you can serve it on a bed of creamy white, warm polenta or a squash purée (the sweetness of the squash pairs wonderfully with the tartness of saor). If you have leftover saor, it is great on burgers or on a brie sandwich with green apple slices. It will also keep in the refrigerator for at least a week.
A couple of notes on the ingredients. Do not use expensive balsamic vinegar for the reduction. Use good balsamic vinegar, but do not use balsamic vinegar that has been aged longer than you have been alive. It is a waste. Save the expensive vinegar for finishing salads or drizzling over other items. With respect to the shrimp, you can use either prawns or smaller shrimp. Make your choice depending upon your individual circumstances (whether these are passed hors d'oeuvres, stationary at a buffet, or plated as a first course). You will see that in the recipe in parenthesis there is a number next to the shrimp (i.e., "11/15" for the prawns). That means that you will get 11-15 prawns per pound, just so you have an idea of how many to buy and the price. Also, because the saor stores so well, you do not have to buy and make 24 prawns. If you only need 12, make 12 and use the extra saor for something else delicious.
Je vous souhaite bon appétit, de joyeuses fêtes et une très bonne année (I wish you Happy Holidays and a Happy New Year).
LM