passed appetizers (les amuse-bouches et les canapés)
October 2nd, 2014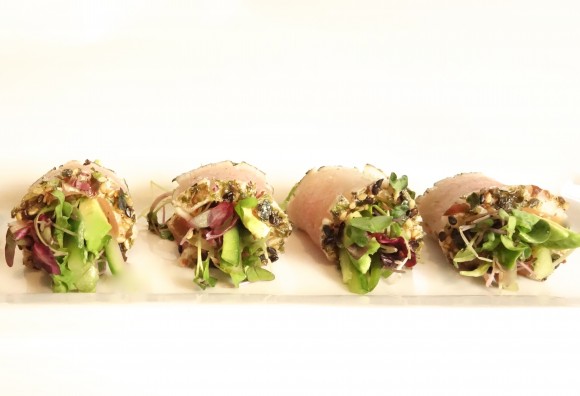 Kona, "Blazeman," and the log-roll
Recipe: seared tuna roll with microgreens
January 19th, 2012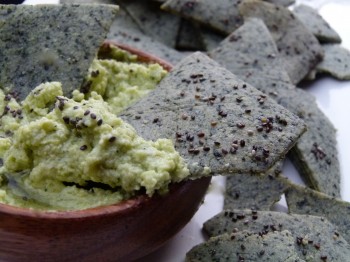 healthy snacks that will not send you back to 2011
part 2: chia chips and soybean hummus
"It's a chia…it's a pet…it's a chia pet." Rumor has it that chia seeds are le tendence (the "in" thing) in food right now. However, thanks to my brother, who sang that 70's jingle selling chia pets (sprouted chia seeds on an animal-shaped moss forms), when I think of chia seeds, I think of chia pets. Today is my brother's birthday. Thinking of him, trying to be trendy (save your laughter), and unable to escape the song he "planted" in my consciousness, I arrived at this week's simple pleasure: chia chips with soybean hummus.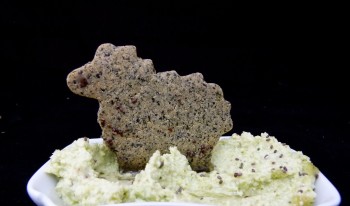 November 3rd, 2011
pommes sur canapé :
Mont d'Or fondu avec pommes de terre
(Mont d'Or fondue with fingerling potatoes)
I like to play with words almost as much as I like to play with food. "Pommes sur canape" is my own jeu de mots (play on words). In French, pommes (or pommes de terre) means potato while canapé is French for both a couch and an appetizer. Accordingly, "pommes sur canapé" means both "couch potato" and "potato appetizer." I thought of this silliness as I placed my annual order for the seasonal treasure Mont d'Or and it is the combination of the two that brings us this week's simple pleasure: Mont d'Or fondu avec pommes de terre (Mont d'Or fondue with fingerling potatoes). Read the rest of this entry »
October 14th, 2011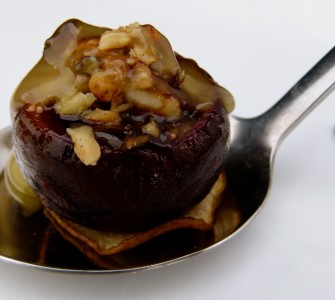 "seasonal" depends upon your dirt:
two light recipes for fall using the
seasonal ingredients in your market
Fall is a time to enjoy the warm flavors it offers. However, what do you do when you want to eat seasonally, but the season is uncharacteristically hot? What do you do if the season is short and you cannot find the ingredients? Inspired by ways to create light dishes with a variety of fall flavors, this week's simple pleasure is twofold: (1) roasted figs stuffed with a St Agur and basalmic vinegar reduction, garnished with French honey and served on a roasted pear slice; and (2) persimmon, endive, apple, and beet salad with creamy (creamless) dressing. Read the rest of this entry »
August 25th, 2011
en garde: defending against the heat
with fresh melon, herb and prosciutto skewers
The forecast is nothing short of blazing heat in both Los Angeles and France. Too hot to cook. Too hot for heavy food. A plate of ripe melon with thinly-sliced prosciutto is a classic summer pairing. Inspired by the triple digits and my fencing daughter, melon, herb and prosciutto skewers are this week's simple pleasure. Read the rest of this entry »
July 1st, 2011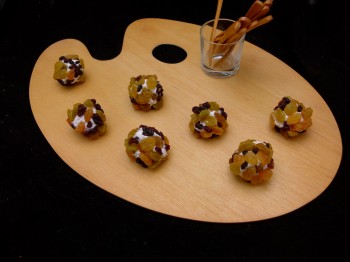 a "palette" pleasing appetizer and adieu to an artist
I was in France last week when I heard the news that Peter Falk had passed. I thought of the first time I met him. It was nearly twenty years ago at his home.  I was scurrying around trying to be helpful and when I turned around, there stood Mr. Falk. I did not recognize him and so I asked him in my most matter-of-fact, grown-up tone, "may I help you?" He smiled at me with that "Columbo" smile and I realized as soon as the clumsy words spilled from my mouth who he was and I felt a little foolish. Peter Falk was charming and kind. He was an incredibly talented actor and artist. I thought of him in his art studio, surrounded by his female sketches. I thought of an artist's "palette " and everyone's "palate" and it is the combination of the two which is the inspiration for this week's simple pleasure: boulettes de chèvre et raisins secs et groseilles (goat cheese balls with raisins and currants). The artist palette serving tray is optional.
June 24th, 2011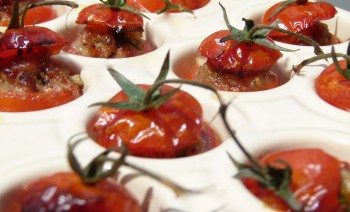 summer cherry tomatoes (à la bourguignonne)
Cooking inspiration can come from anything and sometimes it comes from really nothing at all. Today it was my poêlon à escargots, a ceramic dish with twelve individual holes in which to cook the escargots. The dish works nicely because the individual holes roast each escargot in a bath of seasoned butter. However, I wanted to take advantage of the summer cherry tomatoes that are filling the markets so I decided to roast my tomatoes in my poêlon à escargotsas if they were escargots. The result: delicious so I thought I would share the recipe with you. This week's simple pleasure is summer cherry tomatoes "àla bourguignonne" (with a twist, of course).
April 3rd, 2011
croque-monsieur: a movable feast
Ernest Hemingway said that "[i]f you are lucky to have lived in Paris … then wherever you go for the rest of your life, it stays with you, for Paris is a movable feast." He was right. Even if you are not as fortunate as Mr. Hemingway to live in Paris, Paris does not have to be far from you. This week for me was no exception and it inspired this week's simple pleasure and movable feast: a croque-monsieur.
It is Spring Break for many students, including my children, so I packed up the children, our seventeen year-old Yorkie, my chef's knife and immersion blender and put them all in a Recreational Vehicle ("RV") headed for one of the seven wonders of the world: the Grand Canyon.  For those of you who know me, please contain your laughter at the thought of me driving and cooking in an RV.  I am pleased to say that we did so without incident and had a wonderful time.  In truth, however, I did not have to drive 1,200 miles to please the children because they were perfectly content with the accommodations: sleeping in hidden bed they had to climb into (outfit with a privacy curtain) and traveling with a kitchen loaded with their favorite foods.
The beauty and grandeur of the Grand Canyon is beyond compare.  One day after our excursions, we hungrily returned to our movable, temporary home where I made croque-monsieur. As I watched my children gobble down their sandwiches, I could not help but think of Paris, the first time they enjoyed these sandwiches in Paris, the first time I did, and all the times in my life I have a croque-monsieur.  I stopped counting around 30.
The croque-monsieur is as synonymous with Paris as the Eiffel Tower, crêpes, croissants, and baguettes. First served in a Parisian café in 1910, the croque-monsieur continues to be served in cafés, brasseries, and snack bars. Every tourist has tried one at least once. The classic croque-monsieur calls for the use of pain de mie, ham, and Gruyère. If you top it with a fried or poached egg (giving the sandwich a hat they say) then you have created a croque- madame. It is generally served open-faced.
The attached recipe is the one that I have used for events and the one I made in our RV. It can be a main course or cut-up into bite-size squares (garnished with a French-flagged toothpick if you want) and served as canapés. Typically, I make this as an open-faced sandwich (which also cuts down on the fat content and calories), but the two slices make it easier to eat as a finger food (for children or as a canapé).
A croque-monsieur is simple to make, but I have had my share of terrible ones.  Here are a few production notes so your croque-monsieur does not end up in the  "terrible" category.
First, I use a combination of Comté and Gruyère cheese, it cuts the higher fat content of Gruyère and gives the sandwich a little tang.  Both are good melters. Second, although you will be tempted to use fancier breads, the sandwich is best on a pullman or pain de mie, a sandwich bread with a thin crust and nice crumb.  However, use a quality bread (not that airy, sugary sandwich bread with no substance that will stay fresh for a month sitting on a warm kitchen counter).  Also, do not use a baguette or sourdough, the result will be chewy because the crumb is usually too dense and/or the sour flavor will detract from the sandwich.  I leave the crust my croque-monsieur because the extra crunch goes nicely with the creamy fillings and crisp salad.
Third, while some versions only butter the bread, in my opinion, béchamel is best because buttering the bread can make the sandwich too greasy.  I use béchamel as a dressing.  Béchamel is a roux-based sauce with infused milk and  is one of the foundational sauces of French cooking (use this as your opportunity to learn how to make this simple, and versatile sauce).  I do not add the cheese to the béchamel because it allows you to control the amount of cheese (as well as sauce) you want on your sandwich.  Moreover, when béchamel is used as a conduit for the cheese rather than a dressing you end up with a gooey, soggy mess because people are trying to get more cheesy goodness over their ham (and technically speaking adding cheese to the béchamel turns it into a Mornay sauce, a daughter sauce, and is no longer considered a béchamel anyway). Béchamel can be made ahead of time, stored in the refrigerator to be warmed before use and used for a croque-monsieur or other things.
I always top my croque-monsieur with a lightly dressed green salad. In French cafés it is always served with a side green salad and often enjoyed with a glass of light wine such as a rosé, sauvignon blanc or a pinot noir.  This simple and delicious sandwich is one movable feast that can be enjoyed anywhere, even in an RV parked at the South Rim of an American symbol. It is guaranteed to make many "happy campers." à table!
Je vous souhaite un bon appétit !
LM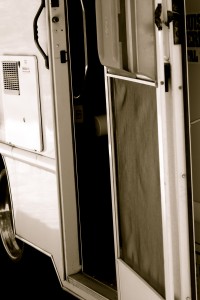 March 3rd, 2011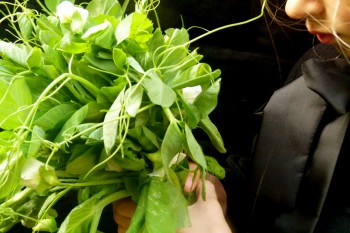 le printemps est arrivé !
(Spring has sprung !)
taking advantage of the early Spring crops with savory pancakes and tarts
Every season gives us an array of new flavors and colors. Autumn's coolness is tempered by the warm oranges and reds of pomegranates, winter squashes, pears, and apples. Winter has its dark kales, pale cabbages, brilliant white cauliflower and sunchokes, and bright citrus. Then there is Spring. Spring bursts with newness: vegetables and fruit trees are covered with blossoms and the bright shades of green fill the markets.  English peas, shelling beans, asparagus, fava beans, ramps, baby spinach, spring onions, and fresh garlic are just a few of the season's treats. Vegetables harvested in the Spring are at their sweetest and mildest (baby carrots, spring garlic, spring onions, baby leeks, and new potatoes, to name a few).
Despite the chilly air (and threats of snow on the Hollywood sign), Spring has sprung in Los Angeles and bringing the season's beautiful and tasty bounty to your family's table is easier than you think. This week's simple pleasure is devoted to the green of Spring and because I could not make a decision as to which recipe to post I am posting two: an elegant and beautiful savory tart topped with sautéed Spring vegetables, flowers and goat cheese; and savory Spring vegetable pancakes. Both are simple to prepare.
March 3rd, 2011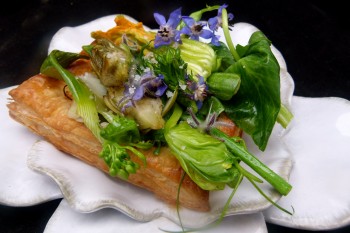 spring vegetable and flower savory tart with goat cheese
makes 4 tarts (4" by 4")
what you need:
pastry
1 sheet frozen puff pastry, defrosted and cut into 4 squares (4 by 4 inches)
2 ounces young goat cheese
1 egg, mixed