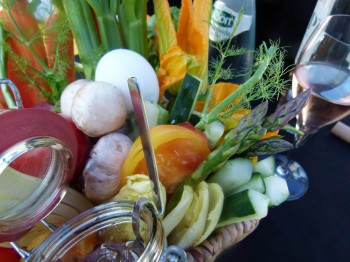 panier de crudités avec anchoïade
This Memorial Day weekend get a jump on summer with a Provençal panier de crudités avec anchoïade. You will feel like you are on vacation at the Côte d'Azur and that is why it is this week's "simple pleasure."

There is a place on the Côte d'Azurnestled between Monaco and Nice where my children and I spend a part of our summers. On one pebbled beach in particular there are rows of bright orange mattresses with French, Italian, and some British sun-worshippers all enjoying their holiday. The same waiters and hostesses work there summer after summer and we have followed their adventures throughout the years: where they work in the off-season and who is dating whom. The children fish for crabs and small fish. Occasionally the winds blow in some Medusa (jelly fish) but for the most part the flag is green which means that the water is as safe as it is warm and blue. Hungry boat passengers are brought ashore from their anchored "boats." The ice cream stand is busy with the young and old alike. It is our home away from home and the memories extend far past summer's end.
Part of the memories center, of course, around food. Consistent with the region, the white plates are bursting with zucchini flowers, tomatoes, salads, sweet peppers, and delicately prepared fresh seafood. The food has so much flavor by itself that I have a hard time eating when I return to the States because the food just does not taste as good. It must be the land. One of my favorite things to eat at this little beach is the crudités assortment. It is served in a panier(a basket) with a side of anchoïadeand fresh bread. I love everything about it: the presentation, the crisp, fresh vegetables (tomatoes, zucchini, mushrooms, fennel, sweet peppers, onions, artichokes) and the hard-boiled egg included in the assortment (which is typical in France to add to a" crudités " platter). Here was the first time I tried anchoïade. I was never a fan of anchovies because they are either too salty, too mushy or both. However, in France (as well as Italy and Spain) anchovies are enjoyed with abandon and in many capacities: soaked in vinegar, on savory tarts, or rolled with roasted peppers and skewered.
Anchoïade, a Provençal specialty, is simply an anchovy purée. I think of it as an embellishment of the original aïoli(another Provençal speciality which is an emulsion of olive oil and garlic with some salt…only later were egg yolks added to it to make it the mayonnaise-type emulsion we think of now). Anchoïadeconsists of quality anchovies, a couple of garlic cloves, a little vinegar and olive oil. That is it. Like the original aïoli, it can be served warm for a vegetable fondu or at room temperature. It keeps well in the refrigerator (it will separate and the oil will solidify but just bring it to room temperature and stir it). In addition to vegetables, tomatoes and peppers, it makes a great spread for crisp bread, a dip for bread-sticks, and goes really well with hard-boiled eggs. It takes 5 minutes at most to prepare.
With respect to the crudités, tout va (everything goes). In France, a cruditiés assortment generally includes small artichokes but I omit them because raw artichokes are a little much to negotiate when sitting on a mattress on a pebbled beach and j'ai un coeur d'artichaut; anyway (I have an artichoke heart anyway). Do not feel wedded to the list in my recipe but take advantage of the variety and colors in the markets. Whatever you decide to include in your panier, please do not limit it to store-cut carrots, celery and cucumbers as such a limitation is not worthy of you or your anchoïade.
Lastly, what to drink with your crudités ? A light rosé from the Côtes de Provence", of course, and I have included two of my favorites below which can be found on the internet or here in Los Angeles. À votre santé !
Je vous souhaite un bon appétit !
LM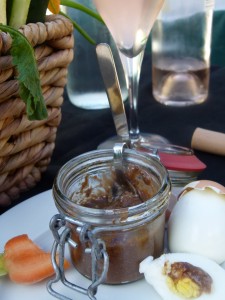 panier de crudités avec anchoïade
stats
serves 4-6
what you need:
crudités
1 clean, attractive basket
2 hard-boiled eggs
2-4 celery stalks, trimmed
2 carrots, halved or quartered
2 small fennel bulbs, trimmed and quartered
1 heirloom tomato, halved
4-6 cherry tomatoes on vine
1 cucumber, quartered
1 yellow sweet pepper, halved (seeds and core removed)
1 red sweet pepper, sliced (seeds and core removed)
1 orange sweet pepper, sliced (seeds and core removed)
1 zucchini, quartered
2-4 zucchini blossoms with zucchini
4-6 radishes, trimmed
6 white mushrooms, trimmed
1 endive, halved and trimmed
4-6 scallions, trimmed
anchoïade
6 ounces anchovy fillets, packed in oil and drained
4 garlic cloves, minced
2 teaspoons balsamic vinegar
3 tablespoons olive oil (or as needed)
how to:
Hard Boil Eggs.

Place 2 eggs in saucepan and fill with cold water. Bring to a boil and boil eggs for ten minutes. Set aside and let cool.
Prepare Vegetables.

Wash, trim, and cut vegetables. Arrange attractively in a basket.
Make Anchoïade.

Drain anchovy fillets and rinse with water (if you do not, they will be too salty). Place anchovies, garlic and vinegar in a food processor. Pulse to break up anchovies. Pour olive oil in the top and pulse until you achieve a spread consistency.
Serve.

Serve warm or at room temperature.
rosés I recommend
Country: France
Region: Provence
Varietal: Rosé blend
Vintage: 2007
Producer: Domaine Ott
Price: $38 -$42
County: France
Region: Provence
Varietal: Rosé blend
Vintage: 2010
Producer: Domaine Sainte Lucie
Price: $13 – $15
Tags: anchovy fillets, Côte d'Azur, eggs, panier de crudités; anchoïade; rosé; Cotes de Provence, simple pleasures, simple pleasures. french cooking recipes, vegetables